"They did it again!" screamed one commenter as Sea-Doo's José Boisjoli smiled across the screen. Wednesday's digital reveal of the brand's 2022 lineup introduced enthusiasts to several new and exciting products certain to lure in first-time and returning customers; but what caught the ire of this viewer (and definitely several others) was the few-yet-significant tweaks and additions to existing models that had only just been released a year or two before.
Ranging from the mundane to the magnificent, these improvements were worked into the 2022 batch to better refine and polish the product line. Although chatter speculated on the redesign of the now 8-year-old Sea-Doo Spark (MSRP $5,699), it returned as-is for 2022, save for some smartly reconfigured coloring: Lava Red and Orange Crush or Reef Blue and Manta Green; and a bold Lava Red and Black combination or new Dazzling Blue and Deep Black for the Trixx (MSRP $7,899).
For 2022, the GTI family of Recreation segment watercraft adds to the platform's already impressive versatility with the addition of the optional iDF (Intelligent Debris Free) system. In fact, the iDF technology, which reverses the pump's thrust in a 12-second burst in order to clear clogged intakes, has found its way into nearly every Sea-Doo this year (but more on that later). Of course, all 130 and SE-equipped GTI's can be optioned with the 100-watt BRP Premium Audio system too.
Colorings for the GTI 90 (MSRP $9,299) and base GTI 130 (MSRP $10,299) are Reef Blue on White as the GTI SE 130 (MSRP $11,099) and GTI SE 170 (MSRP $11,699) can be purchased in either Coral Blast and Eclipse Black or bright Neon Yellow. Segueing into the Tow Sports segment, the Wake 170 (MSRP $12,499) returns as-is save for its new Neo Mint livery. Equally, the full-sized Wake Pro 230 (MSRP $16,499) comes in the same hue, but also can be optioned with iDF and the app-compatible 7.8-inch wide full-color display, which can sync to your smart phone via the BRP GO! app.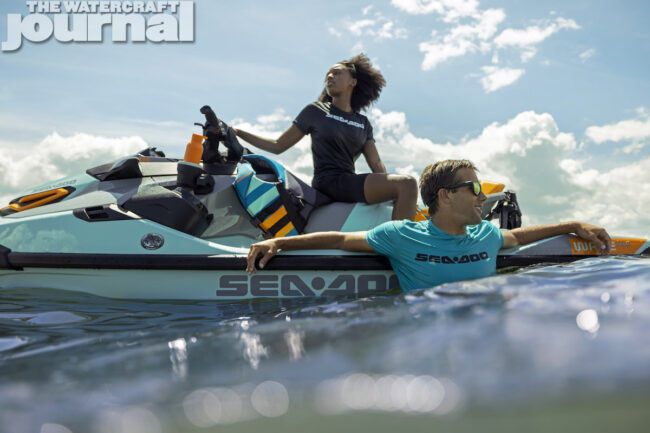 The cause for the initial outburst we witnesses was the announcement of the aforementioned panoramic 7.8-inch wide, full-color LCD display, now optional on all RXT-X 300 (MSRP $17,499) and RXP-X 300s (MSRP $16,099) for 2022. The infotainment dashboard has been highly sought after as a retro-fit for other units, and Sea-Doo's announcement only rubbed the proverbial salt in the wound. Making matters worse, was the reveal of the absolutely sinister Premium Triple Black color scheme for the two X-series machines.
Millennium Yellow does carry over for both models as the standard color as well as being the sole offering for the GTR 230. No other changes were made for 2022, which is fine considering the RXP-X goes 0-50mph in under 3 seconds and the RXT-X still rockets from 0-to-60mph in just 3.6 seconds. Yet, if you want the inked-out look with less frills, Sea-Doo's GTX lineup returns in Eclipse Black all optional with the BRP Premium Audio sound system and the push-button iDF system.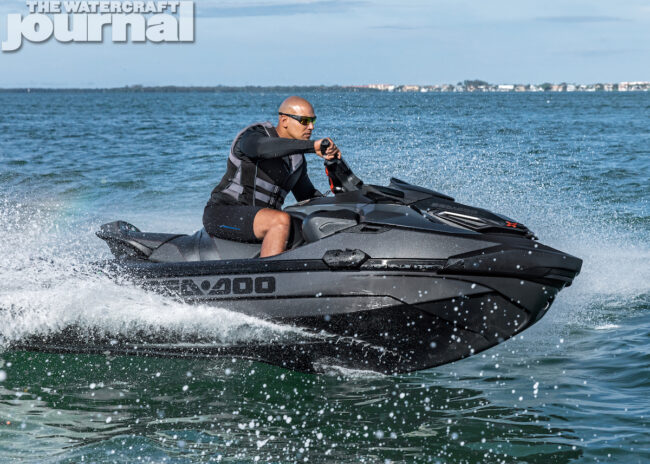 All three iterations – the naturally-aspirated GTX 170 (MSRP $13,399), the supercharged GTX 230 (MSRP $14,399) and the everything-but-an-X-Series GTX 300 (MSRP $16,099) can be dutifully equipped with enough options to make a luxury car blush. But it's the new GTX Limited 300 (MSRP $18,299) that really gets the king's ransom with standard features like iDF, the 7.8-inch full color LCD app-ready display, the organizer bins for its 25.3-gallon (96 L) central cargo compartment, and its Metallic Sage and Liquid Titanium coloring.
And in a normal world, that would be enough for most folks…but Sea-Doo isn't like "most folks" and instead chose to create a whole segment from its single Fish Pro. Now there's three levels of PWC fishing supremacy available to the enthusiast: the 2022 Fish Pro Scout 130 (MSRP $13,899) in White and Gulfstream Blue; the Fish Pro Sport 170 (MSRP $15,899) also in White and Gulfstream Blue; and the top-of-the-line Fish Pro Trophy 170 ($17,799) in Shark Grey and Orange Crush.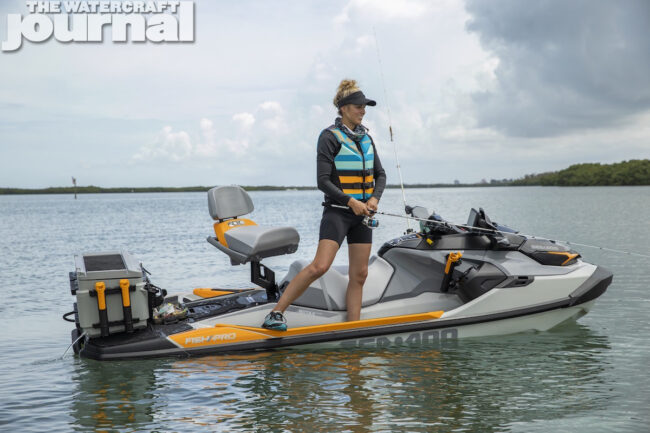 Each of these comes standard with the iDF Intelligent Debris Free pump system, a 13.5-gallon cooler, a specially-designed Fishing Bench Seat, a unique "trolling mode" set into the Intelligent Throttle Control software allowing each units to toggle through trolling speeds up to 8mph; and a multifunctional Garmin ECHOMAP GPS & Fish Finder with accurate marine navigation, bright and clear display, mid-CHIRP technology, and more.
While the GTI-based Fish Pro Scout employs a Rotax 1630cc producing 130-horsepower, the larger ST3-based Fish Pro Sport 170 and Trophy 170 also include a few more features, namely angled gunwale footrests; front rod holders and cup holders; and an extended rear platform providing another 11.5 inches of length and a second set of LinQ attachment points. The Trophy 170 comes with all FishPro Sport 170 features, as well as a quick-connect live well and integrated washdown, an all-new Modular Swivel Seat, an anchoring system, a new advanced battery system, and the 7.8-inch full-color LCD display (optional).
So we're done right? That wraps it up? Nooope. Sea-Doo just rolled out its whole new segment of Switch Series of Sea-Doo pontoons. These jet-driven tri-hull pontoons offer platforms ranging from 13-footto 16, 18, 19 and 21-feet in length. Made using BRP's Polytec2 material, the center hull encases the 1630cc ACE engine, producing either 100, 170 or 230-horsepower. At speed these vessel ride on the center keel, the outside pontoons acting like outriggers.
While this is super-cool in its own right, the ultra-adaptable modular deck allows for customized seating and accessory integration. Literally comparing it to Lego bricks, BRP demonstrated how the deck can be fitted with a variety of benches, tables, captains chairs and every LinQ accessory in the catalog – each securing firmly to the deck using the new 16-inch Modular LinQ Tiles. You literally can design and construct your own custom configuration – truly making your Switch pontoon your own.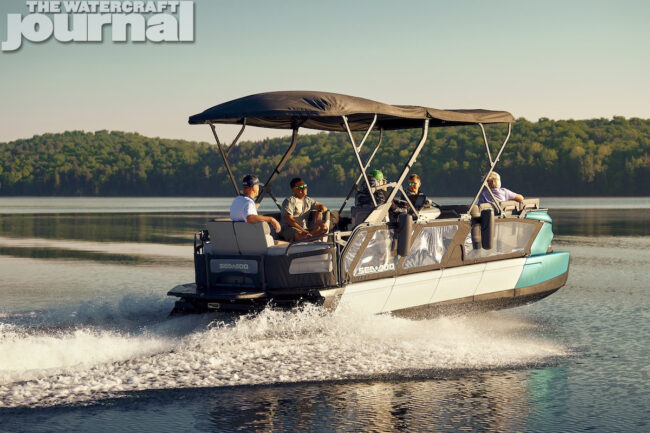 Three tiers of the Switch are available: the base Switch (MSRP $17,999) comes in at either 13, 16 or 18-feet in length, and produces 100-horsepower. The Switch Sport (MSRP $23,999) comes in at either 13, 18 or 21-feet in length, and can be optioned with either 170 or 230-horsepower, and comes equipped with a quick-attach inflatable holder for tube storage, rearview mirror and Sea-Doo exclusive Ski Mode; available in either Caribbean Blue, Neon Yellow, Coral Blast. Lastly, the Switch Cruise package "takes the party up several notches" with included additions like a collapsible Bimini top, swim platform, sound system, navigation and more seating and tables.
The Cruise (MSRP $26,999) is available in either 18 or 21-feet lengths, as well as a choice of powertrains: 100-horsepower (18-feet), 170-horsepower (18 and 21-feet), and 230-horsepower (21-feet); and is also available in Caribbean Blue, Neon Yellow, Coral Blast. It's also important to note that every Switch pontoon is equipped with a Sea-Doo-inspired handlebar setup, which includes BRP's iBRP brake-and-reverse system, iControl and innovative iDF pump-clearing system. Oh yeah, and every Switch comes with its own trailer if you were needing that extra nudge off of the fence.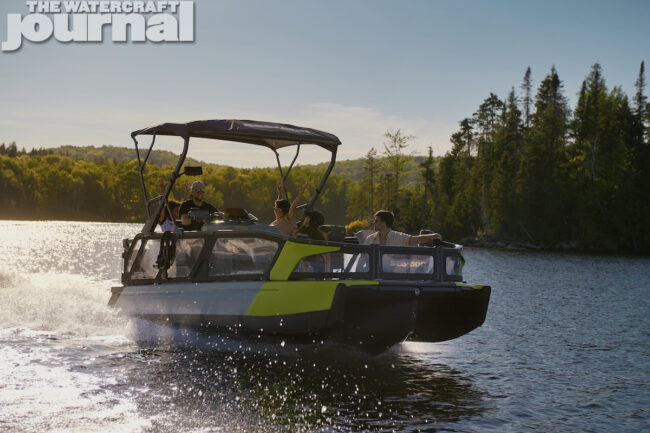 All of that is to say that Sea-Doo was not planning on resting on its laurels any time soon. Rapidly expanding its Fish Pro line into a series of three machines, integrating advanced infotainment systems (and the GO! phone app) into a wider selection of runabouts and of course, flipping the recreation pontoon boat market on its ear seems to be "all in a day's work" for Sea-Doo.
Please see the complete photo gallery below. All new product videos are beneath: