A few familiar, but perhaps unexpected, faces, a few big waves (ok, a lot), some parking pandemonium, one of the most welcoming, and fun, host hotels on this (or any) tour, a good amount of mentorship and sportsmanship, and a heaping helping of wire-to-wire, no-holds-barred, trash-talking, throttles-pinned racing – that pretty much sums up Pro Watercross' round two, and the tour's first ever visit to iconic Daytona Beach. Add in some much-anticipated plans for the addition of transponders to the Pro Watercross Tour, and you have a Round Two that lived up to any and all hype that preceded it.
"Daytona beach was a challenging site with 3-4 foot tide swings, and 2-4 foot swells made it tough to keep the course perfect all day, but the track crew made it happen," PWX Race Director Robert Sand said. "The Racers also met the fury of the ocean but were able to shore start this weekend compared to Pensacola that had rolling starts for the big crafts. The timing of the waves (made) for some very exciting starts and serious air! Surf races will take its toll on your equipment, body, and mind – but ask any racer how it was."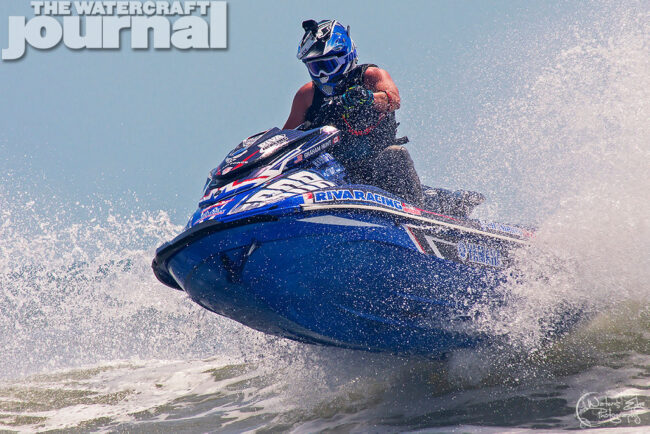 And from the hard-hitting racing and the enthusiastic social media posts seen during the Daytona weekend, the excitement and challenge of surf racing more than makes up for the toll! Early season predictions and forecasts touted after round one's Pensacola battles got shaken up a little bit with the appearance of a few game changers at Daytona – namely the return of Jimmy WIlson and Eric Lagopoulos.
Neither Wilson nor Lagopoulos tiptoed back into the shallow end, either. Nope, both men dove straight back into the deep end, tackling multiple classes and battling against some of the most respected names in the sport (Snyder, Baldwin, and Nehme, to name a few), as well as some of the sport's hottest rising stars (if you haven't heard the names Richuk, Hunt, Lezcano or Perez, you've not been paying attention!).
With a seemingly endless supply of stamina, Lagopoulos snagged the top podium spot for the weekend in all four classes he raced; including two sweeps. The new Pro Watercross Supercourse 300+ race, which started the race day both Saturday and Sunday morning with an energetic and crowd-pleasing LeMans start, was two tough-fought 20-minute motos, with Pensacola's 2nd and 3rd place finishers, Graham Hunt (2-3) and Dennis Mack (6-1) not giving Lagopoulos (1-2) any slack, or a free ride.
In both the IROC Stock and IROC GP classes, Lagopoulos ran the board, taking 1st place in all three motos in both classes, with strong challenges from Valentina Lezcano (7-2-2) in GP and Dominic Perez (2-2-2) in Stock. Lagopoulis' final class entry started out rough, with a 6th place finish in moto 1 of Pro-Am Runabout GP, falling to the back of the pack behind Brian Baldwin (1-6-6), Troy Snyder (4-3-2), Dylan Osborn (3-4-3), Juan Lezcano – the other half of the double-trouble brother-sister team from Miami Jet Ski Shop – (5-2-4), and Dennis Mack (2-5-5). Motos 2 and 3 were another story, however, with Lagopoulos taking the checkered flag in both.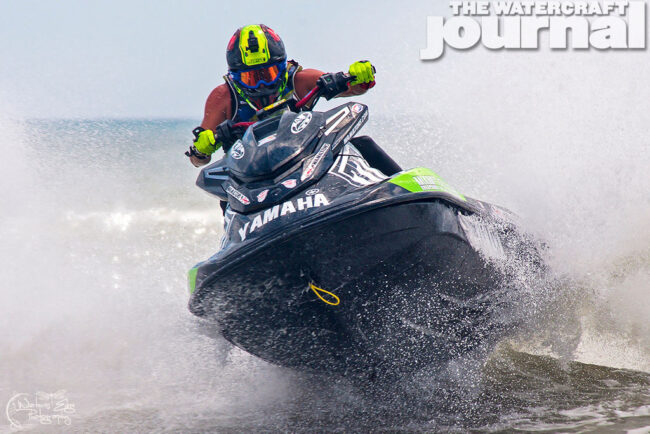 Jimmy Wilson (who not only hit the race course, but brought Preston and Julianne with him, much to the delight of the entire race family!) may have been riding borrowed machines, but he proved that his legendary talent is all his, as he pulled a hat trick in Sport Stock, edging out two young guns, Haden Skellett (3-2-2) and Sammy Nehme (2-4-3), and battling back from a 9th place moto 1 finish in Pro-Am Ski Stock to take a 1st in moto 2 and a 2nd in moto 3, just missing the podiums, thanks to the superb riding of Matthew Richuk (1-2-1), Callaway Turner (2-3-4) and Broc Harris (3-5-3).
Pro-Am Ski GP may not have had any surprise new entries, but the power lineup behind the band echoed the exciting motos from Pensacola, and the packed-line class, with a dozen entries at Daytona, promises to be one of the season's fiercest competitions. Dustin Motzouris snagged the top podium spot, missing out on a sweep with a loss to his brother Tyron (5-11-1) on the final moto. But the class was not an easy win, and he faced a triple-threat challenge from Craig Warner (2-3-3), Isaiah Washington (4-2-4) and Derek Powell (3-4-9).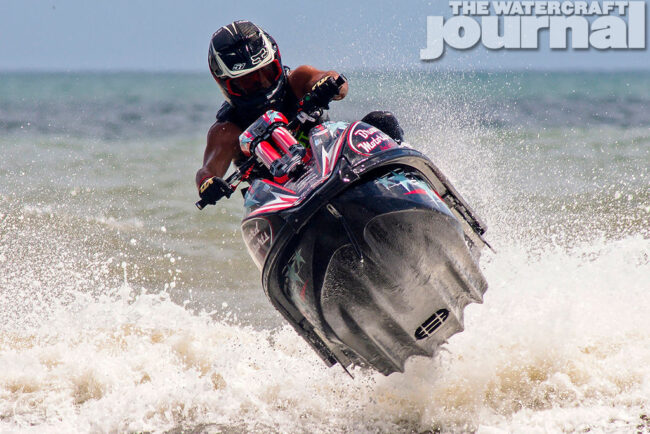 In both the GP and Stock Ski Classes, Camden Powell continued the success of his Pensacola run, pulling a hat trick in GP and a 1-8-1 effort in Stock, and securing the top podium spot in both classes at Daytona. In similar fashion, Matthew Richuck took the top podium spot in Pro-Am Ski Stock class with 1-2-1 finishes against a stacked, talent-packed line of 13, not quite matching his sweep of the motos that he accomplished in Pensacola, but walking away with the overall win nonetheless.
Nailing down a solid first-place finish with a clean sweep of the Amateur Runabout Box Stock class, fan favorite Mo Salhi, of Morocco, also secured a respectable 3rd-place finish in Ski 4-stroke Stock, coming in behind 2nd-place finisher Luis Velay (3-5-3) and 1st place racer Isaiah Washington (2-2-2). The remaining classes at Daytona featured equally-fierce battles, big names and up-and-comers.. But this reporter has once again exceeded her allotted word count, so all I can say is, Join us at the new PWX race venue, South Padre Island, for Round 3 on June 1-2.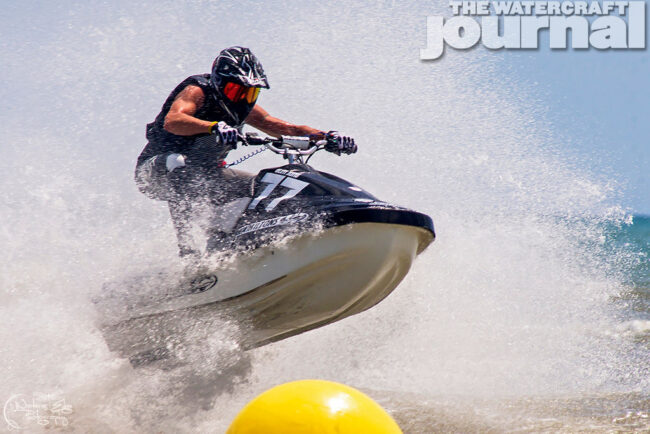 And as for the transponder talk, "Yes!! Pro Watercross racing is going full transponders by the 4th round at Racine, Wisc.," Sand told The Watercraft Journal this morning. "The system will have all kinds of features and I think this will really help the scoring, times, speeds etc. Stay tuned for some results."
Pro Watercross Round 2; Daytona Beach, Florida Results
Pro-Am Ski GP: 1. Dustin Motzouris, 2. Craig Warner, 3. Isaiah Washington; Pro-Am Runabout GP: 1. Eric Lagopoulos, 2. Troy Snyder, 3. Dylan Osborn; Pro-Am Ski Stock: 1. Matthew Richuk, 2. Callaway Turner, 3. Broc Harris; Pro-Am R/A Box Stock: 1. Troy Snyder, 2. Tim Miller, 3. Tyler Hill; Sport Stock: 1. Jimmy Wilson, 2. Haden Skellett, 3. Sammy Nehme; Blaster GP: 1. Sam Nehme, 2. Johnny Smith, 3. Haden Skellett; Amateur Ski Stock: 1. Camden Powell, 2. Jeff Lutker, 3. Marshall Brown; Ski 4-Stroke Stock: 1. Isaiah Washington, 2. Luis Velay, 3. Mo Salhi; Amateur R/A Box Stock: 1. Mo Salhi, 2. Graham Hunt, 3. Charlie Smith; Iroc GP: 1. Eric Lagopoulos, 2. Valentina Lezcano, 3. Sean Sprague; Iroc Stock: 1. Eric Lagopoulos, 2. Dominic Perez, 3. John Block West; Veteran Ski GP: 1. Marshall Brown, 2. Jeb Zarzour, 3. Ralph Mcgregor; Veterans R/A Box Stock: 1. Charlie Smith, 2. Frank Crandell, 3. Jim Bennett; Sport GP: 1. Billy Dearman, 2. Ray Quintana, 3. Jeremy Dickman; Junior Ski Stock 10-12 Yr: 1. Teagan Hill, 2. Kayden Baldwin; Supercourse 300+: 1. Eric Lagopoulos, 2. Graham Hunt, 3. Dennis Mack; Amateur Ski GP: 1. Camden Powell, 2. Zeke Keim; Junior Spark Stock 13-15 Yr: 1. Kenny Compton; Junior Sport Stock 13-15 Yr: 1. Kenny Compton, 2. Aydan Dickman; Amateur Freestyle: 1. Jeff Lutker; Pro Freestyle: 1. Brad Hill; Beginner Ski Stock: 1. Taylor Stewart, 2. Daniel Gibas, 3. David Golde