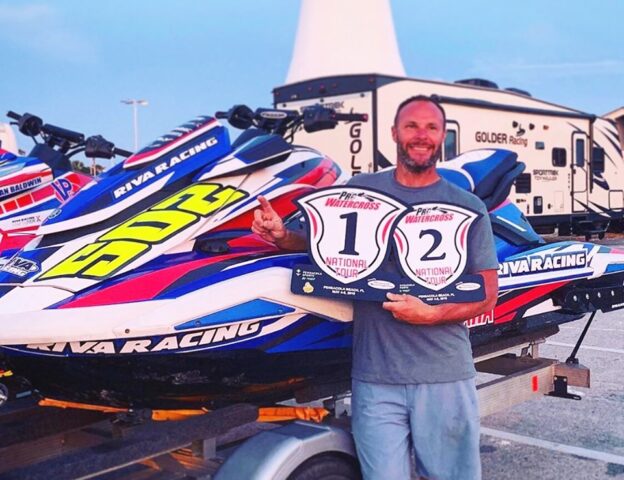 Brian Baldwin, a member of Yamaha's factory team, threw down the gauntlet during competition in the first round of Pro Watercross. The race was held May 4th and 5th at Pensacola Beach, FL. Saturday's conditions were heavy consisting of rough seas and sketchy weather. The racers pushed on and Brian Baldwin scored top honors in the Pro-Am R/A Box Stock Class. He was riding the RIVA Powered 2019 Yamaha FX SVHO. It's a beast of a machine outfitted with RIVA's new FX handling package, which includes RIVA Ride Plate, Intake Grate, Sponsons, and Steering System.
The RIVA Ride Plate enabled Baldwin to increase his top speed and masterfully handle his PWC. The deep channels enabled Baldwin to put the hammer on the throttle while still controlling the watercraft at high speeds. His machine was able to hold a harder edge during high speed turns, which worked in Baldwin's favor considering the rough conditions. The complete FX handling package was put to the test during Saturday's "wash cycle" conditions. Both the weather and water were turbulent. Baldwin didn't back down and handled his competitors and unruly conditions like a boss!
The crew at RIVA also flashed MaptunerX ECU tuning system, giving Baldwin's Yamaha WaveRunner even more horsepower. He turned it up! The RIVA powered Yamaha FX SVHO allowed Baldwin to push the limits and score top honors in the Pro-Am R/A Box Stock Class after winning all three motos, making him the dominant performer. It was either go home or go big and Baldwin went big!