It didn't take much to see that Yamaha Motor Corp. USA was going to play things a little conservatively going into 2023. Big radical changes simply weren't on the menu as the watercraft manufacturer was finally picking up some strong momentum in producing units, fulfilling orders and keeping dealers equipped with replacement parts in 2022. Certainly there are some pending orders and customers patiently waiting for their WaveRunners, but by all measures, Yamaha is rounding the corner with a strong tailwind.
Industry sources informed The Watercraft Journal as recently as last week that Yamaha built and sold more 2022 units than in 2021, although the total production number was unknown. This comes as both Sea-Doo and Kawasaki showed fewer units produced in 2022 compared to 2021 (down a purported 15,000 units and 1,300 units respectively), giving Yamaha a measured tactical edge going into the new model year. Meanwhile, the percentage of first-time buyers still accounted for nearly half of all new WaveRunner sales for 2022.
While Yamaha's boats got some major innovations and upgrades for the new year (namely a new 22-foot series and Drive X software for 27-foot boats), the WaveRunner team kept the changes to a minimum for 2023, as buyers who may have been delayed for 2022 do not want to see their purchases outdated before they can receive them. Rather, Yamaha leaned hard into providing customers more accessibility, device integration and connectivity for their dollar; as well as opening up a world of accessories to the VX and GP series, which share the same deck and hull molds.
Beginning with Yamaha's luxury FX Series, all models (except the base FX High Output (MSRP $15,399) will come standard with with premium audio speakers controlled through the touchscreen Connext multi-color display. The package includes twin factory-installed 4.5-inch waterproof marine speakers, an integrated two-channel amplifier, an easy access control pad, and a low-voltage regulator to protect the battery. The FX HO and FX Cruiser HO (MSRP $16,699) come equipped with the 5-inch Connext display, and come in Azure Blue with White and Carbon with Titan Gray or an optional Cyan (respectively).
For the three supercharged SVHO-powered FX models – the FX SVHO (MSRP $18,899) in Black; the FX Crusier SVHO (MSRP $19,399) in Torch Red, or Black with Titan Gray; or the FX Limited SVHO (MSRP $19,999) in Carbon with Mint – all come with the larger 7-inch Connext touchscreen display. Thankfully, all FX models equipped with audio also include the LED-lit glove box with a USB port, and smartphone microphone for making and receiving phone calls while out on the water – so get your alibis ready in case you plan on calling in sick for work!
Moreover, all FX models will come pre-drilled to mount the Yamaha Rec Deck accessory platform, making installation far easier if you plan on adding it yourself or having your dealer install it for you. First introduced as an exclusive accessory for the FX Series, Yamaha announced that now the Rec Deck is available for all VX and GP-based WaveRunners. Whether you're bringing extra fuel, snacks or looking to tow a raft or wakeskater, all HO and SVHO-powered WaveRunners can be equipped with this versatile platform, quickly and easily.
Unlike the competition, Yamaha's Rec Deck can be installed and removed rather quickly with basic hand tools, and now without any drilling or cutting. Per Yamaha, "The padded RecDeck is finished with MarineMat and includes four cleats that connect the adjustable Multi-Use Rack accessory. The Multi-Use Rack expands to fit most coolers, and it also serves as the seat structure for the Lounge & Beach seat accessory. Available accessory options for the RecDeck are the JetFish Packages, the Lounging Package, and Tow Sports Package."
The aforementioned GP Series carries over unchanged from 2022 apart from some bold new colors and graphics, namely the GP1800R High Output (MSRP $14,199) comes in either Azure Blue with Cyan, or Black with Carbon; and the GP1800R SVHO (MSRP $16,499) available in Azure Blue, or Black with Acid Green. The GP SVHO is also available with the premium audio package for a fee (although it doesn't get the larger 7-inch screen and microphone as the FX models). VX Series gets similar cosmetic updates with only a few being optioned with the sound system.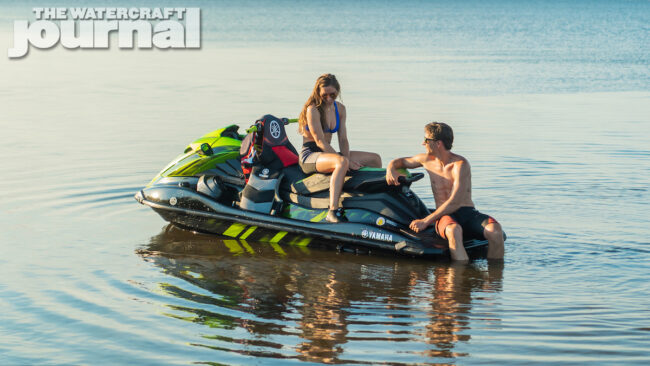 The VX-C (MSRP $9,999) comes in White with Azure Blue as does the base VX (MSRP $11,199). The VX Deluxe (MSRP $12,099) is painted in Torch Red with Carbon, or all Carbon; the VX Cruiser (MSRP $12,499) in Cyan with Lime Yellow,Carbon with Titan Gray. The VX High Output (MSRP $13,299) looks rad in all White, or Lime Yellow; while the two limited editions, the VX Limited (MSRP $13,699) and the VX Limited HO (MSRP $14,999) both in Azure Blue with White, along with a king's ransom of color-matched accessories to maximize you and your family's fun on the water.
Equally, the Rec Lite and Freestyle segments get equal attention: the EX (MSRP $7,599) comes in White with Azure Blue; the EX Sport (MSRP $8,899) comes in Lime Yellow With White, or Cyan; the EX Deluxe (MSRP $9,999) is painted in Cyan with Lime Yellow, or White with Torch Red; and the EX Limited (MSRP $10,599) in Azure Blue with Cyan. The SuperJet (MSRP $10,499) returns unchanged in White; and the JetBlaster (MSRP $10,699) returns for 2023 in Black with Acid Green, a far more subdued tone from last year's raucous '80s livery.