This is a day that we are more than happy to help ourselves to a heaping serving of crow. Initially, spy photography of the new STX-160 that was leaked to The Watercraft Journal didn't give us much to get all that excited about. Sure, ergonomics had improved as well as the possibility of Kawasaki's Jetsounds audio system on the smaller runabout, but apart from that and a few other speculative features, we just weren't all that jazzed.
Now with the final rollout of Kawasaki's entirely-redesigned STX platform and the reveal of three new tiers of watercraft, there is a king's ransom-worth of news to share – all of which is certain to make you strongly reconsider Kawasaki's Recreation-segment machine. First and foremost, Kawasaki replaces the once 17-year-old STX-15F with either the STX-160, the STX-160X or the STX-160LX.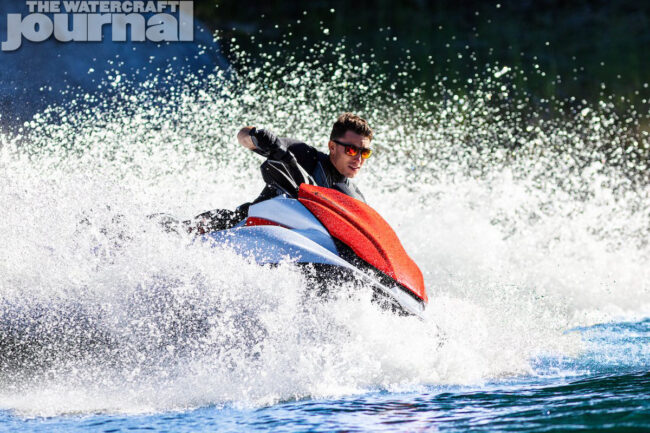 Beginning from the ground up, the new STX-160 platform is completely redesigned. No, it's far more than we had predicted and we're happy to announce that! The reshaped hull is made from lightweight gel-coat finished, fiber-reinforced plastic (FRP) that features "an integrated floating cell structure." Sporty yet intuitive, the new hull strikes a balance of old STX and Ultra.
Integrated into the shape is Kawasaki's Triple Splash Deflector designed to minimize splashing, with aggressive strakes running the near entire length of the craft and sharp-angled chines to improve straight-line stability. The new deck includes a newly-expanded rear platform perfect for re-boarding and carry larger items (like wakeboards or rafts) with ease.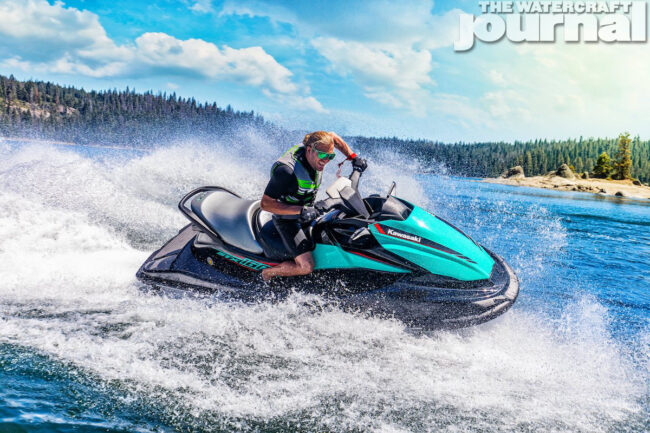 Ergonomically, riders enjoy a taller, more natural riding position with greater room at the knees thanks to a more pinched saddle. Seat designs vary per their respective trim levels: STX-160 has a single-tone, simple shape; the STX-160X is a sportier, black-and-silver bench with lumbar support; and the STX-160LX features a high-backed, heat-resistant stadium-style seat – all of which feature Kawasaki's new hinged "Slide-and-Lift" rear seat hiding 4.4-gallons of storage.
Speaking of storage, the newly expanded bow stowage grows to 30.1 gallons, as well as a newly redesigned glove box includes a small waterproof compartment perfect for storing smartphones, while two cup holders have been molded into the upper deck, just forward of the steering neck, similar to the previous generation Yamaha FX WaveRunners.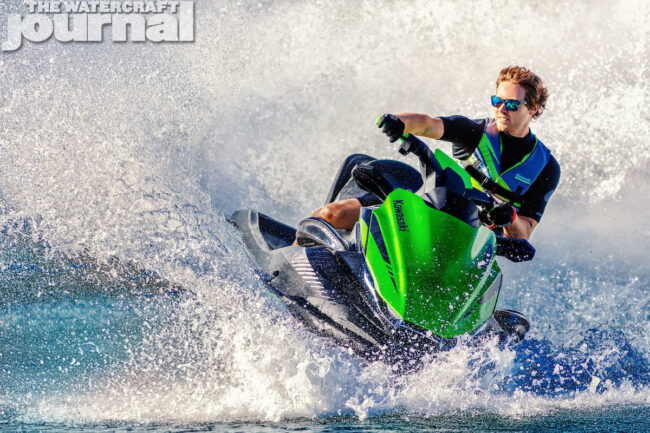 All of the steering necks and handlebars have been redesigned with sleeker, more narrow housings, with the X and LX models featuring new pistol-style hand grips and re-angled bars that taper outward, making for a more natural riding position. New wider-set rear view mirrors provide the rider a larger field of view.
All STX models debut a new large LCD dashboard that is comprised of a speedometer with a bar graph-type tachometer; fuel and instantaneous fuel consumption is clearly visible, as are the hour meter, outboard water temperature and external temperature, maximum speed history, and economic riding indicator – all very welcome additions for 2020.
Kawasaki sought to make every inch of the new STX platform usable space, and in doing so allowed for the new runabout series to swell its fuel capacity from 16.4 gallons to a whopping 20.6 gallons – giving it the largest capacity in its class. Combine that with the STX's new use of Kawasaki's electronic throttle actuation system, and you've got a full-day's ride ahead of you.
Typically coined as "fly-by-wire," Kawasaki's ETV (Electronic Throttle Valve) removes the mechanical connection between the massive 60mm throttle body and throttle trigger, which reduces fatigue over long trips, and provides a clean, crisp throttle response every time. Best of all, it allows for precise cold-engine idling control, and better fuel mileage.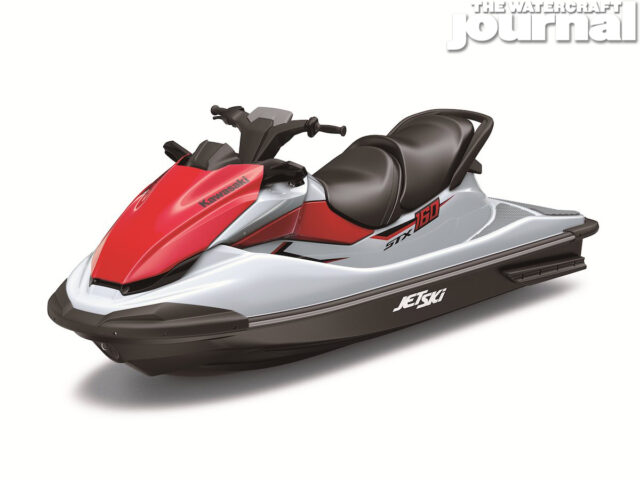 And prepare to be excited, because Cruise Control comes as standard equipment on all three models. After setting your desired speed, Up/Down toggles allow the rider to adjust their speed on a whim. Equally, all STX's include Kawasaki's one-touch 5 mph mode so you can avoid churning up a wake without touching the throttle.
Lastly, all JetSkis include Smart Learning Operation (SLO) Mode, which limits engine rpm to 5,800 rpm, reducing maximum speed 30 percent. Albeit a great option for less experienced riders, it's also a great tool for maximizing your fuel efficiency. When the Economical Riding Indicator "ECO" symbol lights up you'll know when you're operating within the ideal perimeters for optimal fuel consumption efficiency.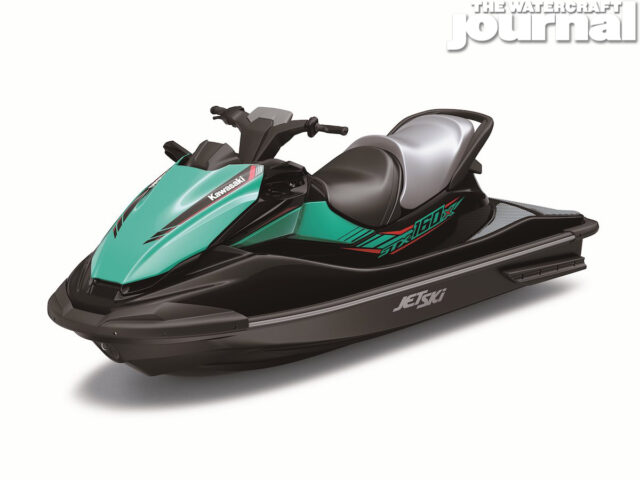 The engine itself is a naturally-aspirated version of the superior 1,498cc DOHC, 4-cylinder 16-valve engine powering both the supercharged Ultra models and what was inspired by the Ninja motorcycles. Featuring chrome composite plated (KP) cylinders, they're lightweight, durable, and quickly dissipate heat away from the combustion chamber.
The 1.5-liter includes an extraordinary semi-dry sump oiling system with proprietary oiling for the most sensitive bearings, and dual under-piston oiling jets. Equally, a unique crankcase venting system prevents oil from entering the intake tract if ever the ski is capsized. A double-walled, water-cooled exhaust manifold helps reduce noise, operating and engine compartment temperatures.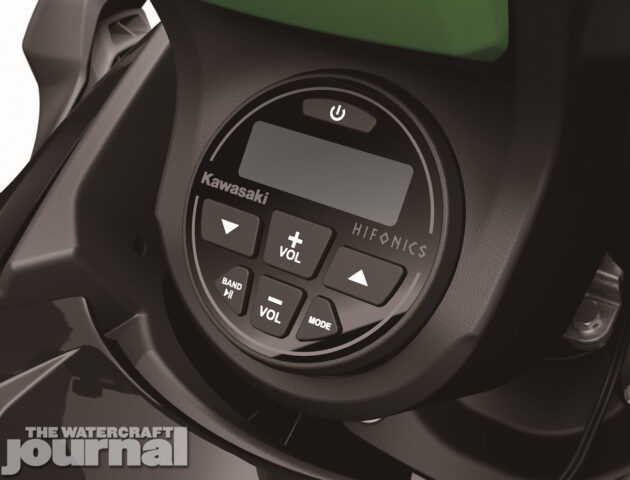 Speaking of engine compartment, the redesign also allowed for a far larger, more voluminous compartment helping lower engine temperatures and to give the conspiracy theorists enough room to speculate whether the 310X's Eaton TVS supercharger and intercooler could fit inside [no comment –Ed]. There's also a system that can clean the engine-cooling path with the engine room closed to help reduce the noise during maintenance.
While our reveal of the Slide-and-Lift rear seat came to fruition, the absence of an electronic braking system is a little disheartening. Rather, the lever has been moved to the left, and the injection molded plastic reverse bucket deploys traditionally, pivoting manually from the "high-performance" ride plate.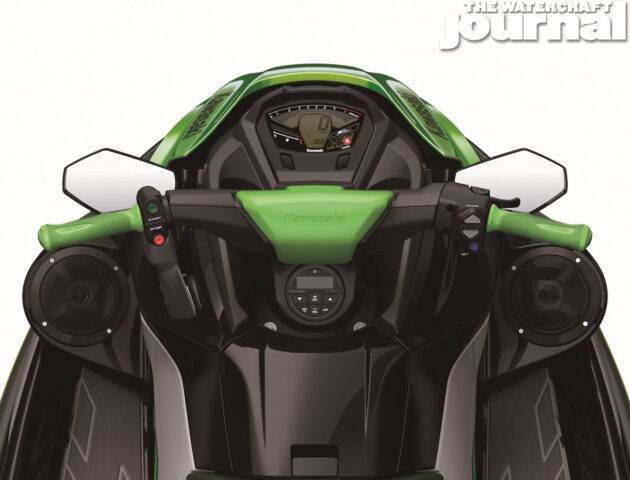 Ranging between the different trim levels, the LX is noted by its Ebony/Candy Lime Green coloring, two-tone CNC-cut traction mats, and of course, Kawasaki's 60-watt Jetsounds system as standard equipment, consisting of an 40-watt, 4-channel amplifier, an audio controller, and two 30W speakers placed under the mirrors.
Now connectable via Bluetooth, the USB, and AUX ports are installed in the waterproof storage in the glove box, as the audio controls are integrated into the handlebar pad. Standard for all STX's, a new rear grip with two grip sections for convenient re-boarding, an automatic siphon bilge system, and Kawasaki's theft deterring  immobilizer function returns.
The standard-trim, entry-level STX-160 (starting at $9,599 – a staggering $100 cheaper than the previous SX-15F) is available in Gelcoat Crystal White and Sunbeam Red while the Jet Ski STX-160X (with a listed MSRP of $9,999) comes in a very fetching Ebony and Riptide Turquoise livery.
In all, Kawasaki surprised all of us with a complete "white page" redesign of the STX model. While all of us were left in anticipation to see how Kawasaki would revise its longest-running runabout, those at the Big K were certain to make the right changes to unify the JetSki lineup, bring in "just enough" DNA from the Ultras without the STX losing its soul, and introduce a Recreation segment lineup that will hopefully pull the brand back up into the fight.