What you're seeing here is yet another starry-eyed, glistening manifestation of an ever-hopeful dream crying to be actualized. The 2016 Belassi B3R vows to wield the mightiest horsepower output of any production personal watercraft available on Earth – a resounding 333 ponies, to be exact. It aspires to rise to the top of the performance PWC market (at least internationally), supplanting the mainstays Kawasaki, Sea-Doo and Yamaha, and stake its flag in the mountain's peak. And while many want this new iteration of the Belassi personal watercraft brand to find its footing and finally stand on solid ground, most know that its ascent is unlikely at best, and almost assuredly doomed.
First, it was Hydrospace. Then, it was HSR. Then, HSR-Benelli. After that, just Benelli. And then, Belassi. Within the space of less than a decade, one single company has changed hands, rebranded itself, changed hands again, and re-re-branded itself. Among industry insiders, the ne'er do well story of  Belassi is one of false starts, broken promises and ever-hopeful relaunches. From its early and controversial insertion into the IJSBA rule book, to failure to access the world's largest market – specifically, the United States – by complying with our rigorous impact, flotation and safety standards (as established by the USCG), Belassi and all of its preceding aliases, is veritably stillborn.
In the past two months, Belassi's new marketing efforts have fared a fine job relaunching the brand with a new website, logo and aesthetic. Fresh media in the form of press releases and eye-catching photography make the familiar-to-some hard-edged, Enzo Ferrari-inspired lines of the 5-year-old B3R runabout look new and inspired. Alas, within hours of the new Belassi's introduction at the Top Marques show currently being held in Monaco (April 14-17, 2016), the manufacturer suddenly announced that its test sessions (set aside for media and private parties) to be held in the Arie de Boom Marine in Mandelieu la Napoule, were abruptly cancelled.
Why? Of the 30 persons to RSVP, less than a half dozen were physically able to attend the exclusive event. (Yes, The Watercraft Journal was invited, yet zero accommodations – flight, hotel, food or taxi services – were extended. So, we passed.) In late 2009, then-named HSR-Benelli attempted a similar media junket and almost immediately regretted it. Of the six test units, two operated at rideable levels, both of which were naturally-aspirated. Other prototypes present suffered from mechanical or electrical gremlins, or had sunk (literally). Test riders noted the seats were hard and narrow, the decks lined with sharp edges, almost dangerously so, and poor ergonomics. It was a disaster.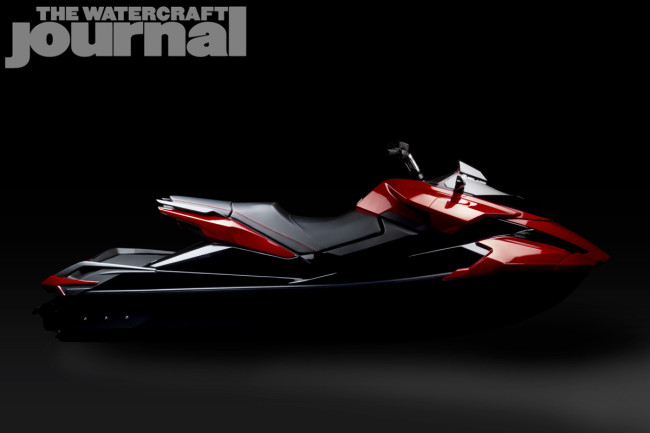 Yet, hope springs eternal, and this weekend's Top Marques event promised to show the world the new and re-imagined Belassi. Powered by its own proprietary "Belassi I3C16" engine, it's a marine-grade 3-cylinder displacing 1.6 liters (1602cc) producing a purported 333 horsepower. This is accomplished by force-feeding the multi-point fuel injected four-stroke via a turbocharged induction system with a watercooled intercooler. Cooling system in question is a closed loop circuit featuring a heat exchanger integrated in the jet pump (similar to Sea-Doo's CLCS). This would also make it the first production turbocharged PWC since Honda's F-15X terminated production in 2011.
According to Belassi, the 333-horspower B3R rides on a Compression Molded High Performance Composite (CMHPC) hull and counterhull structure (ie. sub- or lower deck). It also features Belassi's own "ERev" E-hydraulic Reverse System with axial displacement cylinders; VETS, a Variable E-hydraulic Trim System with axial displacement cylinders; SMPI-K sequential multipoint injection with knock control; GPS; a dead-ignition anti-theft system; and adjustable sponsons. Weighing in at a dry weight of 380 kg (838 pounds), the measurements of the three-seater come in at 3.50 m (137.79 inch) length, 1.20 m (47.24 inch) width, and a height of 1.15m (45.28 inch), including a 55 liter (18.5 gallon) fuel tank.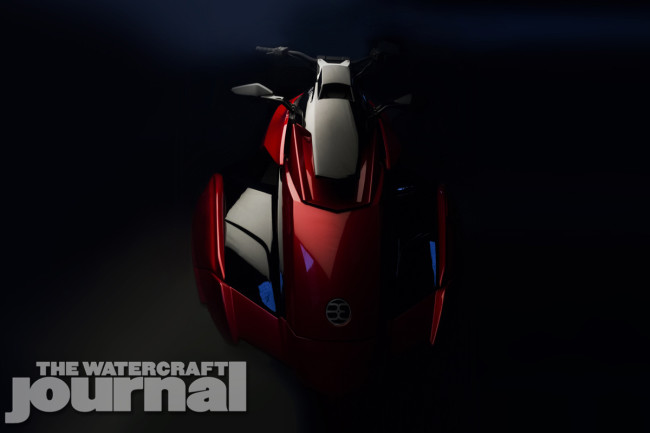 Although slightly shorter and narrower than the RXT-X 300 and FX SVHO, it weighs roughly the same. Images of the hull reveal several similarities to the FZR's bow, shallow deadrise and wide pads running all the way out to very pronounced reverse chines. These characteristics almost guarantee phenomenal flat water prowess but questionable (at best) offshore capabilities. While we've no reason to doubt Belassi's claims of a "smooth torque delivery… allow[ing] for outstanding agility and drivability, making your experience over the limit," we question how much of the B3R is truly ingenuity versus "one-step-away" reverse engineering.
OK, in review, we realize this might read like an outright "hit piece" on Belassi's latest effort to get off of the ground, and that is not our intent. We're just trying to protect you. Belassi is that ex who keeps popping back up, sending sexy pictures that make you forget what a flake they are. You've been burned before. Never again. Look, we're 80-percent certain this vehicle will never come to fruition, and we're 100-percent certain that most of you will never see one in a dealership in North America. That is, unless Belassi's accountants realize that the single-largest buying population in this industry is the continental United States, and makes a B3R to meet USCG standards. Until then, enjoy the sexy pictures.