Let's face it. You don't have a lot of money. It's OK, we won't tell your friends. But, being broke doesn't mean you can't have nice things. You just have to be a little more creative. Take for example your favorite sport – jet skiing. It's not exactly as cheap as say, jogging, but it is a whole lot more fun. Yet, if you're starting from square one, finding a rideable, running ski is going to be a challenge.
Actually, not so much these days. A cursory search of Craigslist brings up quite a few hits, particularly if you're living in hot skiing locations like Southern California or pretty much all of Florida. Only yesterday we found a pretty wild custom Kawasaki JS550 for sale for $500. But in order to go from "Craigslist Cheapo" to a ready-to-ride, sexy-on-the-beach ski on an extreme budget does take some work.
Consider this unusual build from personal watercraft vinyl decal manufacturer and industry leader IPD Graphics. IPD's Casey Mauldin couldn't resist this turnkey '90 Yamaha "Squarenose" Superjet 650 in the San Diego Craigslist listings for an even $1,000. The ski was surprisingly clean for its age, showed only minor wear, and was ready to ride with just a quick bit of TLC.
But the factory decals were heavily faded and oxidized, making the ski look far worse than it really was. IPD stripped the SuperJet down bare and cleaned up the original white gel coat. The big metamorphosis happened with IPD Graphics installed a digitally printed IPD Graphic kit (retailing less than $350), dramatically transforming the staid Squarenose into a ski that everyone always asks about. The retina-scorching iridescent yellows, bold race numbers, sponsors logos (for Jettrim, Bomber Eyewear and ProWatercraft Racing) and reflective silver shaves 20 years off of the ski.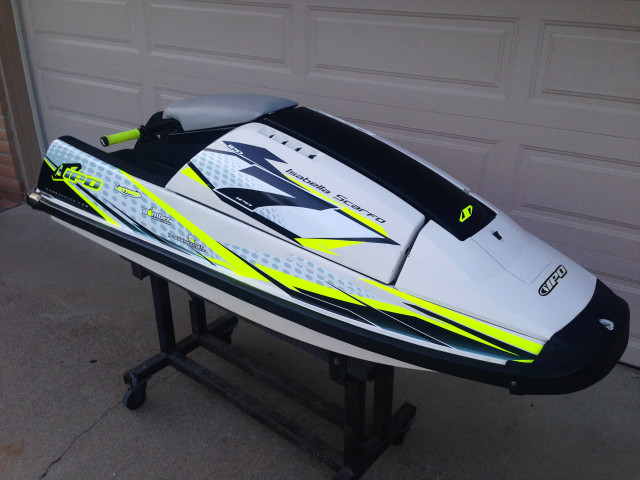 But things just didn't end with a vinyl kit: "We couldn't resist installing an RRP handle pole, grips and a set of ProWatercraft Racing sponsons," Mauldin admitted. The adjustable handle pole replaces the first generation's heavy fiberglass pole, freeing up some weight from its original 287-pound dry weight.
Now a regular at Mission Bay, the '90 Squarenose runs and handles as good as it looks, and as Mauldin states, "it could sell it for $2,000-2,500 with ease." Vinyl decal kits and wraps aren't anywhere as big in the 'States as they are with European, Japanese and even Saudi racers for inexplicable reasons. Vinyl kits are significantly more affordable than a custom paint job and are quickly installed compared to the down time needed for paint.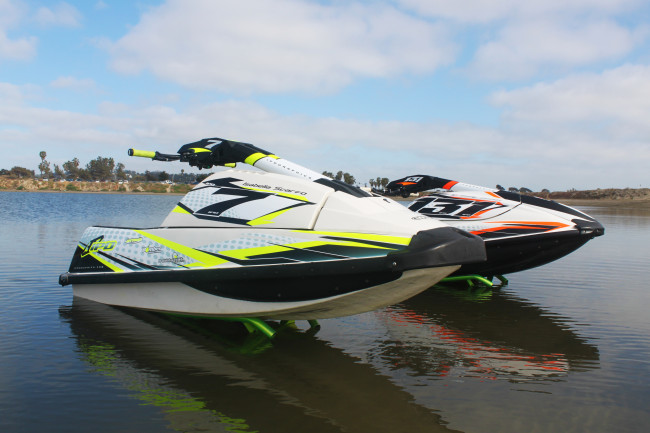 Not only did IPD Graphics double the value of their otherwise stock 650 SuperJet, but also pumped many more years of life and use into a previously unwanted ski. If you're looking to do the same, check out IPD Graphics' massive lineup of vinyl decal kits for your PWC.