Well, dang. I gotta get out of the prediction racket 'cause I've been striking out pretty badly when it comes to the brand that I thought I knew best. It was a no-brainer that Kawasaki would be tooling up to revamp the naturally-aspirated (non-forced-induction) Ultra JetSkis after the roll out of their newly redesigned supercharged 310 models in 2022 – that much was certain. But in what degree the new entry-level Ultras would arrive was still uncertain…until today.
In an unusual move (one that I haven't seen in my 18 years of publishing), Kawasaki unveiled two new 2023 models mid-season the 2023 Ultra 160LX and the Ultra 160LX-S. These two non-supercharged JetSkis are nearly indistinguishable from their supercharged siblings; in the case of the 160LX only the numerical call-outs on the deck identify one from the other. Literally all other features and physical characteristics are carried over.
Top row: The 2023 Ultra 160LX-S comes in Candy Steel Furnace Orange but features every feature on the supercharged Lime Green 310LX-S. Bottom row: The Ultra 160LX is even more confusing to the neophyte as it is literally indistinguishable from the forced-induction Ultra 310LX save for the obscured call-outs on the lower deck.
This is not hyperbole. The naturally-aspirated Ultra 160LX is equipped identically as the flagship 310LX. Beginning with the Jetsound 4s integrated audio system consists of a 200W x2 channel amp and two 60W lower speakers and two 35W upper speakers, a jog-dial control with Bluetooth connectivity, the Ultra is compatible with all smartphones with Bluetooth capability. And when synced to the TFT dash, audio control can be viewed on the display.
The new 7-inch TFT full color display scrolls through pages via a dedicated jog-dial control, offers Bluetooth connectivity, and various features and three different display modes (Digital Speedometer, Analog Tachometer, Digital Speedometer and Jet Ski Image) and an optional black or white screen background. Infotainment functions including a GPS waypoint indicator, vehicle information, rear-view camera monitor and audio track display.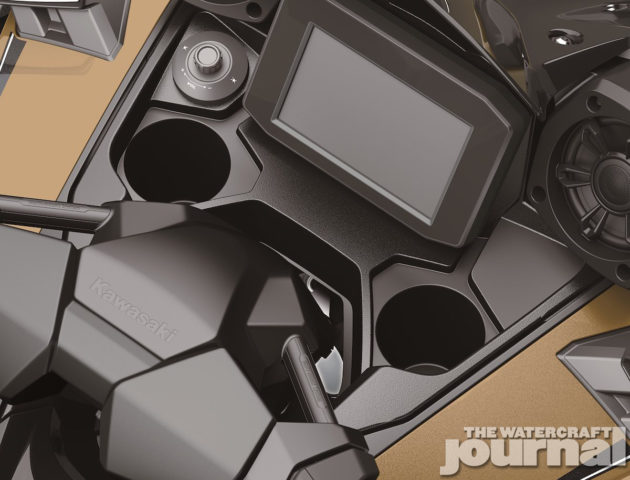 Above: Kawasaki completely revamped the Ultra's upper deck with an entirely new console, including a 7-inch full-color TFT digital dashboard featuring a GPS-referenced compass, waypoints and speedometer.
Above: The TFT also features a king's ransom of live data reading, as well as a true Launch Control, No Wake mode, multiple "mode" settings allowing for Full, Medium and Low speed outputs.
And yes, that also means that all Ultras include a GPS-based speedometer, tachometer, fuel gauge, drive mode, boost pressure, clock, power mode, compass, trim, Bluetooth indicator, phone call indicator, mail indicator, economical riding indicator, cruise control, and options for a digital tachometer, trip meter, total time, trip time, oil temperature, engine coolant temperature, battery voltage, intake air temperature, external air temperature, and external water temperature.
On the 5-way adjustable handlebars are toggles for Cruise Control, a one-touch 5mph "No Wake" mode, and most importantly, the all-new Kawasaki Smart Reverse with Deceleration (KSRD) braking system. Kawasaki placed all of the throttle and brake controls on the right-hand grip, allowing riders to squeeze the throttle with their index finger, or deploy the brake with their thumb. The brakes don't come on as hard as others' systems, but it certainly works.
Above: Kawasaki surprised many with an innovative dual side-entry glove box comprising an impressive 10-plus-gallons of storage beneath the fairings. A watertight storage bin with double USB ports are found on the LX's right hand side.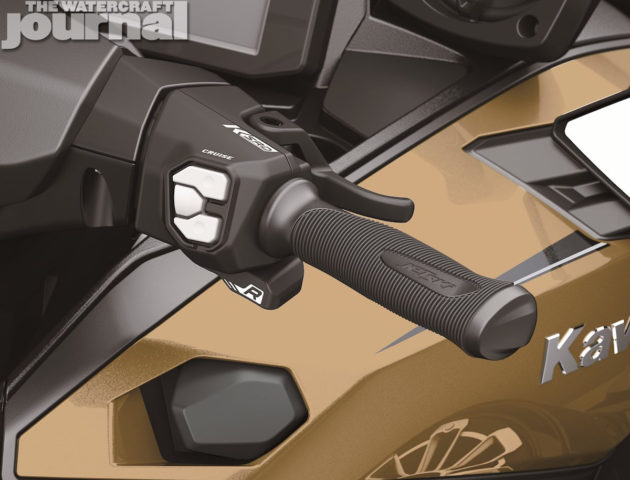 Above: Although the last of the three OE's to offer an electric brake & reverse system, the KSDR has proven in its short year-and-a-half as a worthwhile entry. It's now standard on all Ultras.
All of these features are present due to a completely revised engine management system. This also permits the Ultra to enjoy the same four power modes: Full Power Operation (FPO), Middle Power Operation (MPO), Low Power Operation (LPO) and SLO (Smart Learning Operation). When using the standard black key, riders will be able to switch back and forth between different power settings using a "Mode" button on the left handlebar.
Final features include visibility LED lights, Kawasaki Launch Control Mode (KLCM) – accessed through the jog dial, it can be set for either one time or multiple launches, automatically trimming the nozzle as the ski accelerates – and the Rear-view camera. With three zoom settings, riders can look at the TFT screen at the tuber or wakeboarder behind as they tow them around the lake (although we discovered any sizeable storage rack will block the view for the most part).
Above: The Ultra Deck offers a variety of attachment points and accessories so you can bring far more stuff with you than you could ever use.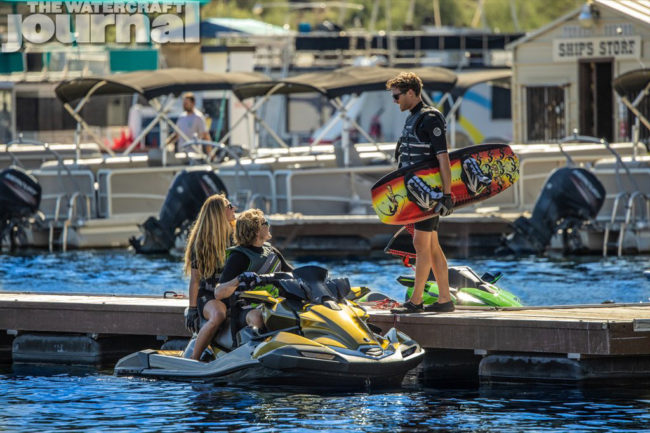 Identical to the 310LX, the Ultra 160LX comes equipped with the 3-way adjustable Ergo-Fit LXury seat, granting riders 70mm of adjustability. Each setting is placed 35mm apart, allowing for full customization of your seating arrangement. Kawasaki radically reshaped the Ultra's ergonomics to pinch at the knees with deep hip support for all three riders. The LXury seat is also wrapped in heat-resistant material to keep you from burning your skin on a hot day too.
Above the transom is Kawasaki's new Ultra Deck, providing plenty of room to sit, lounge and dive from – as well as strap down gobs of cargo thanks to two multi-mount bars built into the front of the handle with a third below the easy-access rear pocket. Two multi-mount rails were built into the deck to "accommodate accessory slide mounts and to provide convenient tie-down points." Per Kawasaki, the built-in cleats provide cinch points when mooring at a dock.
Above: Differences in the cockpit delineate the 160LX from the 160LX-S (left and right). Thankfully, Kawasaki says the Jetsound 4S and Meter Visor can be added to the orange LX-S if so optioned (equipped by your dealership, not the factory). [Personally, I prefer the uncluttered look of the LX-S dashboard. –Ed.]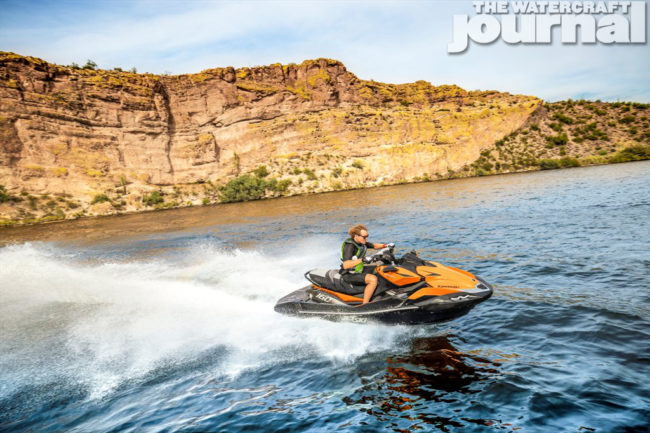 Beneath the gasketed engine cover is the tried-and-true 1498cc DOHC, 16-valve, parallel 4-cylinder, fuel-injected engine. Fitted with a fly-by-wire 60mm throttle body, a liquid-cooled double walled exhaust manifold and dual water boxes, the N/A 1.5-liter runs efficiently on pump gas 87 octane (as long as the percentage of ethanol doesn't exceed 10%) ensuring long, enjoyable days on the water without multiple fill-ups.
Of course, all of this describes the $17,299 Ultra 160LX JetSki in Ebony & Metallic Shadow Gold. What about the Ultra 160LX-S, you ask? Priced at $16,299 the Ebony & Candy Steel Furnace Orange LX-S is all but identical – save for some key features: namely, the Jetsound 4S, air diffusing Meter Visor, and adjustable LXury seat. Everything else directly carries over between the two machines.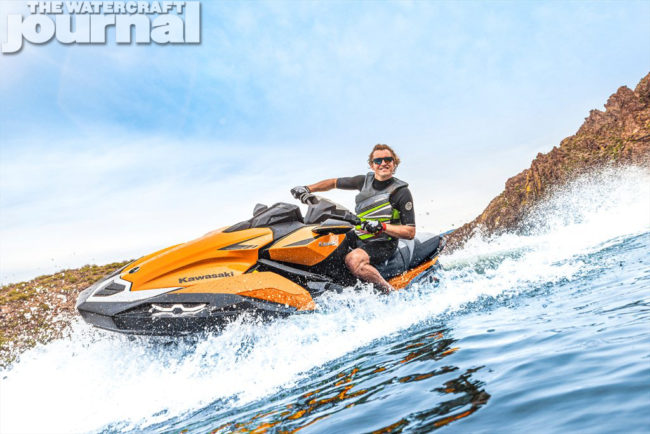 Above: The radical redesign gives the Ultra a super-angular look with high arching fenders and a narrow Formula 1 reminiscent hood. Below it is a narrowed opening for a reduced bow storage from the previous Ultra.
Above: If so desired, Kawasaki offers an adjustable LXury-style seat (just not in brown) for the LX-S as an add-on.
Of course, Kawasaki is quick to note that all of the above features can be added on as accessories whether during the ordering process or a year later if you so desire. It might just be that the metallic orange is more your flavor than the muted gold – and that's fine. Just ask your Kawasaki dealer to order the other stuff to go on your LX-S and BAM! you've got your own LX-equipped LX-S. It's pretty easy.
Kawasaki does note that wiring the Jetsound 4S system is no small task and needs to be done by your dealer's service department, so take that into consideration if you're considering that route. Otherwise, enjoy your naturally-aspirated LX and LX-S as it comes from the Lincoln, NE assembly plant. [In case you were wondering as we were, there's still no word on a frills-free Ultra 160 without the Ultra deck and other features. –Ed.]