Pro Watercross racers and fans descended on Tugalo State Park this past weekend as the national tour squeezed in a second round in this Covid-crimped season. The Northeast Georgia stop has always been one of the most well-attended races on the tour – perhaps of the sport – and this year was no exception, despite the restraints of park-monitored social distancing requirements.
Pro Watercross Race Director Robert Sands and tour head honcho AJ Handler stayed with the new scheduling matrix, rolling through all three motos of the Pro classes on Saturday, interspersed with a few Amateur class motos. The course, designed by Sands and noted by a few racers as a "technical course," featured a split (which was placed where this photographer could actually shoot both inside and outside racers…a rare occasion!) coming off the back stretch that kept the attention of the fans as racers jockeyed for position at the merge buoy on race after race.
"I liked the long back straightaway," noted Ryder Wildeboer, who staked down a top podium spot in the Pro Am Ski Stock class with a 3-2-1 weekend. Wildeboer, 13, may have claimed the win this weekend, but he is not anywhere near ready to rest on that victory. "I'm looking forward to taking my Pro Force to the next level and moving up to the Pro Class on that next year," he said.
That ambition, with the skill and dedication to back it up, highlights a common factor on the race course this last weekend – time and again, the top podium spot during the awards ceremonies – in the Pro Show as well as Sunday's Amateur classes, was claimed by a racer not yet old enough to lock down a driver's license on dry land.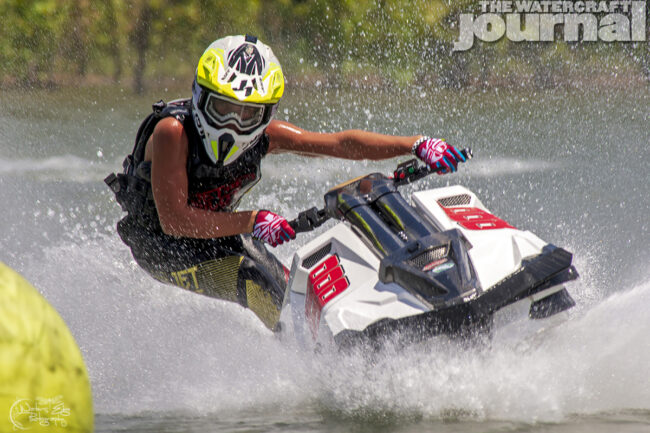 These young riders, many of whom I have photographed since they took their first lap in a Junior class, are on their way to dominating the tour, bringing energy, talent, natural skill and a slew of dedicated, enthusiastic "crews" made up of moms, dads and siblings.
Sammy Nehme, 15-year-old son of multi-time champion Sam Nehme and one of the tour's most recognizable racers, secured a weekend win in the Sport Stock class with a 1-2-1 run and Haden Skellet, also 15, snagged the third spot with a 4-6-3 weekend. Christopher Landis claimed the second podium spot with a 2-1-2 finish.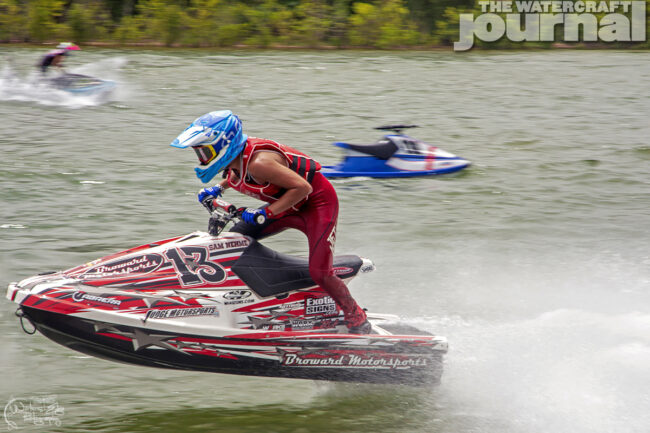 "I thought (Hartwell) was a great location with a lot of spectators," Nehme told The Watercraft Journal earlier this week. "My biggest challenge was competing in the Pro Ski GP class. There are a lot of fast riders in that class and I feel I did pretty well competing with them."
The Pro-Am Ski GP line was packed 10 deep with talent. Lake Havasu's Aaron Gewecke (4-2-1) piloted his Bullet to a weekend win, and Camden Powell (1-5-2), another young gun at 16, snagged the second spot, just ahead of Jimmy Wilson (5-1-4). The Blaster GP class was another youth-dominated class, with Haden Skellett (1-3-2) edging out 15-year-old Revin Harris (2-1-3) on his K1, followed by another legacy rider, 16-year-old Deven Farthing (5-2-1) in third.
While the younger generation are definitely making their mark in the PWX world, there's no moss growing on the legends of the sport, either. Both the GP and Box Stock divisions of the Pro-Am Runabout class ranked high on the list of fan favorites as Brian Baldwin and Troy Snyder continued a seasons-long battle for glory.
In the GP division, Snyder snagged the top podium spot, coming back from a 4th place first moto with a second and first place finish. Dylan Osborn nailed down the win in the first moto, slipped to fifth place in the second moto, and grabbed the second place finish in Moto 3 to secure a second place finish for the weekend, ahead of Baldwin (7-1-3).
In the Box Stock division, Georgia boy Dennis Mack (1-4-2) claimed top spot for the weekend, followed by Snyder (4-3-1) and Baldwin (2-2-4). Texan Tim Miller (5-1-3) held down fourth, followed by Gentleman Jim Bennett (9-5-5).
For more results, visit www.prowatercross.com. For a full album of photos from the race, visit www.watersedgephoto.online.