The kick-off of the Pro Watercross 2019 season is a wrap – and it was one for the books. Pensacola Beach – a perennial favorite race site and a PWX tradition – can be unpredictable – some years presenting glass-smooth flatwater race conditions, and other years churning up a powerful surf to challenge racers. This year, she decided to do both.
Saturday's motos thrashed racers through washing-machine waters, flipping over skis, battering holders and racers alike, and keeping the safety crew – and scoring crew – on their toes (big race numbers, people, big race numbers!). It was this unpredictable chop that served as the proving ground for the first-ever Pro Watercross Supercourse endurance race. Only four racers braved the 20-minute motto for the inaugural Supercourse race, and there was little doubt that navigating through and around (and sometimes under) the erratic surf for lap after lap was a test of both riding skill, and sheer stamina, and it was Dennis Mack that pulled off the win for the weekend.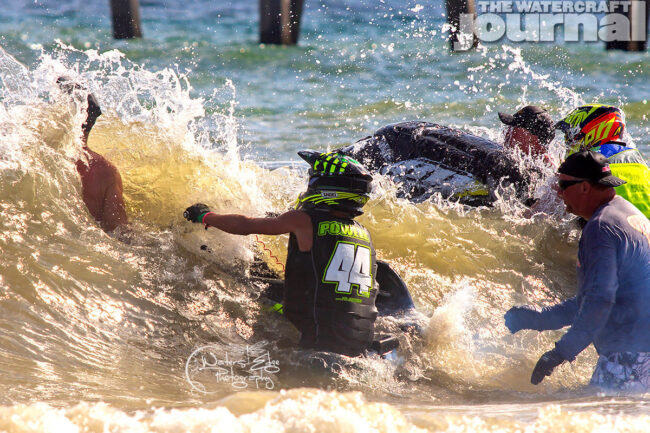 Saturday's races were brought to a halt mid afternoon by a fast-moving squall that drenched the beach and saw a few stabs of lightning out across the water, but race staff and crews quickly fired up the racing again as soon as the brief storm passed, trying to make up for lost time … a daunting task that left a full and hectic schedule of racing for Sunday.
Luckily, Sunday dawned to much calmer waters, and a beautiful day, and both racers and crew worked to keep things rolling in order to fit in the needed motos. Despite the tough conditions, it was apparent early on that the weekend would set the stage for tour-point battles that promise to be hard-fought over the next four months, and races in all divisions brought full lines, and featured familiar names and some new faces.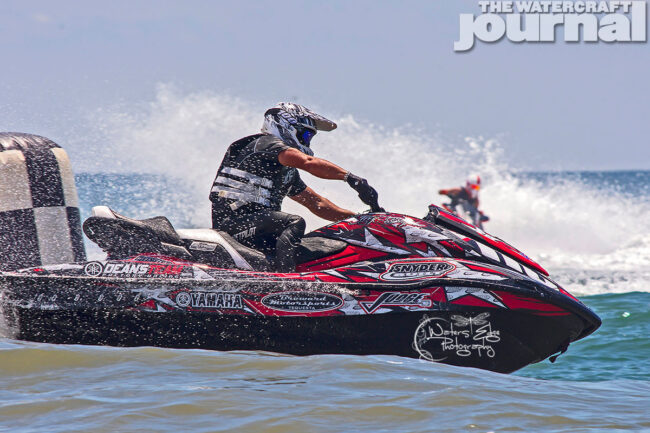 Pro Am Runabout – both Box Stock and GP – saw Troy Snyder and Brian Baldwin pull off the line in front, and never look back, and the two riders were often within paint-swapping distance of each other rounding the buoys. In the Box Stock class, Baldwin pulled off a hat trick, taking first in all three motos, with Snyder snagging overall second, and Tim Miller nailing down the third podium spot. In GP, Baldwin came back from a 5th-place finish in Moto 1 to secure second and first place finishes in Motos 2 and 3, but was unable to knock Snyder from the top podium spot that he earned with two seconds and a first.
Baldwin was not the only hat-trick master last weekend at Pensacola, and rising star Matthew Richuk started out the 2019 season with three first-place finishes and the top podium spot in Pro-Am Ski Stock, while Haden Skellett nailed down three firsts in Sport Stock and Derek Powell took the top spot in all three Ski 4-Stroke Stock races. Not to be outdone, Camden Powell followed dad's example and put a check in the win column in all three motos of the Amateur Ski GP class.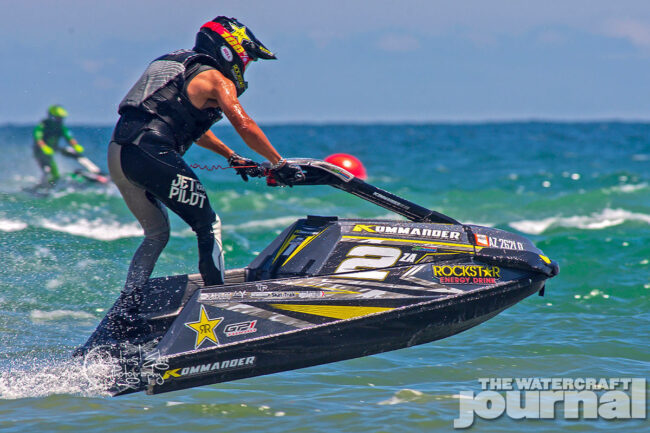 Tyron Motzouris (2-1-1, Pro-Am Ski GP), Kenny Compton (2-1-1 Junior Spark Stock), Graham Hunt (1-2-1 Amateur R/A Box Stock), Ryan Rasmussen (1-1-2 Veterans R/A Box Stock) and Patrick Stier (1-2-1 Beginner Ski Stock), narrowly missed running the boards in their races, but still secured first place overall finishes.
Pensacola's full lines, enthusiastic racers and dedicated staff promise an outstanding PWX season, and it is clear that there are some serious battles shaping up for the National Championship in August at the new College Station, Tx venue, but that is a long way down the road, and this coming weekend, it's anybody's game to win – or lose – as PWX hits Daytona Beach – where rough surf may once again provide that extra measure of difficulty – and excitement!
Pro Watercross National Tour; Pensacola, FL Round 1 results:
Pro Am Ski Stock: 1. Matthew Richuk; 2. Kenny Mckenzie, 3. Broc Harris; Pro Am Ski GP: 1. Tyron Motzouris, 2. Craig Warner, 3. Derek Powell; Pro Am R/A GP: 1. Troy Snyder, 2. Brian Baldwin, 3. Dennis Mack; Pro Am R/A Box Stock: 1. Brian Baldwin, 2. Troy Snyder, 3. Tim Miller; Sport Stock: 1. Haden Skellett, 2. Shaun Brennan, 3. Sammy Nehme; Sport GP: 1. Billy Dearman; Blaster GP: 1. Sam Nehme, 2. Haden Skellett, 3. Billy Dearman; Junior Ski Stock 10-12: 1. Tristen Ayala, 2. Gary Holbein, 3. Teagan Hill; Junior Ski Stock 13-15: 1. Dustin Voss; Junior Spark Stock 13-15: 1. Kenny Compton, 2. Haley Compton, 3. Mcclarin Garmon; Amateur R/A Box Stock: 1. Graham Hunt, 2. Seth Nama, 3. Nick Krupka; IROC GP: 1. Keith Walker; Veterans R/A Box Stock: 1. Ryan Rasmussen, 2. Jim Bennett, 3. Charlie Smith; IROC Stock: 1. Ryan Rasmussen, 2. Valentina Lezcano, 3. John Block; Beginner Runabout Box Stock: 1. David Howel; Supercourse 300+: 1. Dennis Mack, 2. Dean Harrison, 3. Graham Hunt; Amateur Ski Stock: 1. Camden Powell, 2. Deven Farthing, 3. Taylor Skellett; Veteran Ski GP: 1. Marshall Brown, 2. Dustin Higdon, 3. Ralph McGrego; Ski 4-Stroke Stock: 1. Derek Powell; 2. Isaiah Washington, 3. Jose Wis Velay; Amateur Ski GP: 1. Camden Powell, 2. Taylor Skellett; Beginner Ski Stock: 1. Patrick Stier, 2. Taylor Stewart, 3. David Golder; Amateur Freestyle; Jeff Lutker; Pro Freestyle: Brad Hill