"Damn, that guy just doesn't let off the throttle, does he?" The voice behind that observation was Chris Jackson, a Lavonia, GA, resident and an amateur motocross racer who had dropped by the Pro Watercross Round 5 race at Tugaloo State Park on Lake Hartwell, to visit with me while I shot the races Sunday.
The "that guy" he was referring to, was  Brian Baldwin, who was in the process of putting a lock on the Pro-Am R/A Box Stock overall win for the weekend, with a 2-1-1 scorecard, edging out Troy Snyder (1-2-3) and Dennis Mack (5-3-2) In Pro-Am R/A GP, Troy Snyder (1-2-2) nailed the overall win, and Dylan Osborn put in a strong 3-1-3 weekend for second overall, with Baldwin (4-3-1) claiming the third podium step.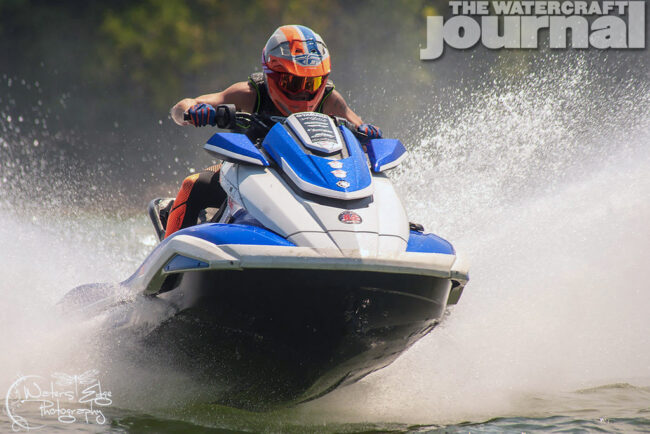 "Don't tell anyone I said this, but these guys are as hard core as we are," added Jackson's racing buddy, Jim Blackwell, (sorry, I let it slip, Jim!) a little later as they watched the unmistakable colorsplash of Matthew Richuk's Yamaha Superjet slice around the nearby buoy headed into the back stretch on his way to a clean sweep of the ProAm Ski Stock class, despite hard-charging pressure from multi-titled Jimmy Wilson (6-2-2).
"I was able to race with the legend Jimmy Wilson, he has been a role model and a great friend to me," Richuk told The Watercraft Journal. "Being able to race with him is a crazy moment. Right off the start we were bumping and fighting to the start. Best kind of starts is being inches away from Jimmy and bumping the whole entire time till the first buoy. If it wasn't for Jimmy Wilson last year teaching me at the races and trying to push myself, I definitely wouldn't be as fast as I am today."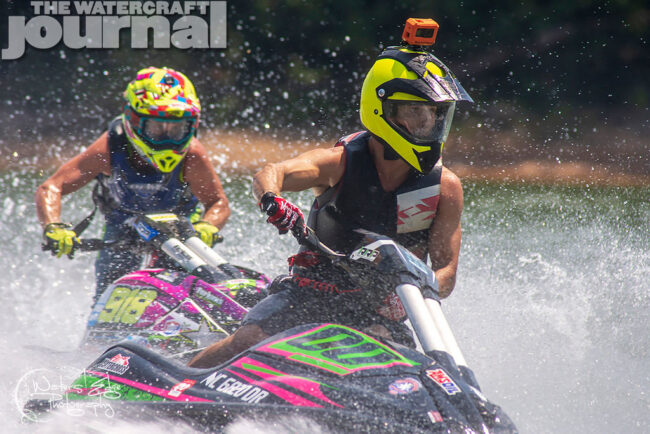 Not satisfied with nailing down the overall win in Stock, Richuk also piloted a quickly-becoming-legendary Kommander GP1, borrowed for the Hartwell race from Lytle Prichard, to an overall win in the ProAm GP class against a stacked field of talent, including Craig Warner (1-2-2), Derek Powell (2-3-4) and rising star Haden Skellett (4-4-3).
"In Pro Ski GP, I was able to get the chance to borrow Lytle Prichard's tuned Kommander GP1 and I pulled a 3-1-1. It was an exciting and nervous weekend for me because I knew there were lots of fast guys there. The GP1 is another animal, nothing like any other ski out there. It handles like a dream, very powerful and fast and it can be a fun ski to just mess around and have fun. The ski will handle anything you bring it and more. It was my very first GP win and there will be lots more to come!"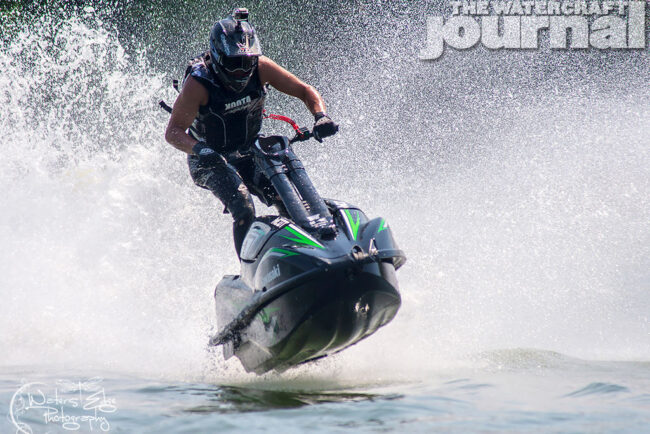 The Lake Hartwell stop on the Pro Watercross National Tour has long been one of the racers' favorite stops, and one of the races with the highest fan attendance, and this year was no different. Relocated back to the Mega Ramp at Tugaloo State Park on the border of Franklin and Stephens County, this year's Hartwell race saw full lines, crowded shores and wire-to-wire battles across both pro and amateur classes, with many big names and a few new faces.
The Blaster GP class was another line filled with champion racers – from up-and-comers to legends. Sam Nehme and Billy Dearman, Haden Skellet and Deven Farthing… the talent on the line was unmistakable, but it was Nehme who claimed yet another overall win, sweeping the three-moto series, just ahead of Dearman (2-2-2), and with Christopher Landis (5-4-3) keeping the pressure on to claim the third overall spot.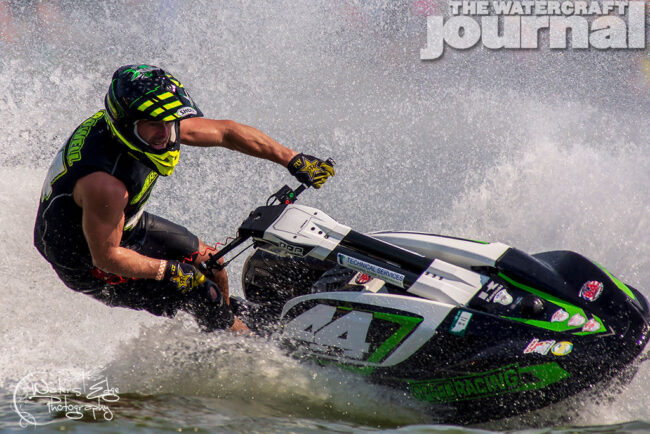 The Sport Stock line, 12 deep, proved one of the more popular races of the weekend with local attendees. This one (the Sport Stock class race) is the most fun to watch," said 12-year-old Lanie Grafton of Clemson, who attended the race with her big brother. "I like that there are ones out there that are about my age, and there is even a girl out there!"
"He looks really really happy!" Grafton said of Ken Waddle, who put in a 1-1-1 sweep of the class to claim the top podium spot, followed by Thomas Skellett (5-2-3) and Haden Skellett (3-5-4). Other top finishers for the weekend at Lake Hartwell included:
Junior Spark Stock 13-15: Jay Finlinson (1st), Kenny Compton (2nd), McClarin Garmon (3rd); Sport GP – Billy Dearman (1st), Rex Hayes (2nd), Gary Burtka (3rd); Amateur Ski Stock – Camden Powell (1st), Zeke Keim (2nd), Jay Finlinson (3rd); Pro Freestyle – Gary Burtka (1st), Brad Hill (2nd); Amateur Freestyle – Harrison Lanford (1st); Ski 4-Stroke Stock – Derek Powell (1st), David Cabrera (2nd); Isaiah Washington (3rd); Amateur Ski GP – Camden Powell (1st), Jay Finlinson (2nd), Taylor Skellett (3rd); Amateur R/A Box Stock – Ryan Rasmussen (1st), Graham Hunt (2nd), Mo Salhi (3rd); IROC Stock – Tory Snyder (1st), Ryan Rasmussen (2nd), John Block (3rd); Womens Ski Limited – Jessica Wiebesiek (1st), Niki Turner (2nd); Veteran Ski GP – Jeb Zarzour (1st), Lytle Prichard (2nd), Patrick Stier (3rd).
For more results, visit www.prowatercross.com. For a full album of photos from the race, visit www.watersedgephoto.online.