The Pro Watercross rig pulled into North Beach Park in Racine, WI. for it's fourth round of the National Tour sponsored by Nielsen Enterprise celebrating their 50th year in business and presented by Broward Motorsports. The City opened their arms for us and the hospitality was above and beyond!
"I look forward to racing in Racine all season. The venue is not only set on the beautiful shore of the ever changing Lake Michigan but it's the closest to my home," said Ryan "Razz" Rasmussen, who pulled off a 3-1-1 overall win in Amateur R/A Box Stock and a 2-1-2 overall win in the Veterans R/A Box Stock division, both on his 2019 Yamaha GP1800R, as well as a third place finish in the IROC Stock division on his on his 2018 Yamaha EX sport. "This allows all my family, friends and local sponsors to come out and see why I'm so passionate about this sport. I'd like to thank everyone at RealRacine, Pro Watercross and Nielsen Enterprises for making this event a success! I can't wait for next year!"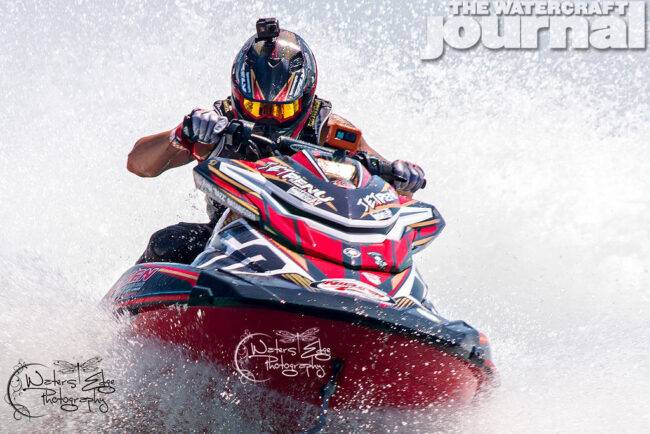 "Man, North Beach in Racine was amazing. Also, my sponsor RealRacine really killed it with this event along with Pro Watercross," said area racer Jimmy Roberts. "The competition was tough when I run my debut race in the Pro Runabout GP class and faced the fastest racers around, like Dennis Mack, Brian Baldwin, Troy Snyder and Claude Clayton. There were so many amazing racers! This race venue is a special one, as it's in my back yard and our beaches in Wisconsin are awesome! Thanks to Rock River Powersports, Dmack Racing, Lake Country Recreation and Nick Krupa for keeping me in the game! And all my family and friends."
After the crew set the tight track in beautiful Lake Michigan we were ready for some great racing action! Classes were pretty big and they gave a very good show to the crowds on the shore! Each class races three motos over two days to get the overall winners.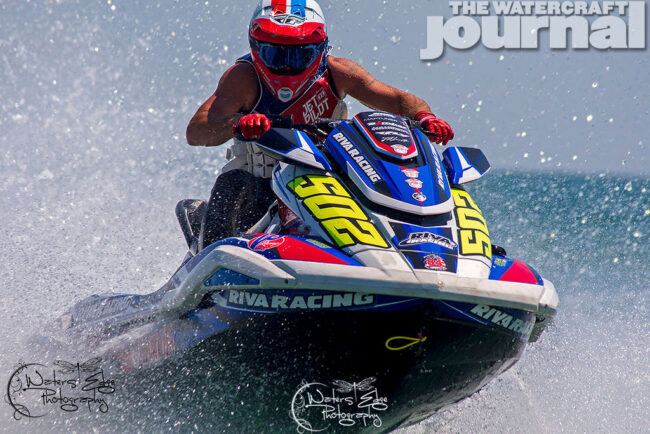 "Glad to be back at the Real Racine race site this year! Always an awesome site and town to race in," said long-time PWX runabout racer, Dylan Osborn. "Makes for a little challenge tuning skis for the colder water and less humidity but allows us to get the skis tuned up to be a real animal and get top speeds out of them."
Pro Am Runabout GP was on fire with Claude Clayton and Brian Baldwin putting on a great show as well as they swapped motos and had to settle it in Moto 3, which Clayton was able to hold off the charging Baldwin for the overall win! Troy Synder finished third.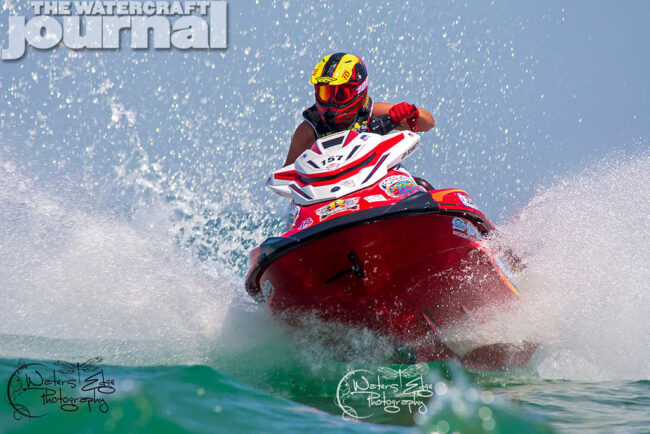 Pro-am Ski GP was also a great race to watch as Craig Warner, Haden Skellett, Mike Killpenstien and Isaiah Washington were all within a point of each other going into Moto 3. Warner and Skellett pulled away from the rest and as the checkered flag dropped, it was Craig Warner with the win, followed by Haden Skellett, and Mike Klippenstien third.
The Blaster GP class featured another fierce battle, this time between young rising star Haden Skellett, and 26-year veteran Billy Dearman, with 8 National Championships and 5 World Championships under his belt in both Runabout and Sport classes.
"Racine was surprisingly rough. From the beach, the water did not appear to be that bad, but once we got out on the track, there were good sized holes – on the back portion of the track especially. There was three- to four-foot chop back there and holes of that same depth," Dearman told The Watercraft Journal. "Since I'm getting up there in years, I can't take that beating that the really choppy water puts on you. I'd much rather do flat or surf – that real thick chop beats you to death. Dearman mentioned that it is always a pleasure to race against the Skellett crew, both Haden and his sister Taylor.
"I love racing with the Skellett crew, they are great; super nice people, and I'm glad to see they are doing well," he said, adding that Haden's age, and light weight, along with his experience, makes him a challenging competitor. "It's always good to see the kids that are sticking with it, what our sport needs is new blood," he added.
Although Dearman appreciates many aspects of the Racine venue – including the asphalt parking lot, clear water, and enthusiastic fans, he is looking forward to the next stop on the Pro Watercross tour, on Lake Hartwell in Georgia. "I'm looking forward to flat water racing. We went from having no surf races, to, this year, everything has been surf, so I'm looking forward to Lake Hartwell's flat water, where I can make my boat shine again."
The largest class of the weekend was Amateur Ski with 12 on the line. Camden Powell took the top spot on the podium followed by Ryder Wildeboer in second and Zeke Keim in the third. Pro Freestyle was a treat for the crowd as they put on a great show for the packed beach! Gary Burtka was first, Brad Hill second and Gergory Brock took third. For all the race results see www.prowatercross.com and click on results.