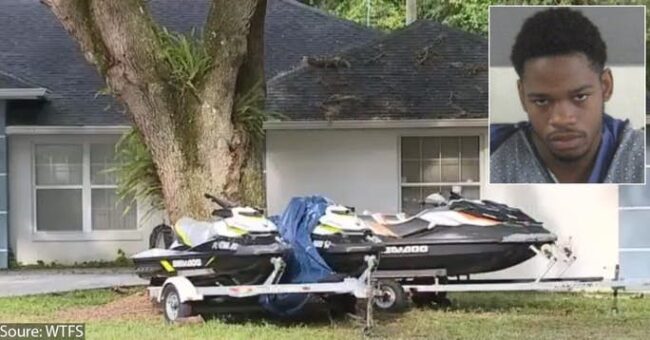 Terrance Jones, who is a convicted felon thought it was a good idea to run a fake online ad. A couple of off-duty deputies showed up to purchase a couple of jet skis from Jones. Jones pulled a gun on the officers and ended up shot.
According to the Sumter County Sheriffs Office; the incident took place on July 7 at 2:36 pm at 6981 County Road 219 in Wildwood, FL.
The Hernando County officers had made prior arrangements to meet with Jones at the residence because they had seen the ad for a pair of jet skis and wanted to check them out.
Sadly, when they arrived, Jones pointed a semi-automatic handgun at them. He then ordered them to the ground, and they pulled out their own guns and identified themselves as police officers. That didn't stop 19-year-old Jones from firing at them. Jones ended up with leg wounds from the deputies returning fire.
A second suspect took off on foot. There is no additional information on that person. Jones was arrested and charged with aggravated assault with a firearm, robbery with a firearm, and possession of a firearm by a convicted felon.
Previously, he was convicted of felony offenses of robbery and aggravated assault with a deadly weapon. He was also on probation at the time of his latest crimes.
The police said that the man who owns the home and the jet skis had no idea that his property had been used in the fake ad.
Sumter County Sherriff's Office warned people to be cautious when making these types of sales because offenses like the Jones incident are becoming more common.
"Conduct the transaction in a public place and if necessary, contact law enforcement to be present during the transaction," the department added.