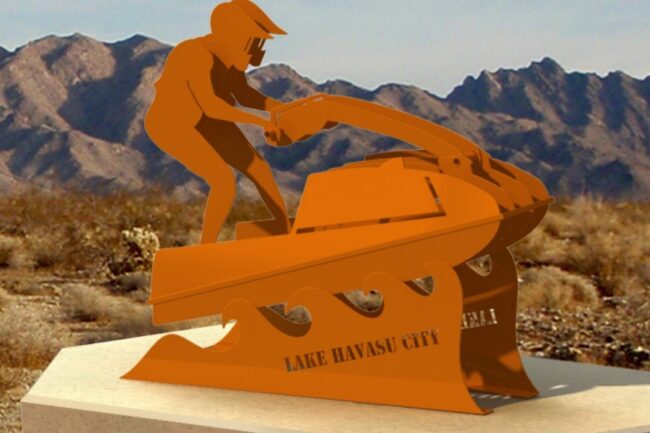 As the World Finals get underway at Lake Havasu this week, some members of the community have set up a GoFundMe page to raise money for a PWC monument. The monument is set to symbolize the history of personal watercraft racing and the positive impact at Lake Havasu.
According to the page, the city officials are onboard with the monument however the donations will add some desired features and to ensure that the monument is built and installed properly.
Donors will be rewarded for their generosity per level tier of donation made. You can read the full gofundme monument description below.
We are raising funds to build a PWC monument in Lake Havasu. This monument will symbolize the love we all have for the sport. Our goal is to educate people that do not realize the deep history this sport has positively impacted Lake Havasu.

The city officials are supporting this monument but we need your support to build it the way we want it. Large steel structures, bolted together will create a 550 standup with a rider (dimension will be a little larger than life). We also want to add a scoring tour with a brief history of the sport in Lake Havasu and the 30+ years the World Championship has been in this town.

We will be offering up different levels of donations tiers:
Gold level: $2000 receives a personalized "brick" around the monument with a thank you and a quote (with approval). Also included is an official letter framed for your generosity paired with a "Gold Level size" 3D replication of the monument as a thank you.
Platinum level: $1000 receives an official letter framed paired with a 3D replication of the monument.
Bronze level: 1‐$999 will receive a thank you email, attached with a file for you to print and hang up to show your efforts of support. All of our supporters are important to us and the info about the monument will be on www.golakehavasu.com on this page we will list all names that have donated.