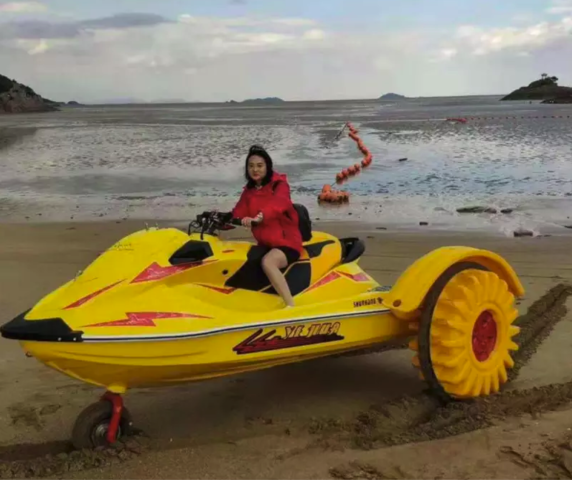 When inept political demagogues bow to foreign powers and refuse to enforce international laws pertaining to intellectual property, you get insane mutant rip-offs like this bizarre electric-powered paddle wheel-propelled personal watercraft listed on Australian vendor site "Gumtree" as a "New Durable Amphibious Electric Jet Ski."
Selling for a bargain price of $18,200 AUD (roughly $13,390 in USD), the details are slim to none pertaining to pretty much everything besides the title. Claiming a top land speed of 21kmph (13mph) and a whopping 10kmph max speed on water (6.2mph), you're not looking at anything that's going to set any IJSBA records.

Lastly, when the listing claims the "Durable Amphibious Electric Jet Ski" is made from aluminum alloy, we're presuming the trike rides on an aluminum chassis tucked within its fiberglass shell. Borrowing heavily from what appears to be decades of previous Sea-Doo designs, we see portions of the previous RXT 260 in its pseudo S3-hull and Ergolock seat.
In all, this thing is pretty much a disaster. Curiously, we think this would be ideal candidate for the "Jet Ski Brothers" YouTube channel to relocate their LS V8-swap build's powertrain. If you haven't already seen that, do yourself a favor and locate that series of videos.