The all new all white Yamaha 4-stroke 2021 SuperJet is just begging for some color and IPD Graphics delivered with one of their new wraps. They spiced this one up with a race inspired design of black with bronze accents. The vinyl wrap is clean, and the bronze accents give it a nice pop.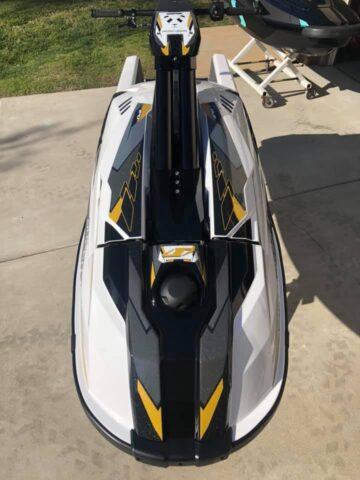 The all white SuperJet provides the perfect canvas for design with its clean lines and refined design. The ski has an actual chiseled appearance, something we don't often see. The 2021 SuperJet 4-Stroke model comes in at under $10,000 and the IPD graphics cost $339 enabling you to customize a new ski for just over $10,000.
We like this ski for its minimalist approach and the ability to make it ours with a custom graphics kit from IPD Graphics. The kits are made of a durable long-lasting vinyl enabling them to take a beating for quite some time. You don't have to be a pro to install the kit on your new SuperJet nor do you have to be a pro to experience the challenge of riding the all-new Yamaha 4-stroke SuperJet.
Yamaha wants you to know that the latest innovation of the SuperJet is built for the next generation of stand-up riders who are looking for the next big thing. Grab yours now and give it a great looking wrap from IPD Graphics. You might become the next big thing on the water!