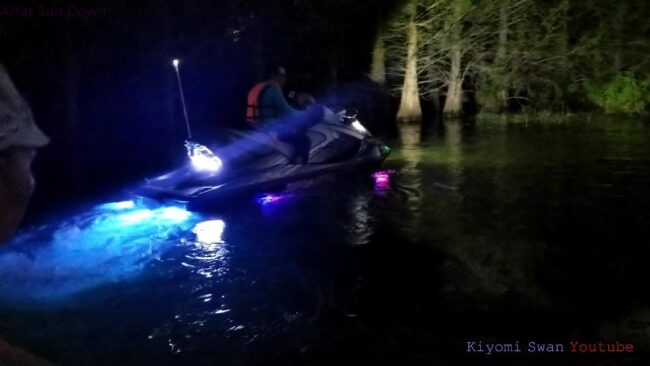 Steven in Sales presents another great article that asks the question: Can you ride a jet ski at night? The answer is "no" and we're going to tell you why.
First of all, navigation lights are forbidden on jet skis and you will get fined by water patrol if they catch you with the lights. This has to do with the size of jet skis and the confusion that lights cause other boaters. Jet skis can make sudden moves, and this causes further confusion within the boating community at night. PWC are difficult to see during the day and impossible to see at night.
During the day, at least a rooster tail can be seen. It would be invisible at night. Also, people do stupid things on PWC (c'mon, admit it) and what's to prevent them from doing those stupid things at night? This is a good time to bring up life jackets. Most life jackets don't have reflectors; so if you fall off, no one can see you in the water. Moreover, it's best not to ride your PWC in fog and when it rains. If you are riding and a freak storm pops up, get to a dock or land as quickly as possible, especially if you're in a thunderstorm.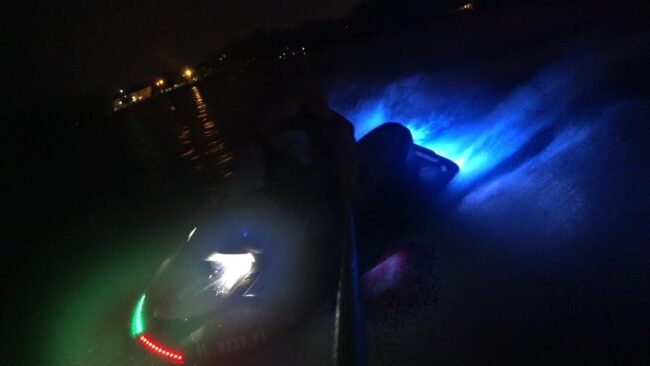 If you do find yourself trapped after dark on your jet ski, motor to the nearest launch or land because you aren't visible on the water and this makes you a sitting duck. A good thing to have is a membership with one of the boat towing companies. Towing memberships are awesome and will pay for themselves with one tow and a tow isn't cheap to get a tow! Ask us how we know. If you don't have a membership, use your phone to call someone and then buy a membership for the next time you're on the water. You will be glad you did.
There are some exceptions to the "do not drive your PWC at night" rule and this pertains to PWC specific to search and rescue teams, such as the Sea-Doo SAR. The SAR is available only to search and rescue teams. It is a rescue specific machine, and it is outfitted with navigation lights and it is a beast. The craft is excellent for night ops because sometimes a jet ski is needed to use for the hard-to-reach places and rescue can be required at any time. Enjoy your watercraft between sunrise and sunset because when the sun is gone, you cannot drive your jet ski.