Sea-Doo went all out with its 2019 Search and Rescue units (SAR). According to Sea-Doo, the SAR watercraft includes the specific features you need in order to respond to life threatening situations. The machines are ideal for rescue situations involving surf, whitewater rafting, floods, or use along rocky coasts. They are equipped with Sea-Doo's Off-Throttle Assisted Steering to give the operator more maneuverability when laying off the throttle. This helps in aiding people in distress and will also assist in maneuverability in out of tight spaces. It also adds an additional steering effect to the steering mechanism.

Sea-Doo designers also had the forethought to set Sport mode as the default setting on the Search and Rescue model because it provides the necessary acceleration in emergency situations. Another great feature is a shallow water kit which is made up of an anti-debris water intake grate, stainless steel wear ring, internal heat exchanger, and shock protected cooling system. The kit drastically improves maneuvering the PWC through shallow waters.
The Sea-Doo SAR are equipped with dual professional grade Hypalon sponsons for increased stability and buoyancy. Running boards ensure safe footing when reboarding on the sponsons. It also an easily deployable reboarding step located at the stern. The step flips up so it's out of the way when not in use. When required, just flip it down.The hulls are coated with a 2.8 MM Elastomer, which helps minimize shock and abrasion.
The hulls on the SAR machine are 38-percent larger than Sea-Doos' other watercraft. The larger size adds increased stability. The PWC also includes a heavy duty front bumper The Sea-Doo SAR has room for three on its touring seat and is equipped with attachments behind the seat for an optional rescue sled. Red and green navigation lights come standard with this ride. Lights are located on the front and the rear of the PWC. The rear navigation light is mounted on a carbon fiber pole so it can easily be seen by other vessels during night operations.
The watercraft is outfitted with Sea-Doo's Rotax 1503 naturally aspirated 4-TEC engine, which has an internal heat exchanger with shock-protected closed-loop cooling system. It also comes with electronic IBR. A Universal Key makes for an unlocked system for quick deployment by any rescue team member. The fuel filter is elevated for easy access and prevents water from entering the gas tank during refuels.
The Interactive Multi-function Digital Information Center is top notch. It reports over 20 important operating functions such as fuel level, which also provides the time and distance until a refuel is necessary. The watercraft is equipped with a plethora of extras to keep you and your passengers safe like an emergency floating lanyard, safety kit, and many more safety features. The Sea-Doo SAR is only available to institutional customers, such as commercial clients, government agencies, and other specialized industries in the business of rescue.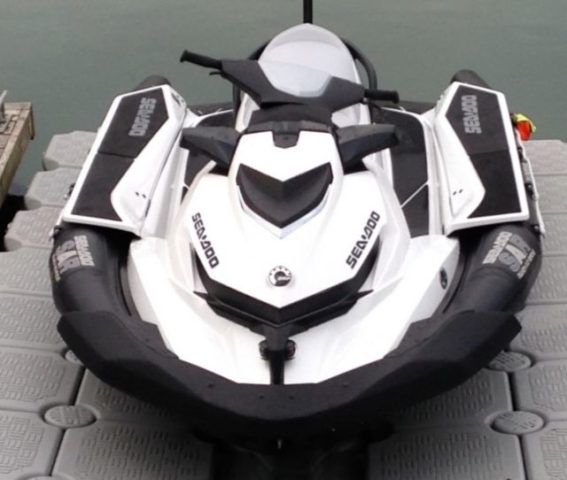 Sea-Doo's 2015 Search and Rescue model won the Red Dot Award. It is the prize for excellent design quality and it is only awarded to companies that clearly stand out above the rest. The 2019 SAR model may be another contender. It's a bad ass looking machine and appears to perform as well as it looks.
While we only touched on some of the many unique Search and Rescue features, dig into the Sea-Doo website for more information and some well put together videos featuring the SAR and rescuers in action. The designers of this watercraft really put some time and thought into building it and we're amped!