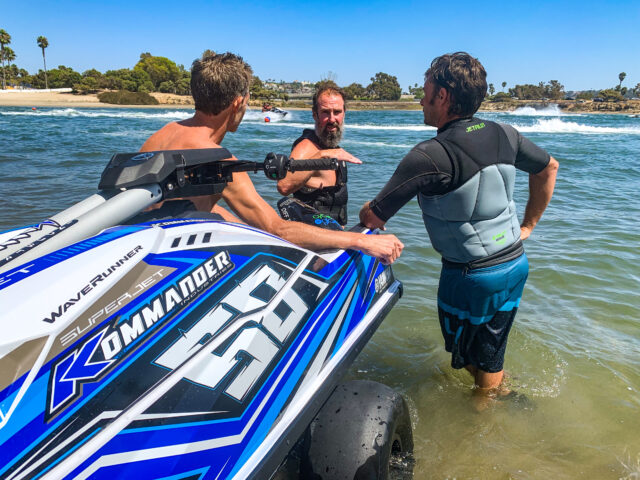 Saturday was going to be a typical day of riding for local San Diego PWC groups, but when group texts started surfacing about Dustin and Tyron Motzouris of Kommander Industries making their way to San Diego with their freshly-built 2021 SuperJet in tow, excitement heightened as the legendary duo are more known to frequent Body Beach in Lake Havasu City, AZ on the weekends to test, tune, and ride with fellow stand-up riders.
Jason Carlton, owner of JC Racing and 3D Design Concepts, got his first look at Oceanside Harbor when the Motzouris brothers unloaded their skis and took to the surf to put the SuperJet through its paces.
"Seeing the new SuperJet in person gave me a whole different perspective on the ski," Jason mentioned. "I already liked the look of it prior to seeing it with my own eyes, however, it looks way better than I thought. The pictures didn't do it any justice. It looked very easy to ride in the surf and overall looked like a super fun ski."
It was a sight to see for local fishermen and tourists to watch Dustin and Tyron play in the surf aboard the SuperJet and one of their coveted SX-R 1500-powered Kommander GP1's. Local freeriders got wind of their arrival and quickly joined in as they took to the waves and sent their skis skyward.
Dustin and Tyron then packed it up and headed south for Fiesta Island to connect with local racers and "bang buoys" with them. The offerings to ride the SuperJet were limited to a few as the island was packed with summer boaters, but they were able to get old-school legends Victor Sheldon and Larry Hoesli on it for a few laps.
"We rode the ski for 3 days straight and it didn't foul once. It ran perfect," Dustin mentioned. He is no stranger to saltwater, winning many championships in the surf back in the day. "It rode smooth, had plenty of torque, and didn't feel heavy in the surf. Not once did it want to submarine. With its power-to-weight ratio, the SuperJet feels more like an SX-R 800. If it wasn't our only ski, and if it had footholds, I would've barrel-rolled it!"
So where will this ski stand when it makes its way to the starting gate? The IJSBA seems to have a few ideas, including a 4-Stroke Lites class exclusively for these machines. "The ski could also be somewhat competitive in a Mod Lites class," Dustin said. "Although the hull doesn't perform nearly as well as the current aftermarket hulls, the new SuperJet could be improved with handling parts." Dustin also went on to state that they have a "laundry list" of parts that they are currently working on for the ski.
Now we end with the question that is eating away at all PWC enthusiasts: How long do we have to wait to get our hands on the new SuperJet? Shipping has greatly affected many dealers and manufacturers due to heightened restrictions with COVID, and Yamaha is certainly feeling the brunt of it. But that has not stopped the thousands of watercraft aficionados that have already put down deposits and patiently waiting for that email or phone call from their local dealer. We can't wait to see more of these on the water, and hopefully, behind the starting band!