Whoa! Have you heard the news? Jet Jam Racing is making huge waves in 2019. They will not only return back to one of jet ski racing's most iconic locations – the Nautical Inn in Lake Havasu City, AZ – but they're also bringing the tour to two stops in Florida! Oh yeah, and they're now under their own sanctioning body, the AWSA (American Water Sports Association). If you wanna race, you're going to have to join. So check it out!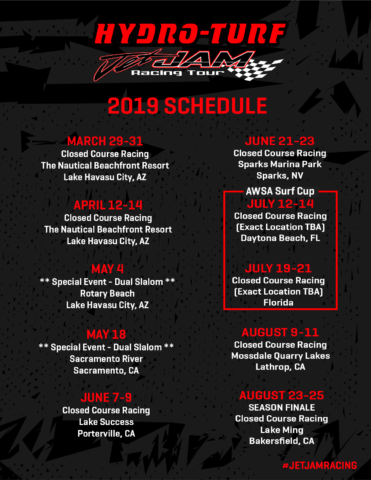 Here's the official release provided by Nicole Pettit:
We would like to introduce the 2019 Jet Jam Racing schedule. Jet Jam is excited to announce that we will be hosting our first race at the world famous Nautical Inn in Lake Havasu City, AZ. There has not been racing at this location in 20 years.
We will also be hosting a two part race series in Florida this year called the AWSA Surf Cup. All of this of course is brought to you by our awesome title sponsor Hydro-Turf and our presenting sponsor Bud Light.
For those of you haven't heard yet, Jet Jam will be running under the AWSA – American Water Sports Association for 2019. You will be required to purchase a membership from them that will be good for the entire season. They also offer a two year option with a discount.
You can find that information on their website at www.awsa.racing and there is also a link on our website at www.jetjam.racing. Please note that this is a transition year with the new rules, so please familiarize yourself with them. If you have any questions please ask as we are here to help.
We look forward to an amazing 2019 race season and we will see you all on the line!