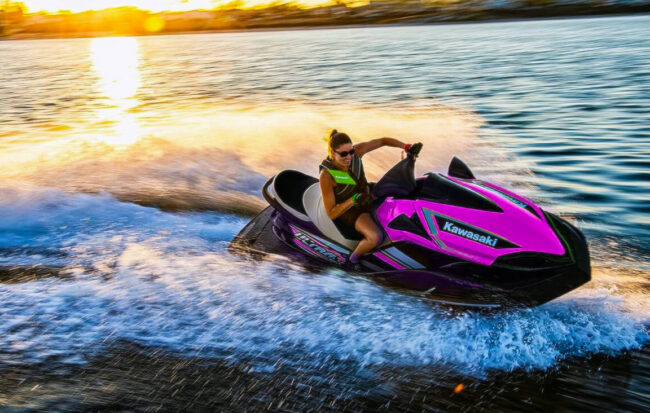 In an effort to soften what recent tweets have called Kawasaki's "toxic obsession" with industry-leading horsepower outputs and class-winning performance, Kawasaki Motor Corp. USA has announced a series of branding and product changes over the year, carrying into the 2022 product line and the overall company aesthetic.
These changes come as a response to a marginally viral #cancelteamgreen campaign on Reddit, which was later picked up on Twitter by a handful of self-identified "anti-aggression activists" and "inclusivity advocates." These tweets complained that Kawasaki's iconic green color was "too aggressive," registered on a "hate index"; and even referenced 1930's Germany.
Per Kawasaki, the famous Lime Green paint was first "developed in 1968, and at the 1969 Daytona 200 the following year, all the A7RS and A1RAS factory race machines were cloaked in Lime Green. Until then, Kawasaki racers had usually been painted red […]. [The] subsequent success of the Lime Green racers led Kawasaki to adopt the color as their official racing image color."
"We are much more than a color or even our long history of winning races," stated Kawasaki's Director of Diversity Awareness Merkin Muffly. "Albeit atypical to respond so energetically to less than a dozen tweets, we felt strongly that a cohesive rebranding of Kawasaki would lead to greater appeal to non-powersports enthusiasts and persons with little interest in powersports, which could be a very viable market."
Under this direction, Kawasaki will drop its iconic green hue that has lasted for 53 years, and introduce its new "more inclusive" Team Fuchsia. Muffly explained to The Watercraft Journal, "Our team of Social Media Marketing specialists polled students at 6 community college campuses along Southern California's Pacific Coast to decide upon Kawasaki's new less-offensive Team Fuchsia color."
"Our research revealed that persons unaffiliated with powersports found fuchsia to be a far more inviting and welcoming color," Muffly continued. "Dynamic, aggressive colors can trigger individuals with certain emotive sensitivities which, as we know, is equal to physical violence. And we simply cannot condone physically attacking innocent people with hostile colors."
Although too late to halt production of current 2021 models and too cost-prohibitive to replace the decals and plastics of those units already shipped, Kawasaki will be printing a series of fuchsia-colored decals to be applied to units currently in dealer showrooms apologizing for the brand's "green privilege" with a commitment to "do better in the near future."
"Today, we at Kawasaki feel that bold, assertive colors have no place in powersports," Muffly concluded. "We're looking towards a more equitable future of competition that is less confrontational and more compassionate – and Team Fuchsia is the first step in this mission." For more information on Team Fuchsia and where to buy your new Team Fuchsia gear and apparel click here.