Recently, The Watercraft Journal had a chance to meet up with Mike Hodges, the National Sales Manager for Krash Industries, to discuss their soon-to-be-official distributorship model and RIVA Motorsports becoming a direct sales dealer for Krash. We were able to convince him to take part in our interview series, Seven Deadly Questions. So, without further ado, here they are …
The Watercraft Journal: Mike, please tell us a little about yourself.

Mike Hodges: I was hired through RIVA Motorsports back in September to be the National Sales Manager for Krash Industries, overseeing their soon to be official distributorship.
WCJ: Krash is growing like crazy, especially in the past year or two. Tell us how this all got started.
MH: Initially, Krash Industries was an aftermarket hull builder, starting back in 2008. Recognizing the frustration customers were going through trying to build complete freeride/freestyle craft using aftermarket hulls, the owner of Krash Industries, Nick Barton, decided he wanted to provide a complete, turn-key solution.
WCJ: The "ready-to-perform" Footrockets, 50cals and Predators, right?
MH: Right. Nick designed and manufactured everything required to make a complete, turn-key freeride/freestyle watercraft; engine, exhaust system, fuel and intake, pump, electrical system, everything! And, he did it with price-point in mind, for the customer. They launched the "RTP" (Ready To Perform) complete freeride/freestyle watercraft around 2014, powered by their KV997 engine.
Fast forwarding to 2019 they will offer one fiberglass freeride/freestyle stand-up, one freeride/recreation model stand-up and one freeride/recreational fiberglass sport class model, each retailing for only $12,599.00 (USD) through dealers. And, they will offer the one carbon fiber Foot Rocket freestyle stand-up model that retails for only $16,799.00 (USD) through dealers, which you already reported on.
WCJ: That's really a killer price. How can people get their hands on one?
MH: Exactly! Typically it costs upwards of $20,000.00 or more to build a complete freeride/freestyle watercraft with an aftermarket hull. And that's a fairly basic set up. Krash Industries will be like any of the other OEM brands, providing complete unit sales, parts and service a dealer network managed and supported by RIVA Motorsports. Customers will even be able to finance a Krash Industries freeride/freestyle watercraft through their dealer! Also, of note, Krash Industries is in the final stages of developing a direct-injection engine that will meet CARB regulations. It's slated for release in 2020 models.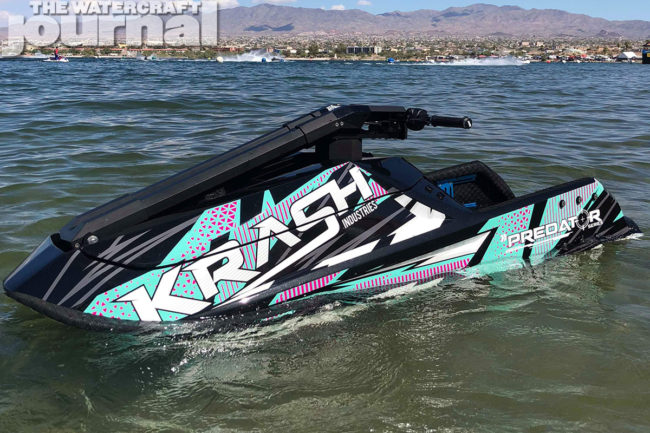 WCJ: That's awesome! So what does that mean for the immediate future?
MH: We're in the process of finalizing the details for the 2019 dealership program. I'm already contacting dealers and I will hit the road late Winter/early Spring 2019, visiting dealerships to introduce them to Krash Industries complete, turn-key freeride/freestyle watercraft and provide demos. I plan to hold "flash demos" for local customers as well.
WCJ: How do you think people will respond to this new RTP model?
MH: Our first event was the 2018 Blowsion World Finals where Krash Industries teamed up with RIVA Racing to display alongside them in Performance Alley. Krash put on demo rides as well at the race site. We were very busy all week and the buzz hasn't died off! I'm receiving inquiries daily from customers and dealers are proactively reaching out to us.
WCJ: So, what's next on the horizon for Krash?
MH: Our next event is the 2019 Daytona Freeride, happening in January. We will have all our pro team riders putting on a show, and we'll be offering demo rides as well.