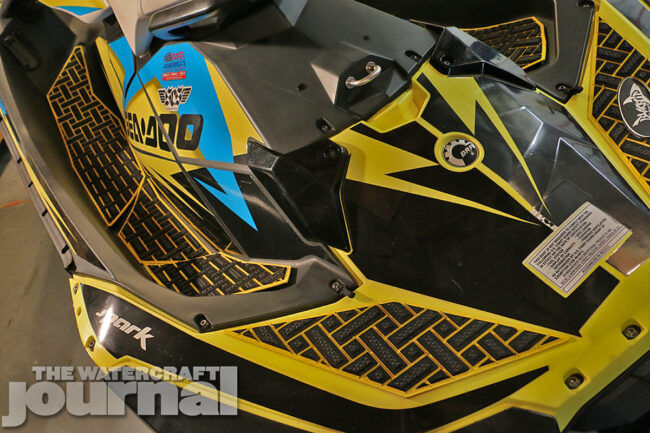 Are you tired of looking at the same old worn out faded mats on your jet ski? If so, give BlackTip JetSports tone mats a look. Black Tip Jetsports carries two- tone mat kits for Sea-Doo, Kawasaki, Polaris, Yamaha, and Honda.
The two-tone traction mats are available in red and black, blue and black, grey and black, and green and black. The mats are available for a wide variety of PWC, especially for the many models of the Yamaha and Sea-Doo makes.
Kits for models of Sea-Doo range from $113.95-$123.95. Kawasaki traction mats cost between $83.95 and $113.95. The Polaris and Yamaha mats range from $113.95-$123.95. There are three selections of Honda mats and they are priced at $113.95.
Upgrade your ski with a set of BlackTip two-tone mats. The mats will give your machine a custom look and better traction, providing safety while cruising or racing. The kits come with BlackTip's Jetsports exclusive pressure sensitive adhesive. This makes installation easy because all you have to do is peel off the backing and press into place.
BlackTip warns against attempting to install the mats all at once. It is recommended that during installation, press the mat down as you go while following the outline you drew after removing the old mats. Once that task is completed, press down everywhere on the mat and let the glue dry for 12 hours.
Now when you riding, you can stand out from the crowd with a set BlackTip Jetsports two-tone mats.