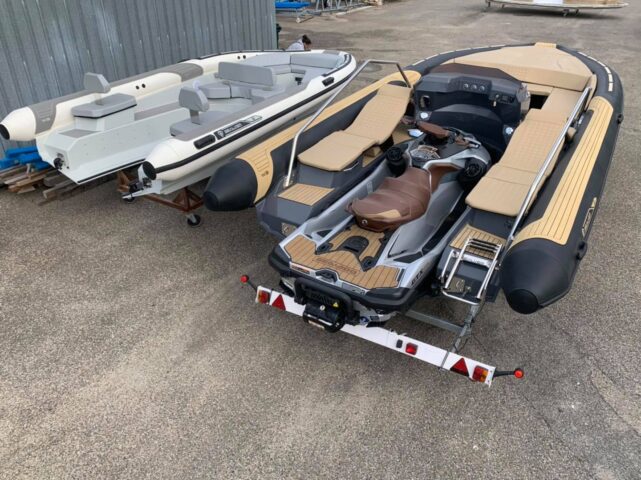 The Sealver Waveboat company expanded its Z Line with the Z6 white addition of the Hevo. Sealver introduced the new look through a recent Facebook post and it's another stylish boat from them. The white boat has a very clean look, with contrasting gray seating and flooring. The boat has a generous amount of storage with under seat compartments and front storage.
It comes in at just under 19 feet and its semi-rigid Hypalon hull offers ease of maneuverability. The boat has the capacity for seven people, offering plenty of space for you and a group of friends. For added performance, the Z6 Hevo can be powered by a jet-ski with a 300HP engine. Ease your ski into the Sealver interlock system and off you go.
The boat is versatile and Sealver offers a choice between standard or full wake set up. The standard set up is enough to get you and some friends on the water with room to sit and also stash your bags. Options are available to make it a little more comfortable.
Add a Ti-Top for a little shade and add a table to set drinks and plates. An extra fuel tank is available as well. This will enable to go further and stay out longer. You may want to spring for the 12v inflator in order to keep the hull full and buoyant or to deflate for storage purposes.
The full wake set up comes standard with a table, Bimini top on the wakeboard tower, extra fuel tank, and the 12V inflator. The standard and the full wake offer a custom trailer as an option. The trailer will haul your ski and Sealver Z6 Waveboat.
See images of the Sealver Z6 Waveboat and watch a short clip of it in action on the website. It's a nice rig for someone who wants the best of both worlds, without the maintenance or cost of a full-on boat.