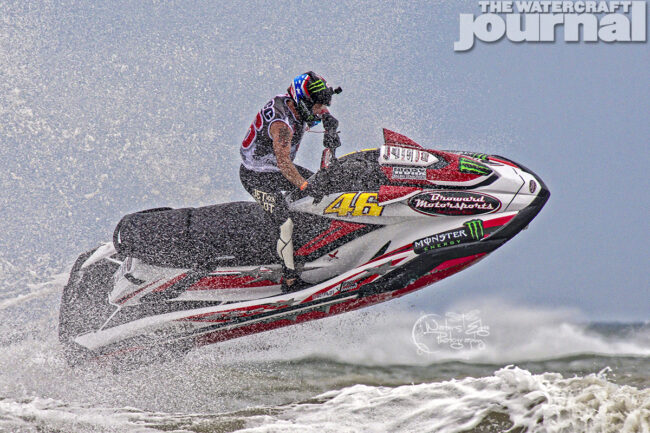 It wasn't too long ago that The Watercraft Journal published the tentative schedule for the 2021 P1 AquaX race schedule, and now the racing body just announced that Yamaha Motor Corp. USA is back on board as the title sponsor for the series. Of course, with Yamaha WaveRunners absolutely dominating the closed course and offshore super course-style race format, it's no wonder.
Both the FX SVHO and GP1800R have remained favored weapons-of-choice of the series' top athletes and it's likely to continue, particularly as Yamaha and P1 AquaX have agreed to permit the 2021 Yamaha SuperJet compete as well.  We're excited to see how this year shakes out too – as Sea-Doo's newly redesigned RXP-X 300 promised to give the big SVHO-powered Yamahas a run for their money.
Here's the entire press release from P1 AquaX:
Powerboat P1 and Yamaha Motor Corporation have jointly announced that they will be continuing their watercraft racing partnership in 2021. Entering its fifth year, the relationship is an outstanding example of leading manufacturers using the P1 AquaX race series as a marketing and promotional platform.
Bryce Parker, Marketing Logistics Supervisor at Yamaha WaterCraft Racing, explained: "We understand the importance of racing and the impact it has on our business. We are looking forward to the year ahead and hoping that the return of a safe environment will allow for a normal race season. We will continue to enthusiastically support P1 AquaX, our dealers and our racers. With the release of the new GP1800R and SuperJet it promises to be a very exciting year."
For over 30 years, SuperJet has been the pinnacle of stand-up, creating a world of racing around it, and in August this year Yamaha announced the launch of the all-new 2021 SuperJet WaveRunner. It features a complete redesign since the introduction of the WaveRunner line in 1990, with an entirely new hull and now powered by Yamaha's three-cylinder four stroke TR-1 marine engine, and will compete in the AquaX Sprint division next year.
The GP1800R, which Eric Francis rode to victory in the P1 AquaX Bahamas World Championship in 2019, has experienced a significant redesign for 2021 with the new hull producing improved handling. It looks set to be the Yamaha racers' watercraft of choice in the AquaX Enduro 300hp class.
"Partnerships are at the heart of our business and being supported by a world class manufacturer like Yamaha speaks volumes for our AquaX race series," said P1 USA Championship Manager Michelle Petro. "The successful relationship began in 2017 and, with no racing at all being possible last year, 2021 will see AquaX celebrate its tenth season of racing."
The P1 AquaX USA Championship kicks off in Daytona Beach in April.