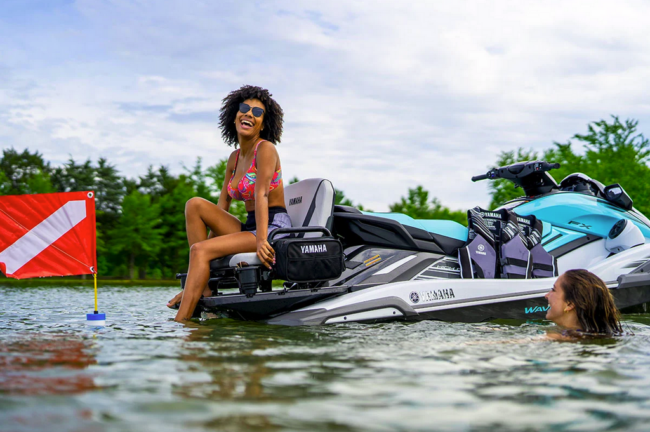 Broward Motorsports Racing is now accepting pre-orders for the Yamaha FX RecDeck and accessories. These are must haves for making your Yamaha WaveRunner FX more versatile and customizing it your way. Broward Motorsports has the complete collection available for pre-order. Get started with the required Yamaha FX RecDeck and build from there.
Choose from the Yamaha FX Premium Jetfish Package, which will cost you $1,199.99. It comes with the multi-use rack, Jetfish cooler, mounted rod holders, 2 cup holders, tie-down straps, and mounts. If you don't want to drop that much cash, grab the more affordable JetFish Package. It has everything but the rack and will set you back $499.99. If you want more comfort when you stop to chill out on your ski, pre-order the Yamaha FX RecDeck Lounge Package. Style in comfort while you're drinking a cold one on the water. It comes with a pair of saddlebags and a cooler, providing more room for those extra sundries. They'll be in reach while you're lounging. The Lounge Package is $499.99.
The RecDeck Multi-Use Rack is a great standalone solution for someone who doesn't need a complete package. $599.99 gets you this customizable rack. Add a pair of insulated RecDeck Rack saddle bags for $99.99. If you want to drop an occasional line and don't need a lot of fancy stuff, pre-order a Track Mounted Rod Holder for $29.99 to go with your new Yamaha FX RecDeck. We suggest pre-ordering as soon as possible.
With the current issues with shipping, you'll want to order now to make sure you get on the list for these great products. Shipping will begin this month. Don't forget that the Yamaha FX RecDeck accessories require the RecDeck for linking. Head to the Broward MotorSports Racing Website to submit your order now!