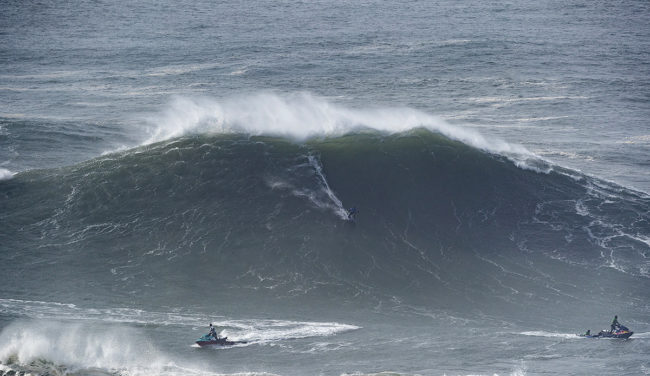 Nazare, Portugal has become one of the most filmed breaks in big wave surfing and has turned into a circus because of its notoriety. It shows no signs of slowing down. Surfers flock there for photo ops and to see how big they can go. During the last month the famed break has been lit up with giant mountainous swell filled with tow surfing teams with their jet skis all vying for a spot in the crowded lineup. More and more tow teams are showing up and a lot of these people are inexperienced.
The recent incident shows just how bad it has gotten out there. Last week during a huge swell all the top guys and gals were on the water towing in like they always do. By Sunday, the swell had dropped to a more manageable size, so a group of surfers who were actually going to paddle into waves headed out to have some fun. Skis were still buzzing the lineup near the surfers and a careless driver ran over a guy and his board, leaving the board in pieces. We heard he's OK though his board cannot be saved.
This avoidable crash created an outcry from some of the regulars and one such guy even gave a stern lecture about the incident saying that if you're on a jet ski and paddle surfers are nearby, get away from them. There are plenty of waves for all to surf safely. Coco Nogales, a well-known big wave waterman out of Mexico chimed in saying he's glad people are speaking out about how out of control it has become at Nazare. It was only matter of time before something like this happened. Check out the complete article on Stab Magazine.