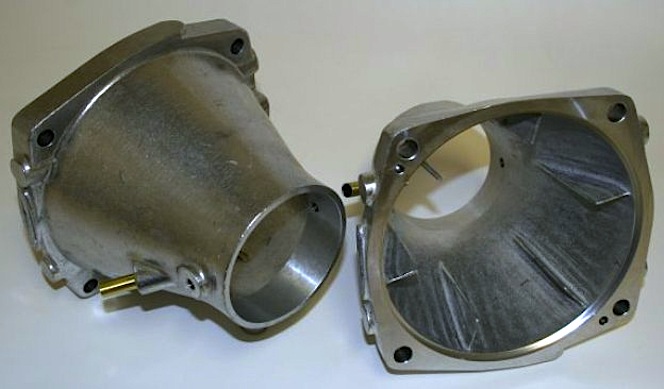 While the maxim, "racing breeds excellence," it also invites new and inventive ways to cheat. Of course, many a builder, racer and tuner will attest that it's not cheating until 1) they find out about it, and/or 2) they write a rule against it. Many an innovation in racing has been birthed from finding creative ways around class rules. And as this year's most recent batch of top performance PWC have shown, such innovations often find their way onto production vehicles.
Take for example the storied Yamaha 3-degree venturi nozzle. An unspoken trick of many a racer and tuner, the 3-degree nozzle was used to replace the stock 5-degree venturi nozzle found on Yamaha WaveRunners, thereby freeing up engine RPM and improving acceleration and handling. For years, the 3-degree nozzles were only found on old XLT runabouts and with an 87mm exit diameter. Later, tuners discovered the nozzles were found on full-sized Yamaha jet-drive boats.
GreenHulk.net's Jerry Gaddis explained, "We have used [jet boat nozzles] in the past because they have thick diffuser vanes which is desirable for performance, however they do not have the proper reverse bucket mounting bosses."
It didn't take long for the aftermarket to catch on, providing their versions of the cheap fix. Companies like RIVA Racing and R&D Performance tweaked on the design with great success for a premium.
Many performance enthusiasts and racers employed this trick, and not just on Yamahas. It's rumored even 3-degree Yamaha nozzles have found their way onto some Sea-Doos and even a couple supercharged Ultra Kawasaki JetSkis. It was only for this model year that Yamaha finally decided to make the 3-degree venturi nozzle with a 85mm exit diameter available on its stock watercraft. Exclusive to the SVHO models, the new venturi also features thicker diffuser vanes.
By incorporating these improvements gives the new SVHO models a significant advantage over the previous SHO WaveRunners – as well as those trying to sneak by with modified 3-degree nozzles. Evidence of the new nozzle's advantage is already found in the aftermarket, as online retailers like PWCPerformance.com are hot sellers.