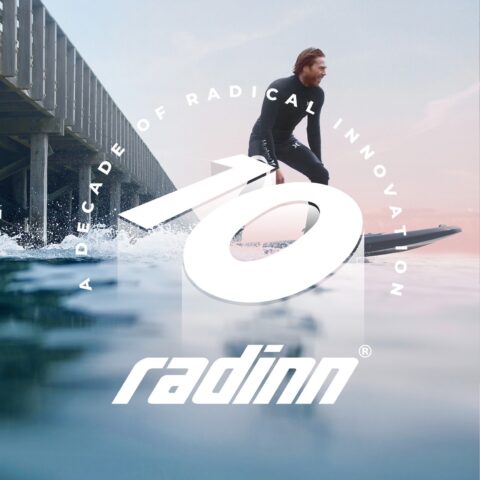 Time flies when you're making waves with Radinn! The group has been in the electric jetboard business since 2013 when they developed their first jetboard prototype. It was an engineering project at Sweden's Lund University. The idea was to make an eco-friendly version of the gas-powered boards.
The prototype was launched in 2015, followed by the Generation 1 line in 2016 when they were asked to take it from prototype to market. That's when the carbon fiber Wakejet Cruise came introduced. It was a stubby lightweight carbon fiber board, with a diamond shaped nose and a bat tail.
The Cruise was the first electric jet-propelled wakeboard. In 2018, the group moved into industrial manufacturing when they mass produced the G2X . The G2X was a big deal when it hit the market because it had 25 minutes of ride time and could hit speeds up to 36mph.
The G2X still had a diamond shaped but the tail was squarer than the Cruise, which gave it a more streamlined look. It probably rode better too with that squared tail. Radinn was getting closer to the ultimate in jetboards.
Enter 2020 and Radinn ups the game with three new models, an advanced IoT platform, and improved features. This is when the Explorer, Freeride, and the Carve came on the scene. These boards were lighter, faster, and came with the new modular system. The nose was rounded with a square tail, and super clean rails, making for a premium ride.
This design makes the boards more responsive, offers faster planing across the water, and a lot of stability. In 2022, The new durable X-Sport became the first rental board on the market. We have no doubt that Radinn will continue to make waves in 2023 and we look forward to seeing what's next.