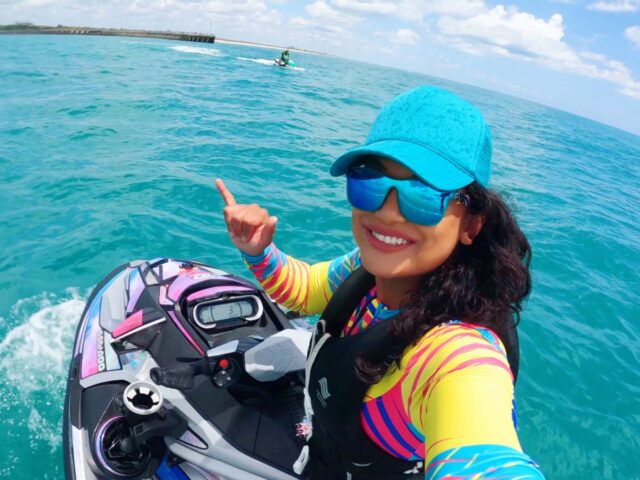 BRP celebrates the increasing number of women who are taking their place in the driver's seat in powersports and marine on International Women's Day and every day. The BRP Get in the Driver's Seat initiative features stories of women who dig the freedom of riding, ride for fun, or just want to get they're going. BRP wants to hear your stories and encourages you to sign the commitment to get out there.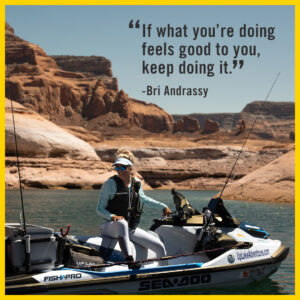 For everyone who signs, a dollar will be given to several different organizations dedicated to the advancement of women. Before or after you sign on, check out the female BRP Ambassadors. From riding Can-Am's to Sea-Doo's, these women are bad ass and outstanding representatives of women in powersports and marine. We'll touch on Alvean Azurin and Bri Andrassy, the two female Sea-Doo Ambassadors.
Azurin has put the time in to learn about her PWC and while watching how-to videos on YouTube, she noticed none of the creators were women. She set out to change that and now shares content showing how easy it is to handle a PWC or a boat. She wants to pass on the confidence she has gained through her riding experience. It makes her happy when women tell her they bought a PWC because of her videos.
As for Andrassy, she is a kayaker turned jet ski rider. She used to deep sea fish from a kayak and grew tired of getting stuck in storms miles off the coast. When she saw the Sea-Doo Fish Pro, she knew she had found the perfect watercraft. She can get out there faster and easier, leaving more time to fish. She leads a simple life and says life is short, so she tries to make the best of each day. Get out there!