"No, you can't!" countered a very upset commenter in a terse back-and-forth online. The topic at hand was PWC covers and the question arose whether a watercraft could be towed any measurable distance beneath a cover without being scuffed, scratched or otherwise. I, having quite a bit of experience with this topic, answered in the affirmative with a single caveat; make sure it's a really good cover. My opponent vowed otherwise, citing anecdotal experiences with less-than-top-quality covers, inadvertently proving my point.
Not all PWC covers are created equal, and nowhere is that more evident than when it comes to towing. Cheaply made covers are often stitched together from bargain-priced canvas, often the same stuff you'd make a child's school backpack from. These covers discolor under heavy UV light, becoming chalky and brittle; layering your watercraft in a fine layer of black flakes that is, before ripping apart after a short while. Yes, you'll definitely get what you pay for in this category – so spend your money wisely.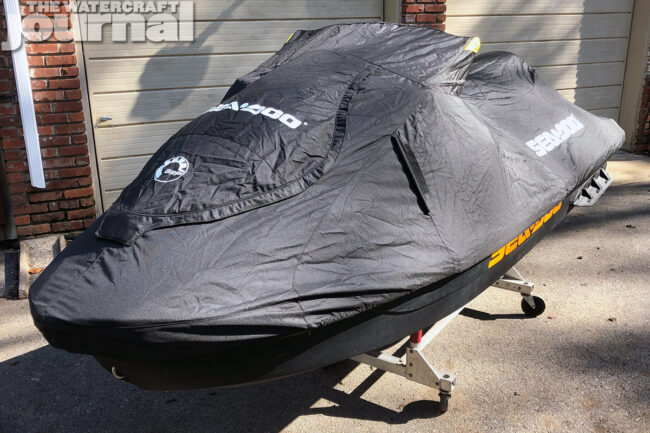 Although often maligned as being the most expensive, the factory-sold covers are often the best in the market. In many cases, the OEM covers are even included in the price of the unit – most notably top-of-the-line Limited-package Yamaha WaveRunners and the top-tier Sea-Doo GTX Limited. In the case of The Watercraft Journal's 2020 Sea-Doo GTI SE 170, our OEM cover was offered as an accessory item available through Sea-Doo's Parts & Accessories catalog for $269.99, definitely not a impulse purchase.
Yet, the cover (which fits all 2020 GTI, GTI SE, GTR and WAKE 170 models) is designed specifically to protect your Sea-Doo from the elements and help preserve its finish while in storage and trailering it to a destination. In fact, Sea-Doo even labels their covers as a "weather-resistant trailering cover" – so what makes Sea-Doo's PWC covers safe to tow with when others aren't? The easy answer is it's soft inner lining and laminated mesh vents. Let me explain:
At speed, the disparity between high and low pressure air over the ski cover result in some pretty violent flapping, which can act as a low grit scuff pad over time. To counter this, Sea-Doo's covers are lined with a soft, velvet-like lining that is as gentle as wool. Equally, the cover has strategically placed vents that allow passing air to vent in and out, equalizing pressures and reducing – if not eliminating – flapping. And thus, no scuffing, or "panel abrasion" as Sea-Doo calls it.
Were that not enough, the factory Sea-Doo covers are made with a heavy-duty UV-resistant solution-dyed polyester canvas with higher wear areas reinforced with a doubled-up layer of canvas. Elastic bands keep the lip taut to the PWC with side hooks that attach to the bond rail to secure the cover while trailering. Lastly, the cover includes zippered openings allow access to mooring cleats (ideal for securing covered watercraft on the trailer), the glove box, the front storage bin (good for refueling), and even the rear LinQ perches to attach accessories on the rear deck with the cover in place.
I had already towed the GTI SE 170 – with the cover installed – from Tennessee to Louisiana for the annual MudBug PWC Rally back in June and knew full-well of the cover's ability to keep the ski clean from road grime and dirt over the 11-hour drive. Yet, it was after fully detailing the Sea-Doo for a later video and covering it did I see how well it protected it from the elements. Only a day or two after pushing the covered PWC outside did the heavens open up and rain poured for several days straight. Once the clouds parted, I removed the cover and found the plastics still looked glossy black and panels debris-free (although the footwells had collected some water after the deluge).
It bears repeating that when it comes to PWC covers, you get what you pay for. The OEs spend a lot of time and money to get their covers to fit snuggly, to offer the best access and use, and most importantly, provide the best protection as possible; and Sea-Doo's GTI/GTR/Wake 170 Trailering Cover has not let me down once. As a final tip, it does wrinkle up pretty badly when its been crammed into its carrying bag after a while, so let it sit out in the sun a while to relax (so it's not as wrinkled as it is in my pictures here).