Admittedly, I have a favorite personal flotation device (ie. life vest) that is my go-to for a fun day on the water, a Slippery Switch Molded vest. In fact, my current one is the third Switch Molded vest I've owned, and as long as Slippery Wetsuits keeps making them (they do), I'll likely always have one. There's a few major comfort features that makes the Switch my personal favorite, but if I was to be perfectly honest, it's because it looks cool. When you zip up the Switch with its molded chest and back panels, blacked-out body, it looks like, well, I mean I feel like…well, Batman. And that brings me to Slippery Wetsuits' Surge Neo Vest.
Never before has a life vest actually made me feel better about the way I look, and that's exactly what the Switch Molded vest does – and precisely what the Slippery Surge Neo vest doesn't. Now, that is not to say that the Surge Neo isn't a super-quality life vest, it truly is – as well as uniquely comfortable. In fact, its one-of-a-kind segmented foam design makes it incredibly flexible, as it features an array of hinge points for the vest to give and fold – a particularly welcomed feature while sitting or moving about the PWC. Paired with a soft, stretch knit fabric interior, and again, it's one of the most comfortable vests we've tried.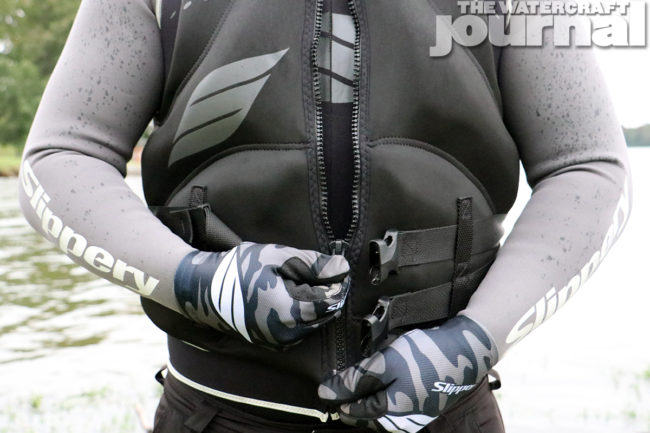 The Surge Neo vest is a conventional front-entry US Coast Guard-approved Type 3 PFD featuring a heavy-duty front zipper and two 1.5-inch adjustable belts, which thread through the back panel, hiding the belts from sight. The range of motion both at the waist, neck and at the shoulders is significant, with wide openings that won't chafe or rub the skin either. Slippery also includes a "D" ring for clip-style lanyards, which our Sea-Doo uses. The silk-screened fade pattern and Slippery "S" logo is smartly placed over the vest too.
But dang, there's something amiss with the unique molded patterns that frankly, makes me feel self-conscious whenever I wear it. The PVC foam bunches heavily below the chest and under the arms, as well as high around the waist, giving the sensation of being in a "Meet The Klumps" fat suit. Moreover, the tighter you cinch the belts, the more the vest flares at the top and bottom, producing an artificial "fat roll" look. I wouldn't harp on this aesthetic issue were it not for people commenting on the unusual look of the vest so many times while wearing it.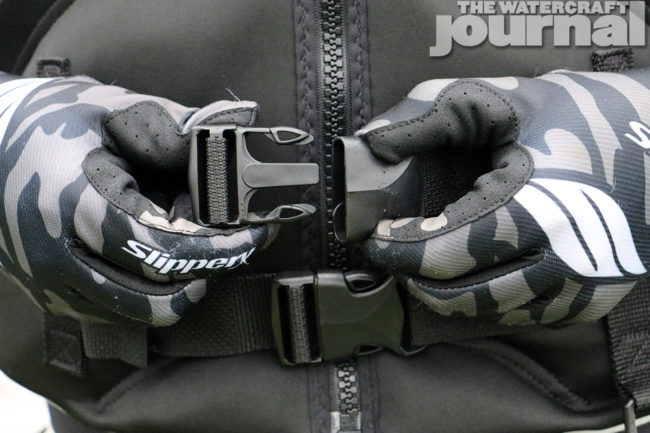 Again, it's immensely comfortable and performs flawlessly as far as life vests go, but this has got to be the first time I've given less than a glowing review of anything from Slippery Wetsuits. Priced at $74.95, the Surge Neo vest is also available in Black/Teal, Blue/Lime, Red/Silver and Steel/Black, as well as our Black/Charcoal color pairing. So yeah, it's USCG-approved, super comfortable both standing and sitting, and not-whatsoever cumbersome, but I just can't get over how it looks while I wear it. That might be a reflection of my own self-esteem, but hey, you wanted an real review, right?