If you're still wearing a long sleeve cotton T-shirt and a pair of jeans when you ride, it's time to seriously step up your riding gear. The Watercraft Journal – the world's most popular PWC magazine – routinely tests and reviews new and exciting products to help you, the watercraft enthusiast, to have the most enjoyable time on the water.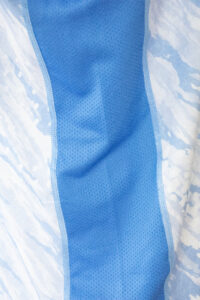 And in this effort, we've teamed up with the premier brand for boating and sailing apparel, Windrider to custom-design what we believe is the single-best riding jersey possible.
Every WCJ Long Sleeve Riding Jersey is made using Helios material proven to provide UPF 50+ protection from the sun, stellar stain resistance and most importantly, superior water wicking and breathability.
Each shirt features durable mesh lining the inside length of the torso all the way down the sleeve to the elbow. That means this shirt provides awesome ventilation even while wearing a life vest! This jersey is just as comfortable as it helps regulate body temperature and protects from the sun.
Currently available in a subdued Bimini Blue pattern, WCJ Long Sleeve Riding Jersey isn't as loud and obnoxious as other riding shirt patterns out there. Adorned with the WCJ logo across the chest and at the base of the neck in back, each jersey is cut slightly larger than typical shirts including a longer cut torso.
This means your jersey won't ride up your lower back while you're riding at speed for no unsightly sunburns! (See the size chart below.) Priced at $45.00 USD each, the WCJ jersey is more affordable than other riding shirts and with a shorter turnaround. So equip yourself with the best riding jersey on the market by visiting The Watercraft Journal store HERE.