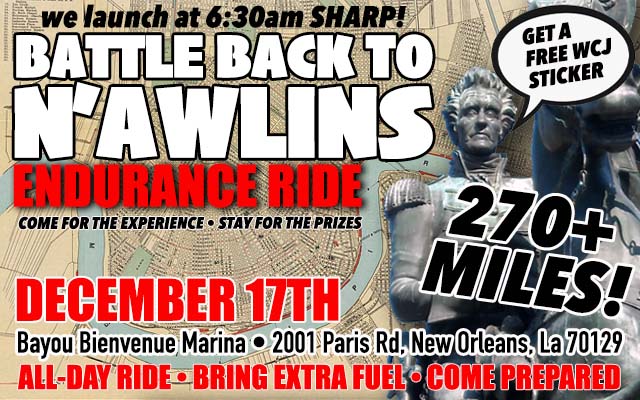 We told you we weren't going to stop; heck, the wheels are just getting moving on The Watercraft Journal's harebrained idea. Last month, we hosted the impromptu "Fly Off of The Handle" ride, which saw 9 intrepid riders racking up nearly 180-miles in just a few hours – including dozens of miles of open ocean chop, long stretches of wide-open-throttle drag racing, and hours of teeth-rattling wind-blown bay beating. It was awesome. So to push the envelope even further, we're going further.
We're announcing the "Battle Back to N'awlins" Endurance Ride (click the link for the event page on Facebook). Racking up nearly 135-miles one way, we're going to be busting our butts to achieve our set goal of 270-plus miles in a single winter's day! Leaving bright and early from Bayou Bienvenue Marine (located at 2001 Paris Road, New Orleans, LA 70129) on Friday, December 17th at 6:30am, we'll be riding out to the intracoastal waterway past Fort Macomb as we venture through Chef Mentuer Pass, leading us into Lake Ponchartrain.
Passing Fort Pike, we'll make our way through the Rigolets into the Pearl River where we'll traverse the winding bayous of Bayou Caddy arriving at the Mississippi Sound adjacent to the Silver Slipper. At this point, we'll enter the open waters of the Mississippi Sound for a 10 mile sprint to Bay St. Louis Municipal Harbor – our first fuel stop (65 miles). At this point we'll discuss weather conditions, assess the riders in our group, and the route ahead.
Barring conditions, we'll continue on to the Barrier Islands off the Mississippi Coast, consisting of Cat island, Ship Island, Horn island, and Petit Bois Island into Alabama to our final island for our second fuel stop at the Dauphin Island Marina. From here is where we'll plan our return of the trip with any deviations necessary. Frankly put, riders who are considering need to plan on worst case conditions: cold temperatures, 2-to-3 foot seas, exposure to salt water, etc.
Weatheris predicted to be in the mid-to-high 60's, but can change. Prepare by bringing a waterproof windbreaker; gloves; a wetsuit/neoprene pants; goggles (treat with Rain-X); a head sock/balaclava; face mask/gaiter. Expect long periods of 60-to-70mph speeds. Extra fuel is mandatory as we'll be going long stretches without stops. Bring food (snack bars, trail mix, etc.) and water as we will not be stopping at a restaurant to eat lunch.
Understand that all participants joining this ride do so under their own volition. This is a ride-at-your-own risk event. The Watercraft Journal does not hold any legal liability for your well-being, the condition of your personal watercraft, personal vehicle, property or person either before or after this ride. In participating you understand that conditions are prone to change and alternate routes have been planned for such an occasion.