With the 2021 National Tour titles to be decided, and the 2021 World Championships up for grabs, this year's Pro Watercross season finale in Naples, Florida was packed with friendly rivalries, last-minute mechanical scrambles, a good deal of smack-talking, the normal smattering of drama, and a lot of wire-to-wire, hard-fought battles for podium spots and bragging rights. Races this year kicked off on Thursday, and due to the weather-related cancellation of the 2021 Tour National Championship at Lake Charles, Louisiana in August, Thursday's races took the place of the amateur national championships.
Thursday's schedule trimmed the standard 3-moto format to a 2-moto arrangement. As is normal with Pro Watercross's process for National Tour titles, the tour points played no role in the naming of National Champions for the majority of classes. (Premier classes, however, did not compete for the National title in Naples, the premier class national champions were announced soon after the cancellation of the Lake Charles race, and were based on tour point standings at the end of Round 6 in Racine, WI).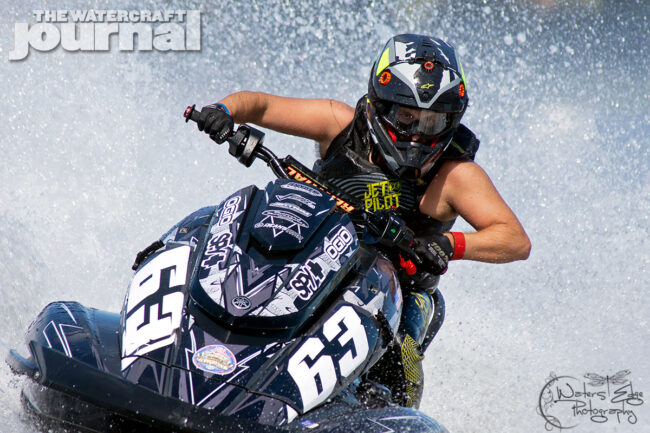 Attendance at Naples throughout the long weekend ranged from sparse lines to medium attendance, and Thursday's races were noticeably, and as expected, lower than a weekend race may have pulled, with several of the motos combining classes in order to have more than a couple racers on the line. Even with combined classes, most motos brought less than six racers to the line, with the notable exception of the Amateur Ski Stock class, which lined up six Yamahas and three Kawasakis for the fullest line of the day and some back-and-forth for the podium spot.
A newer name, Torin Gleeson of Lavonia, GA, pulled off a Moto 1 win, beating out long-time racers such as Christopher Landis and Havasu's 12-year-old phenom, Coy Curtis, as well as 15-year-old rising star Teagan Hill. Gleeson fell back to 7th in Moto 2, however, and Hill parlayed a second and third place into the top overall podium spot and the National Title, followed by Curtis and Landis.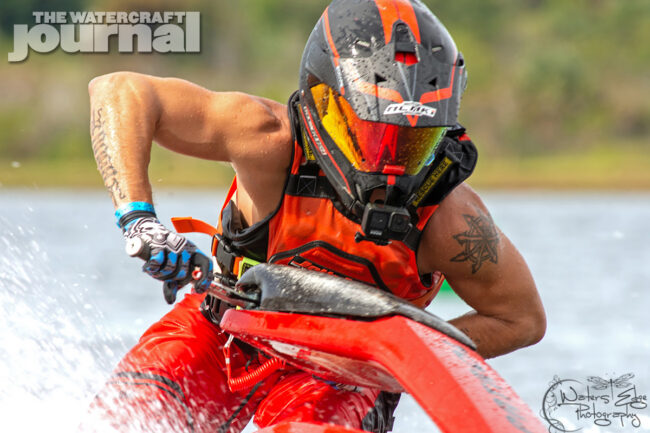 With the National Titles secured, Friday dawned on the competition for Pro Watercross's World Titles. PWX head honcho AJ Handler and race director Robert Sand stuck with the recent practice of stacking races back-to-back-to-back so that each class finishes in one day, as opposed to the old style of splitting each classes' motos over two days. While the premier classes were reserved for Saturday, Friday's lineup held some intense racing and awarded some hard-fought titles.
One edge-of-the-seat class on Friday was the Amateur Ski GP class, where David Cabrera tied up the top podium spot with first place finishes in Motos 1 and 2, edging out Coy Curtis, with Sammy Nehme, and another Havasu rising name, River Varner, keeping the heat on. Moto 3 saw Curtis snag the win from Cabrera and nail down the second podium spot.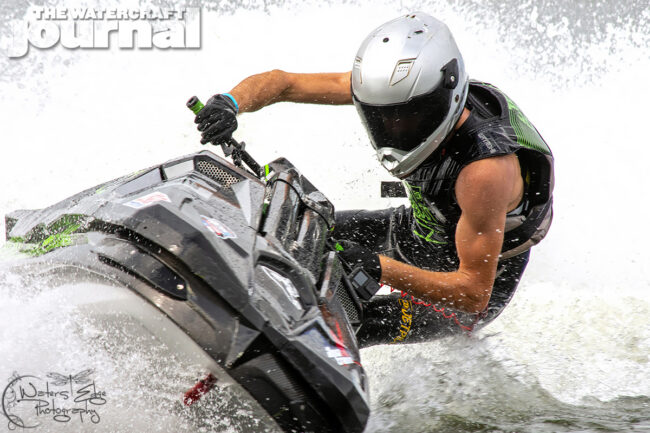 Three classes on Friday had decent lineups behind the band, with 9 riders in each class: Ski 4-Stroke Stock, where the Syracuse Mafia ruled the day, with Camden Powell pulling a hat trick for first overall, and Zeke Keim taking the second podium spot. Fellow Great Lakes Watercross rider Dustin Voss claimed the third podium step. In Veteran Ski GP David Cabrara snagged another World Championship title, and in Novice Sport Stock Naples hometown racer, 15-year-old Jax Hayden ran the board, ahead of nearby Bonita Springs' Jason Sahagian.
"Naples was an eye opener for me, I was given the opportunity to race my brother's Sea-Doo RXP-X for the first time," Lezcano told The Watercraft Journal a few days after the race. "This was the ski he crashed into during the World Finals (Havasu). It was a brand new ski that he never got the opportunity to race. I think I can say I made him proud – almost felt like we were both racing in a sense! But best of all, I brought home lots of hardware – I even won all three motos in my IROC stock class. It was a great way to end the season."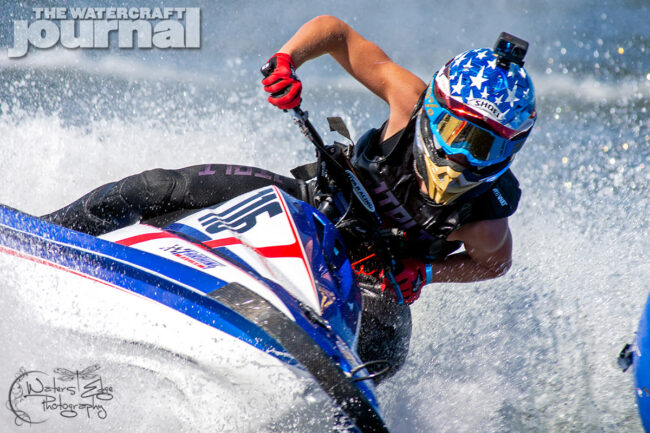 Saturday's racing fit in three motos of the premier classes – plus some Junior and Amateur classes – into a long, challenging day of racing, where again, attendance ran the gamut from sparse to somewhat full lines. The class with the best attendance at Naples was Pro-Am Ski GP with 13 lined up behind the band, followed by the Sport Stock Class with 12 competitors.
During the weekend's pro show motos, we saw a continued absence of some long-time race teams/families, including Baldwin, Motzouris, Klippenstein, Smith, Washington, Osborn, and Bennet.. But we also saw a continuation of the recent Havasu influx into the Pro Watercross tour. Naples also saw a continuation of some great promise seen in the younger racers that are coming into the sport: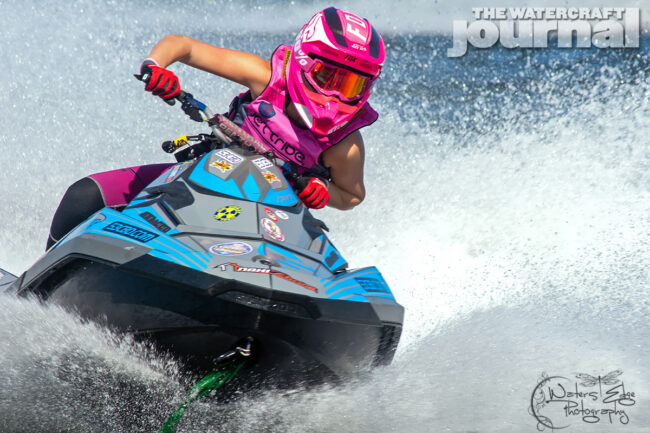 "What a great weekend. Friday I was able to race in the Amateur Ski 4 Stroke Stock class against two great competitors and placed second overall," said new Junior Ski World Champion Gary Hobein Jr. "On Saturday, the weather conditions were cold and windy making it more challenging for all the racers. But despite the conditions, I was able to come away with my first World Championship race in the Junior Ski 10-12! I'm so thankful for all the support from everyone this year, especially my dad! Without him and my mom, I wouldn't have been able to do what I love!"
Holbein was far from the only racer who lists Naples as one of their favorite race sites. "My Yamaha GP1800R was on rails, getting me the win in Naples," Tory Snyder told The Watercraft Journal after nailing down Pro-Am R/A Box Stock World Champion title. "I love everything about Naples. Perfect water conditions and one of the best race sites on tour."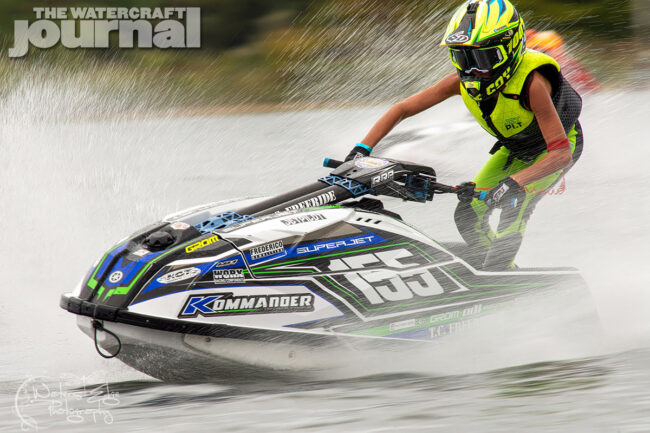 Naples also played out well for tour regular Jules Hopkins, who said "Coming off of my first Pro Ski moto win in Georgia and winning the Jettribe WaterX Texas Championship, continuing the momentum into Naples was huge for me. We had one of the fastest skis out there and I really enjoyed the track design this year. Hole shotting and leading Moto 1 was definitely what we were looking for and we were consistently up in the front on starts all day long."
Matthew Richuk, the newly-crowned Pro-Am Ski GP 2021 World Champion, didn't slide easily into the win. He told WCJ, "The Pro Watercross World Championship was another amazing race and a great way to end the season. I could tell Robert Sand wanted a fast course and he made it fast. It was a test of top speed and the racers endurance. The competition was amazing and anyone could've won."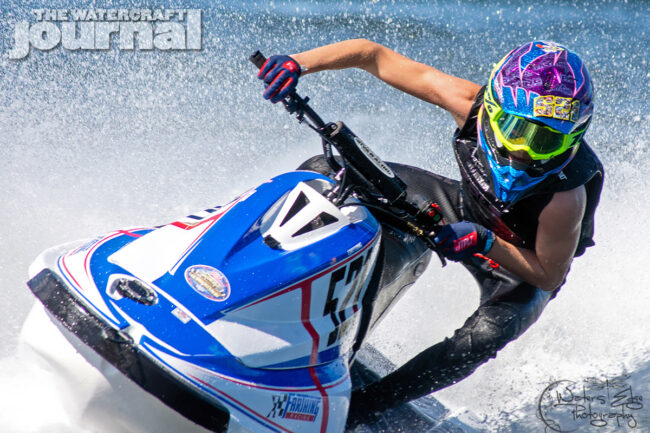 He continued, "Every single person in the Pro Ski GP class had the potential of winning. For me personally, it was a rough week before the race, with motor issues. After a brutal no sleep week, I ended up putting a fast STB Enterprises built motor in Friday night, racing the next day and after the race taking the motor back out into Jonathan's McCreary (Opie) ski. Huge thank you to Broward Motorsports for help and support of racing the entire season."
While Saturday's Premier Class focus was a busy day with a total of 26 motos, Sunday put them to shame, with 32 races on the books. One sentiment that was expressed across the board was an enthusiastic look forward to the 2022 race season.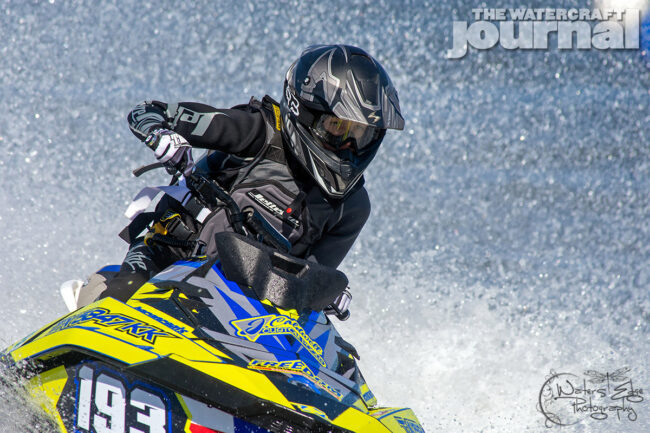 "It's been such a great year for myself and the team. We took home three world titles and two national titles in both runabout and stand up," said Sophie Francis. "Racing in Naples for the Pro Watercross finished our season on a high. My plan over the off season is to train even harder and come back even stronger. We will be racing the P1 AquaX, Pro Watercross tour and also the IJSBA world finals for 2022."
"The Naples race this year really showed everything jet ski racing has to offer, everything from intense competition on the course to one big helpful family off the course. Looking back, that Saturday night in Naples we all got together and got a big cookout going only hours after banging bars going 70-plus-mph; this really just goes to show how great of an atmosphere gets created at these race weekends," Ski 4-Stroke Stock champion Camden Powell told The Watercraft Journal.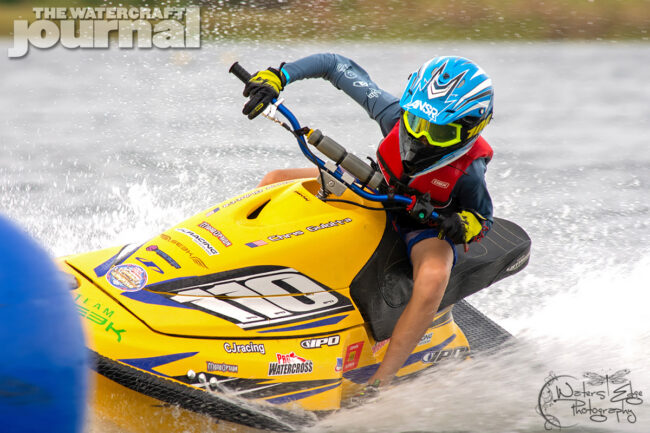 "All in all it was yet another great weekend and year in which racing for myself only got better and memories got continued to be created. Looking forward to the 2022 season I am extremely excited/anxious for everything it has to offer, but no matter what happens I'll still create memories, still be able to enjoy great competition, and ultimately still be able to be involved in such a great community that I hope someday will get the recognition around the world that it deserves," Powell concluded.
For complete race results, visit HERE. For the complete album of Naples photos from Waters Edge Photography, visit www.watersedgephoto.online
2021 Pro Watercross World Champions
Pro-Am Ski Stock: 1. Coy Curtis, 2. Dustin Voss, 3. Will Scruggs; Pro-Am Ski GP: Matthew Richuk, 2. Deven Farthing, 3. Camden Powell; Pro-Am R/A Box Stock: 1. Tory Snyder, 2. Dustin Farthing, 3. Chase Dutton; Sport Stock: 1. Deven Farthing, 2.  Chrisopher Landis, 3. Talan Farthing; Womens 4-Stroke Ski: Sophie Francis, 2. Madison Elders, 3. Jessica Wiebesiek; Junior Ski Stock (10-12): 1. Gary Holbein, 2. Jax Rowe, 3. Abby Weldon; Amateur Ski Stock: Teagan Hill, 2. Kevin Rowe, 3. Taylor Steward; Veteran Ski GP: 1. David Cabrera, 2. Jeb Zarzour, 3. Eric Swick; Amateur Ski GP: 1. David Cabrera, 2. Coy Curtis, 3. Sammy Nehme; Ski 4-Stroke Stock: Camden Powell, 2. Zeke Keim, 3. Dustin Voss; Ski 4-Stroke Stock SuperJet: 1. Coy Curtis, 2. Gary Holbein Jr., Sammy Nehme; IROC Stock: 1. Valentina Lezcano, 2. Kenny Compton, 3. Daniel Steele; Junior Spark Stock (13-15): 1. Madison Elders, 2. Cooper Caldwell, 3. Hailey Compton; Pro Freestyle: 1. Coy Curtis, 2. Gary Burtka; ProAm Runabout GP: 1. Stan Hightower, 2. Clinton Pace; Womens Runabout Box Stock: 1. Sophie Francis, 2. Shelby Warman, 3. Beth Perrin; Sport GP: 1. Deven Farthing, 2. Jules Hopkins, 3. Glen Jung; Novice Runabout Box Stock: 1. Benjamin Mantel; Novice IROC (Spark) Stock: 1. Kenny Compton; Amateur R/A Box Stock: 1. Chase Dutton; Amateur Runabout SS: 1. Stan Hightower; Ski Superstock: 1. Taylor Stewart; Sport Open: 1. Deven Farthing; Junior Sport Stock (13-15): 1. Colton Gulotta; Supercourse 200+: 1. Andre Edminston; Supercourse 300+: 1. Ben Mantel; Veteran IROC Stock: 1. John Block; IROC 1100: 1. Jeff Stanley; IROC GP: 1. Cameron Fame; Vintage Ski 650/750/Open: 1. Kevin Rowe; Freestyle 800: 1. Gary Burtka; Runabout 800 SS: 1. Jeff Stanley; Vintage Ski 550 SS: 1. Coy Curtis; Vintage X2 GP: 1. Gary Burtka; Novice Sport Stock: 1. Jax Hayden; Amateur Freestyle: 1. Phil Clemmons; Novice Ski Stock: 1. Joe Surette;
2021 Pro Watercross Amateur National Champions
Amateur Ski Stock: 1. Teagan Hill; Amateur R/A Box: 1. Chase Dutton; Sport GP: 1. Jules Hopkins; Novice Sport Stock: 1. Jason Sahagain; Junior Spark Stock (13-15): 1. Haley Compton; Veteran Ski GP: 1. James Wright; Ski Superstock: 1. Taylor Stewart; Ski 4-Stroke Stock: 1. Sophie Francis; Women's 4-Stroke Ski: 1. Sophie Francis; Ski 4-Stroke Stock SuperJet: 1. Coy Curtis; IROC 1100: 1. Jeff Stanley; Junior Ski Stock (13-15): 1. Teagan Hill; Amateur Ski GP: 1. River Varner; Junior Ski Stock (10-12): 1. Gary Holbein Jr.; Junior Sport Stock (13-15): 1. Colton Guilotta; Vintage X2 GP: 1. Gary Burtka; Pro-Am Ski GP: 1. Deven Farthing; Sport Stock: 1. Deven Farthing; Pro-Am Runabout Box Stock: 1. Tory Snyder; Pro Freestyle: 1. Brad Hill; Pro-Am Runabout GP: 1. Tory Snyder