It's becoming cliche to comment on how quickly the previous year has come and gone, and depending on one's life view, the passing of 2017 has been greeted with elation or exhaustion. For The Watercraft Journal, is was a year marked with some major firsts as well as continued, reliable publishing of the industry's best personal watercraft news, reviews and feature articles. People came to WCJ in droves in 2017, over 650,000 times, in fact (and that's not including hundreds of thousands of views to our YouTube channel).
So what about 2017? What were the most popular stories published last year? Interestingly enough, we saw none of our racing coverage break into the Top 50 (which is pretty telling, isn't it?). Rather, the highest ranking stories were almost always, 1. real world, hands-on reviews on the newest PWC, 2. the biggest reveals of new watercraft, and 3. the latest gossip on potential future watercraft. And while we're not planning on skimping on racing coverage, it's pretty clear that it ain't what is bringing the people in.

10. Vicious Rumors and Vile Gossip: Honda is Positioning to Strike Back Big
Waaay back in 2013, we hinted at a rumor that Honda had all the potential of stoking up the coals and firing up the presses to start stamping out new Aquatraxes again if they saw the opportunity. People called us crazy and laughed us up and down the road. That's OK, because earlier this year, a very telling anecdote from RIVA Racing's own head honcho, Dave Bamdas revealed that not only were we right, but Honda was actually shopping a prototype around quite aggressively. Almost immediately, the minds of Honda enthusiasts began to spin and article (and our first story, published years before) caught fire.
Now, there is one major caveat to our tale: the loaner units requested by Honda, and the prototype that was being presented are incorrect. Specific notes were given after the story went live that change the story quite a bit. The comparative units requested by Honda were a Yamaha VX Cruiser and a Sea-Doo GTI Limited, not the larger, full-sized machines we originally believed. The Honda being clandestinely presented was a mid-range "Recreational" class machine; build and priced appropriately for the segment. This move, of course, would be a new one for the manufacturer, as its last entry into the personal watercraft arena was a generously full-sized F-15 and F-15X Aquatrax.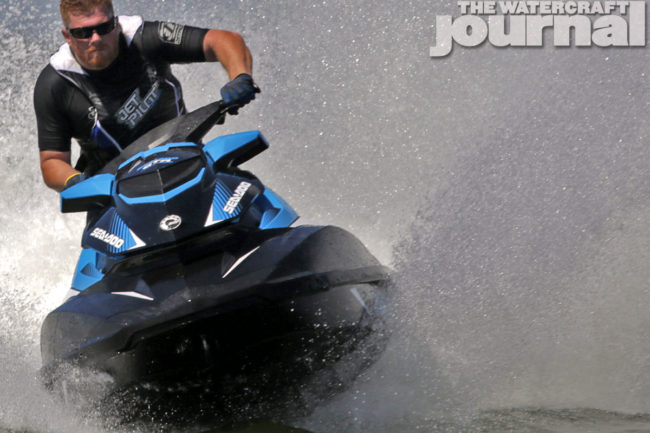 9. Mr. Popular: 2017 Sea-Doo GTR 230
It's always very telling to see which personal watercraft reviews are seen most frequently throughout the year. Interestingly, our review of the 2017 Sea-Doo GTR 230 fared incredibly well, which is a bit of a curiosity as it wasn't the vehicle we had for the long term this year (a '17 GTR-X 230), nor was it one of the better selling units for the year (like the Yamaha GP1800). Rather, this scrappy entry-level performance craft remains a perennial favorite among Sea-Doo enthusiasts looking for a great, lightweight supercharged machine that can be playful and fun, as much as it can snap a hard turn and pour on the throttle with the big boys.
The GTR 230 enjoyed a new livery for 2017, giving it a very cool black-and-blue look but the big changes lie under that big, blue bench seat: Sea-Doo's new ACE 1500, a heavily modified successor to the outgoing Rotax 4-tec 1503, with better cylinder head efficiency, superior pistons, engine oiling, lower internal temperatures, and the company's wholly redesigned "maintenance-free" supercharger. The result was a better-built, longer-lasting, significantly improved powerplant that produced 15-more horsepower than its predecessor and enjoyed a strong, eruptive torque curve that brought the ski up to plane and to speed in breakneck time. The addition of the RXP-X's Ergolock cabin made the GTR's sibling a slight bit better.

8. Achievement Unlocked: 2018 Sea-Doo RXT-X 300 (Video)
Dang! That was fast. Published less than two months ago, The Watercraft Journal's lightning-quick review of the 2018 Sea-Doo RXT-X 300 was one of our fastest turnarounds, and we were repaid dearly for our haste. Even before our adjoining episode of "Long Haul" could be finished, we published the industry's first full-length, highly-detailed review of the completely redesigned RXT-X. Dubbed by (and several others) as "quite possibly the best watercraft that [Sea-Doo] has made," the RXT-X and its all-new ST³ platform are certain to get other manufacturers reconsidering how they build watercraft from now on.
There's so much crammed into the design of this new machine, it's really safe to say that everything else pales in comparison. The Watercraft Journal was also the only PWC publication to show how easily the engine cover is removed and the massive access that it provides. Certainly, Sea-Doo enthusiasts had questions, and the comment section of the video review is our deepest yet. It's also the second-fastest growing video in our catalog. After winning "Watercraft of The Year" only the year before, it's impressive that Sea-Doo would begin anew as they did; but now it makes perfect sense.

7. Vicious Rumors And Vile Gossip: Wait, Could Honda Come Back to PWC?
This one came as a bit of a shock, but considering how quickly the news of a prototype Honda Recreation-segment runabout being bandied about spread, our original story (published way back in 2013) suddenly grew new legs. People really want to see Honda back in the PWC game, and the actual potential of becoming a major player is wholly possible; that is, if Honda actually wanted to be one. During its first foray, the brand made all the wrong moves in marketing their machine. It was sold at an exorbitantly high sticker price and only through exclusive Red Wing-level Honda Powersports dealers. Add to that a lack of features like what was coming from Sea-Doo and Yamaha, and the appeal of the Honda soon dwindled.
So what would a Honda comeback look like? It's hard to say. Ideally, the company would learn from its previous errors, and offer the new mid-sized 3-seater throughout a far wider network of dealerships. Moreover, it would either need to be priced to compete with Sea-Doo's GTS/GTI and Yamaha's VX machines, or offer so much more value in the way of build quality, finishes and features to warrant a hefty price tag over those mentioned earlier. The market is too competitive for an over-priced, under-equipped machine, and to strut into the showroom saying that people will "pay for the name" is a level of hubris that hasn't worked before and is currently failing with Kawasaki.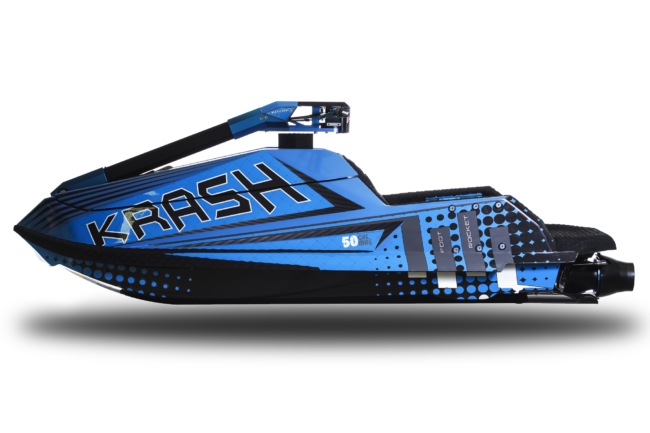 6. Krash Industries Introduces The First $12K Turn-Key Freeride Ski (Video)
This was truly a great bit of news for the personal watercraft industry. Nick Barton's Australian-based Krash Industries is poised to rock the world of standup skis in a way that aftermarket freestyle hull manufacturers like Rick Roy Products (RRP), Revolver, Hurricane, and Tigercraft and failed to do: reach a far, far wider audience outside of its core. And how? By offering an entry-level ski that can be ridden by anyone, whether a novice standup rider, or a professional IFWA contender, and to price it at a staggeringly low $12,000.
Yes, it's still a two-stroke, but it's powered by a digital-ignition, 997cc two-stroke of Nick's own design. The motor is surprisingly efficient and compact, and its DC-CDI Ignition System allows it to be optimally tuned to fit the rider. Of course, the ski itself is just as impressive, with 148mm setback pump with trim, stainless steel impeller, aluminum pole, OVP steering, and a hull that performs both in the surf and on flat water, and is equally as manageable by a newcomer as it is in the hands of a pro. The big question is whether Krash's plans for domestic distribution come to fruition and Krash 50Cals can be found in the US at dealers nationwide in 2018.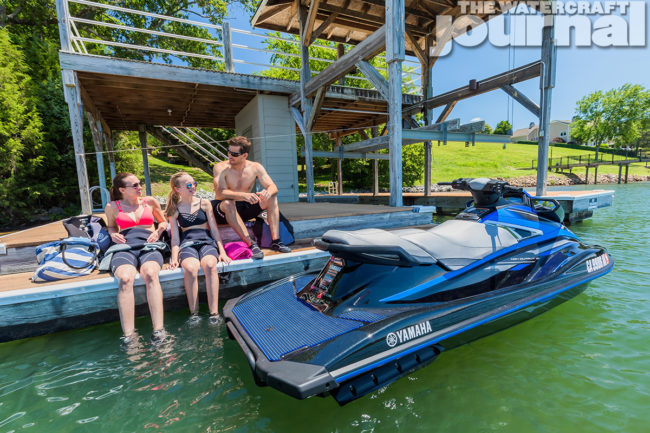 5. Gallery: Introducing The 2018 Yamaha WaveRunner Lineup
This was pretty much a no-brainer. The annual reveals for both Sea-Doo and Yamaha are almost always on this list and 2017 was no different. The big difference is that so much of 2018's lineup was regulated to new graphics and colors that the story didn't rack up the attention like the previous year's announcement (see below), wherein a few new additions were made to the lineup. For 2018, Yamaha's selection of WaveRunners merely doubled down on all the accomplishments it had achieved earlier, including the incredibly popular GP1800 and its EX Series of Rec Lite watercraft. The VX Series continues to flourish, so little was done there as well.
It is also noteworthy that many expect 2018 to be the final year of the current 2-stroke SuperJet, and see its return to more "radical" 1980's coloring as a very appropriate sendoff. We think the SuperJet will likely stay as-is until 2020, when the venerable standup celebrates its 30th anniversary and we see a 1-liter 4-stroke powered version of the ski in all of its glory. Of course, that's just speculation on our part (wink, wink), and worth exploring further in a later article.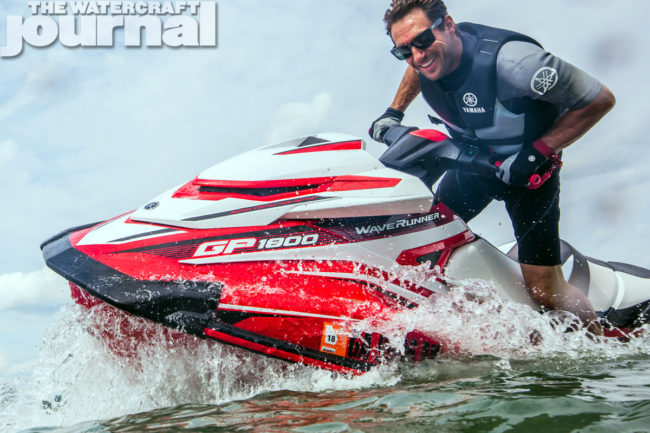 4. Gallery: Introducing The 2017 Yamaha WaveRunner Lineup (Video)
Surprisingly enough, the announcement for Yamaha's 2017 lineup (published in Fall of 2016) continued to rake in readership throughout the year despite there being a whole new bumper crop of WaveRunners coming a few months later. Nevertheless, the excitement for the new GP1800 was clearly to keep people coming day-in, day-out all year long. And it shows: the GP1800 was one of the best selling personal watercraft for 2017, selling out its entire production run by mid-June of 2017.
It was so successful that the ski broke into the Top 10 selling PWC, reaching the sixth spot, which is incredible given that it's a performance-bred machine. Of course, Yamaha's EX Series also really started to come into its own around this same time. With three separate tiers to chose from (EX, EX Sport, EX Deluxe), the little Rec Lite machine provides a healthy 102-horsepower from a TR-1 EX 4-stroke three-cylinder, a true full-length bench seat, superior handling and stability, and um, some storage, which is better than none we guess.

3. Vicious Rumors & Vile Gossip: Sea-Doo To Celebrate 50th Anniversary With 6 New Watercraft
Ah, this one is a particular favorite. Published in mid-July we were only a few short months away before the final reveal of Sea-Doo's 2018 lineup. Of course, by this time all of the final production tooling had been squared away, all the press photos were taken, and even new accessories and apparel were in production, so it's understandable if a few fissures start to appear in the dam. Yet bizarrely enough, the biggest rumor swirling around future Sea-Doo product was a Spark-based standup, which sounds plausible but is anything close to probable. 
No, the closest to likely were Polytec hulls for all remaining GTS/GTI models (Sea-Doo is running out the last of the fiberglass GTI hulls for 130 and 155 models, although 100-percent of Wake 155 models are Polytech-hulled). Second was the retirement of the S³ hull on all RXT and GTX models with a more rough water-capable platform. There was also talk of a Polytec deck (more on that later), but the big concern was how Sea-Doo was going to implement the use of CM-Tech throughout its production line, as that was a new proprietary molding process that BRP had invested millions into development. It turns out, we were 100-percent right except for 50th anniversary badging. We're still a little surprised there.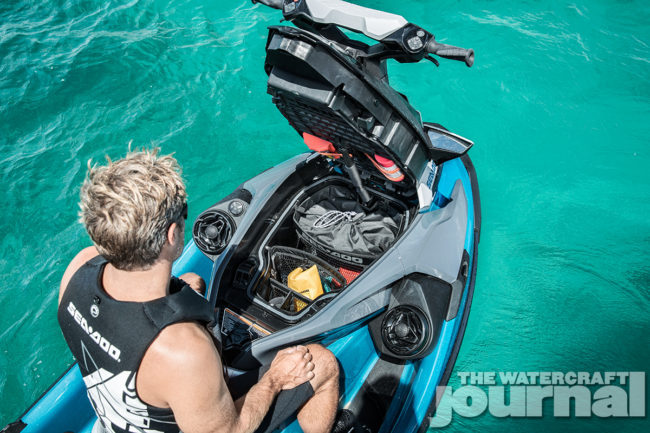 2. Gallery: Introducing The 2018 Sea-Doo Lineup
It didn't take long, but the big reveal of the 2018 Sea-Doo lineup took the world by storm – and The Watercraft Journal was the first to roll it all out in all its glory. And true to our prediction, Sea-Doo did in fact, retire the previous generation RXT/GTX hull and kicked off the introduction of the ST³ platform in a big way. Unlike years previous, the media was not allowed to preview the product before the annual dealer meeting, and dealers rudely leaked cell phone footage hours before the set embargo date leaving literally hundreds of thousands with unanswered questions.
Thankfully, The Watercraft Journal revealed all of the given data in a clear and concise format and quickly absolved people's queries. There were several updates made to this story over the following weeks, as further information was doled out by Sea-Doo that had gone unmentioned like the improvements to the ACE 300's cooling system, intercooler and the widespread use of CM-Tech not only on the ST³ but on all other runabouts (apart from the Spark). Other items added more detail pertaining to the Linq modular system, the engine access plate and even the BRP Premium Audio system.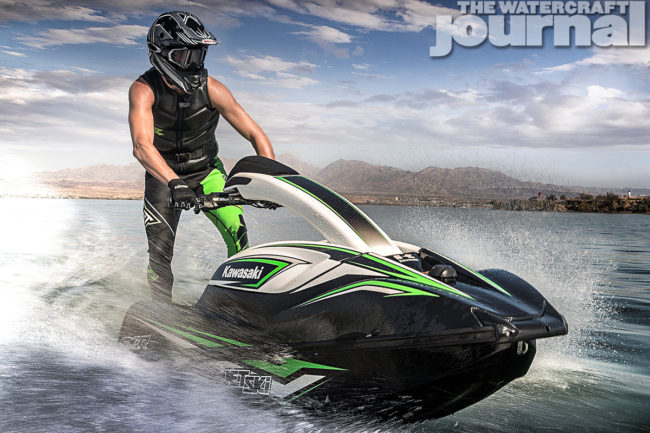 1. The Return of The King: Introducing The 2017 Kawasaki SX-R JetSki
Amazingly enough, the official reveal of the 2017 Kawasaki SX-R JetSki still remained the single-most read article on The Watercraft Journal for 2017, besting all of the stories above. Hewn from a Frankenstein's laboratory of parts bins, sacrificial runabouts and side-by-sides, the 2017 SX-R is a patchwork of products built after hours by two employees of a brand who had, by most all outside accounts, lost its way. Yet, on seemingly a whim, the SX-R was resurrected and Kawasaki – the brand who started the JetSki – was back, baby. But how did it fare in 2017?
The sheer size of the new JetSki scared many as being either unruly to ride, too heavy to maneuver, or just a big fat pig. Thankfully, the Kawi proved most of them wrong on the race course, and multiple regional, national and world championships were won giving the ski some much needed street cred. The aftermarket quickly accepted the ski as well, and soon, performance enthusiasts were finding the right ways to get the ski to fit their riding style. It's still not perfect, and could greatly benefit from a smaller, lighter engine, but it's on the right track. Estimates have total unit sales just under 1,100 for 2017, with a projected 1,000 units sold in 2018. Hopefully, as word-of-mouth spreads and a few more doubters are converted, those numbers will rise.