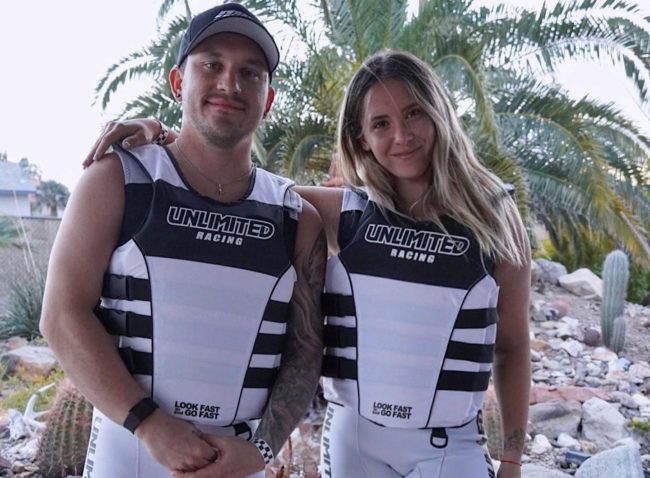 We were scoping out Unlimited PWC's Instagram when we spotted Valentina wearing some sharp looking new Unlimited gear. Upon further investigation, we tracked down Lezcano's Instagram and Facebook accounts for more details. We discovered she and Christopher Landis would sign with Unlimited Racing for the 2023 season. Lezcano stated, "We are proud to announce that we will be signing with Unlimited Racing for the 2023 season. We both were looking for a company to give us that extra edge in our program and Unlimited stepped up huge for us."
We are stoked for them too and we want to tell you about the gear they are wearing in the photos. Lezcano and Landis are outfitted in the Unlimited Rush line.
Lezcano is wearing the Competition Coat in ash white. It is available in black and red as well. This is the perfect coat to wear with your wetsuit in the fall and winter months.
The Competition Coat isn't your average tour coat. It has a tighter body line and allows for freedom of movement when riding. Wrists are fitted with a Velcro enclosure to keep you free to operate the accelerator.
The coat is made of 2.5mm flex chloroprene with a high neck and hood to protect you from the wind and cold. It is long enough to cover your lower back when you sit down.
We like that it doesn't ride up when you sit. Both riders are wearing the 2023 Unlimited Rush Set in Ash White with a matching lifejacket. The Rush Wet Pants and Rush Wetsuits John and all the details can be found on the Unlimited PWC website.
Congratulations to Valentina and Christopher for this great partnership and opportunity!