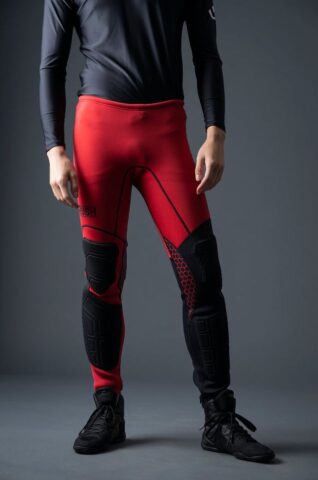 Unlimited PWC has improved upon their 2021 line of Rush Neo Pants by adding X riding protectors to further protect the knees and shins from wear and tear. The pants look sharp in red and black, and the gray looks great too.
The Rush Neo Pants were designed with professional riders who analyzed and tested the rider's movements so they could go with the best cut pattern. These are high performance pants designed for high performance riders.
The Rush Pants have a pad on the inner side of the knee, which improves grip while riding. Unlimited PWC is using a new lightweight flex neoprene used for its softness and elasticity. The Rush Pants feature ankle zippers that make them easier to put on and take off.
Also in the Rush line are the Rush wetsuit John and the Rush Wet Jacket. The Rush Wetsuit John has a Velcro attachment on the left shoulder allowing for easy on and off. The suit has the same features as the Rush Pants and looks just as sharp in the red/black and the gray.
The suit has a good price point too at $172 and comes sizes ranging from small to XLW. The 2.5mm Rush Wet Jacket comes in solid black with Unlimited across the front in white. The jacket has a full zip with a Velcro enclosure. This jacket has a fitted cut, so it molds to your body.
Check out all the new apparel, parts, accessories on the Unlimited PWC website. He has tons of stuff in stock! Look fast, go fast!