The short answer is no. Not just no, but ugh, nooo.
Being an international publication, we've had to wise up on some various holidays and customs from across the globe; most notably Día de Los Inocentes or Day of The Innocents in English. The Spanish holiday, taking place every December 28th, is akin to the English-speaking April Fool's Day, wherein the unsuspecting are tricked into believing one thing or another. We at The Watercraft Journal are very fond of April Fool's and have a long-standing traditionoof publishing a prank article annually. We try to lace each one with plenty of clues or obvious giveaways, but there's always a few who take the bait hook, line and sinker.
For this year's Dia de Los Inocentes, Spanish jet ski enthusiast group Motos de Agua was back at its tricks with a post that surprisingly fooled quite a few people across the globe and gained significant traction on social media. It stated:
Confirmed! Tesla Motors has just presented its first 100% electric water bikes, which will begin to market at the end of February 2019 in the USA and Europe, with a power of 260 HP and 18-hour autonomy navigation! Its maximum speed is estimated at about 86 knots [98.9mph] and with an amazing acceleration. It will also include all kinds of technological innovation never seen on a water bike, as a Tesla identity label. The price round the 24.000 € [$27,454 USD], nothing expensive given its benefits! Tomorrow will publish the website to start the pre-booking of these water bikes.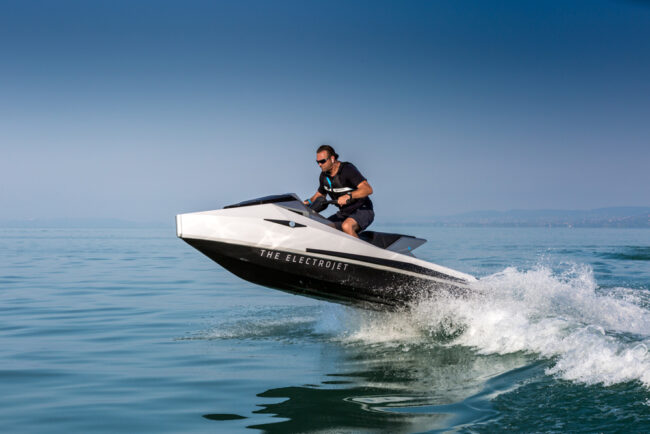 It's important to consider a few factors before believing a claim. First, the absolutely absurd claim of an American company producing a USCG-legal 99 mile-per-hour personal watercraft is beyond the pale of believably. The second obviously red flag is the claim of an 18-hour charge duration. A claim that even exceeds the current Tesla automobiles. Interestingly enough, the images that Motos de Agua chose to use were of Hungarian Narke's ElectroJet, a true zero-emissions, electric personal watercraft that we at The Watercraft Journal have been following for quite some time. In fact, it was due to our consistent coverage of Narke's ongoing development that several knew that the Tesla post was a fake. You're welcome…
What we find most hilarious is that Motos de Agua listed their imaginary Tesla model almost exactly half of the listed MSRP for the ElectroJet (listed at $49,955). Add to the irony that the true Narke maxes out at 34-miles-per-hour, and you've got a dream ski that triples the true top speed for half of the cost! Sadly, the 13-foot, 2-inch Narke is laden with a watercooled, zero-emission electric powertrain pushing the scales at 827-pounds. Interest in an electric PWC has swirled for years, and Narke's ElectroJet is one of many functioning prototypes to reach near-commercial production. We hope to see it reach the States, wherein we'll see if such a vehicle has what it takes to appeal to the world's largest audience.