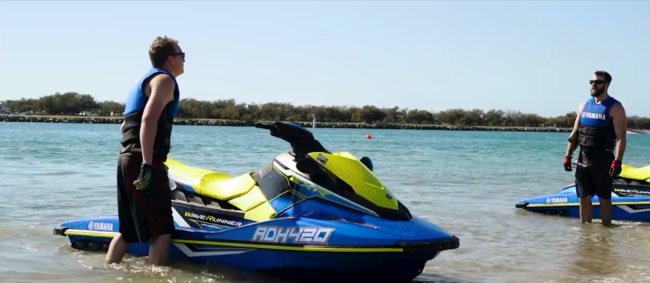 Australia is currently enjoying the bright and sunny days of summer, and with that a whole new crop of exciting personal watercraft. Of those new-for-2019 models is Yamaha's wholly-reimagined EXR. We at The Watercraft Journal were some of the very first to test ride the machine and admittedly, it's one of our absolute favorites in many, many years.
Wanting to rapidly spread the stoke, Yamaha WaveRunners Australia put together two of their best racers – Matt Brunt and Stock & Limited Class Australian Champion Mitch Wayt – on a matching pair of EXR's and let the two rip. The action was recorded, cut and edited into the video you see below and frankly, everything you'd expect yourself to do when equipped with a 110-horsepower, 540-pound bottle rocket.
Yamaha WaveRunners Australia posted the following with the video, which we included below, saying: 2019 Introduces this Race Ready Pocket Rocket to the already formidable racing line-up of WaveRunners. We let 2 of Australia's finest PWC Racers take them to the water and tell us what they think.
A NEW LEGEND IS BORN !2019 Introduces this Race Ready Pocket Rocket to the already formidable racing line-up of WaveRunners.We let 2 of Australia's finest PWC Racers take them to the water and tell us what they think.#yamaharevsyourheart#reliabilitybuiltbymorethanreputation

Posted by Yamaha WaveRunners Australia on Wednesday, January 2, 2019