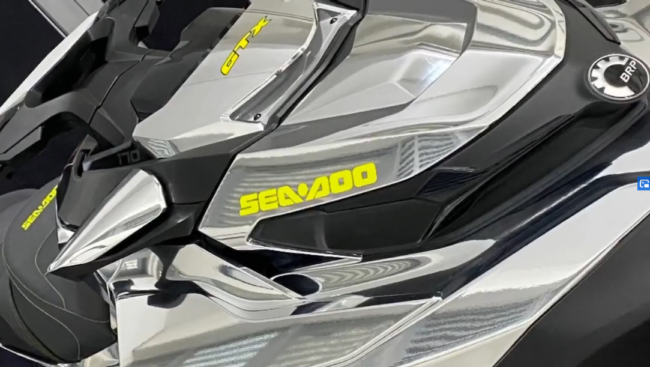 Many of us dig the color schemes that Sea-Doo puts together. They scream fun and look pretty darn good. The new Sea-Doo GTR is no exception; it passes the muster, dressed in its sporty Eclipse Black and Neon Yellow color scheme. Its cool and we think it looks sharp. Not so fast.
Enter Bcut, a vehicle custom printing and wrapping company out of Thessalonki, Greece. These guys have been in business since 1995 and perform amazing work and when they had their way with a Sea-Doo GTX and there was no turning back. The ski was wrapped in a glossy dark metallic satin from bow to stern and all the way around. The team really turned it on with this job! This is one stunning piece of work that screams fast.
Even the lettering on the machine is meticulously matched to the lime green stitching on the seat.  You can see the custom wrapped Sea-Doo GTX for yourselves on the Bcut Facebook page. They let the machine speak for itself as its presented in a video. The wrap is one of the best we've seen. Enjoy!