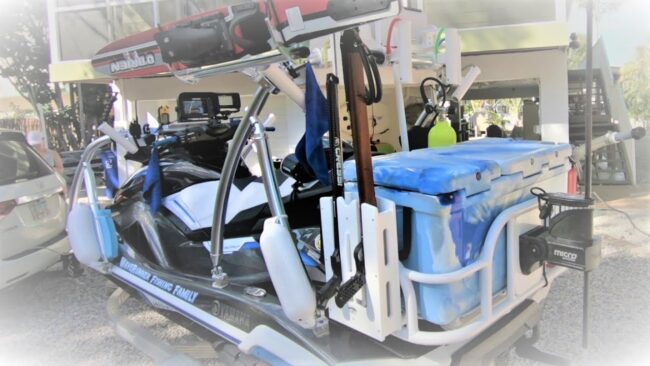 Dean Banyon is at it again, and it's awesome! Check out this DIY custom Yamaha FX Cruiser HO WaveRunner rig built by Banyon on his WaveRunner Fishing Family channel. The machine appears to have everything but the kitchen sink onboard. Some of the water sports the ski is outfitted for are SCUBA, fishing, water skiing, and spear fishing.
When you're ready for adventure, simply change the components on the system in order adapt it to fit your needs for the day. Add or remover whatever components are necessary for your sport of choice and leave the rest at home. Attach your gear and hit the water!
The Yamaha Sea Wing Scooter II even has a place on this ride and for your convenience, a Micro Anchor is stowed in the glove box. It's easy to mount on the ski and you can drop it to keep your ski in place while you use the Sea Wing to go for an underwater adventure.
Come back to the surface and grab a drink from the WYLD Gear cooler mounted on the boat's stern. The dual sided 75 Quart WYLD Gear Cooler can be set up as an aeriated live bait well while the other half keeps your drinks safe from stinky bait. The cooler is equipped with aerators on both sides so the whole thing can be used for bait or catch of the day.
If you get hot in the sun, don't fret, the machine has an easy to use umbrella holder, which easily breaks down to stow away. The rig is equipped with navigation lights, including an anchor light with a minimum two-mile visibility. No worries if you're on late night ride, you'll be easily seen.
Watch the video for the full tour of the powerful DIY Yamaha Fishing Rig. You will be glad you did! The project is amazing. We can't wait to see what the talented WaveRunner Fishing Family does next!