It's been a really long time since we've done a "Vicious Rumors & Vile Gossip" article and that's not for a lack of trying. It seems that The Watercraft Journal's batting record for getting the exclusive on new and expecting product has been so good that the OE's have battened down the hatches tighter than a Marvel Studios movie set. And understandably so, because if we happen to leak out the juicy details on an upcoming machine, the news may be so tantalizing that it'll sway a would-be buyer from a current sale for anticipation of a machine that may or may not happen.
So we're gonna preface this article with a warning: this is ALL rumor and conjecture. If you're looking at a 2020 RXP-X 300, go ahead and buy it. OK, with that out of the way, let's talk about what we do know, what we think we know, and well, a whole bunch of unsubstantiated thoughts on what to expect from Sea-Doo's 2021 RXP-X 300. And yes, a new RXP-X is coming down the pike. That much is true. Sea-Doo and Yamaha are almost in lockstep when it comes to rotating out a model line every nine years, and the last redesign of the RXP-X was back in 2012, which frankly, just doesn't feel that long ago.
The then-new 2012 RXP-X touted 260-horsepower from a supercharged-and-intercooled Rotax 1503 3-cylinder; that is, until its upgrade to the ACE 300 engine in 2016. At its reveal, we noted that the RXP-X 300 in this form was faaar too much machine for most riders. This was a top tier sport bike that wasn't happy unless it was snapping off hairpins at wide open throttle, and frankly, our opinion remains the same. The T3 hull was designed by the late Sea-Doo engineer, Sam Spade specifically for optimal buoy course performance; and a dozen Pro Open and GP World Championships testify to Sam's genius.
But nine years have passed beneath the current RXP-X's hull and it's time for a fresh take on the world's most powerful 2-seater. Already, the "knowns" are the carryover of the current RXP-X's powertrain. Identical to the mighty RXT-X 300 and luxurious GTX Limited 300, the centrifugally supercharged ACE 300 will continue as-is, it's big 1630cc displacement producing a true 300-horsepower. Equally, industry-leading innovations like Sea-Doo's third generation Intelligent Brake and Reverse, iControl engine management software – including Launch Control and Slo Mode, and Ergolock will all be found in fine form on the new RXP-X.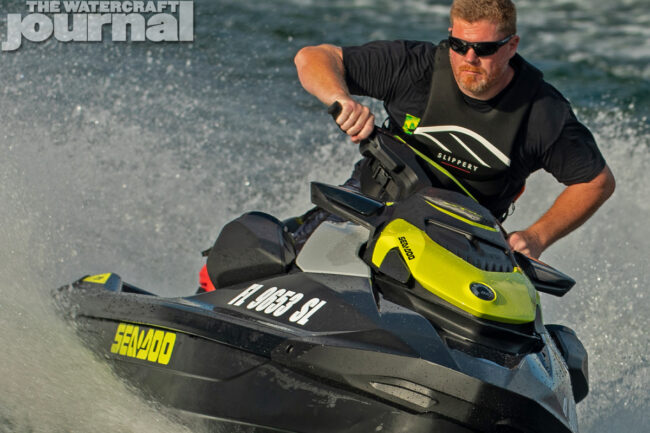 For those uninitiated, the RXP-X 300 (and GTR-X 230, which is expected to return for 2021 as well) shares the deck with the GTI platform. This not only allows Sea-Doo a little bit of cost cutting by not having to produce a unique deck for two models, but also allows engineers to carry over a great deal of hardware and equipment from the Recreation segment. This sharing coincidentally, also gives us an approximate size of the new RXP-X. Comparing the 2020 GTR 230, we can expect the new RXP-X to come in at roughly the same 130.6-inch length, 48.5-inch width, and (possibly) the same 44.8-inch height.
These new GTR dimensions are surprisingly close to the current RXP-X's 130.6-inch length (.2-inch shorter), 48.3-inch width (.2-inch narrower), and 45.3-inch height (.5-inch taller). The added height is attributed to the adjustable X-Steering system, which has yet to be confirmed – yet, is very likely – for 2021. The shared GTR/GTI deck also promises the introduction of BRP's super-popular LinQ accessory system. Now the RXP-X can enjoy the use of collapsible mounts when riders are bringing along extra fuel, a cooler full of drinks and snacks, or even towing a wakeboarder with the retractable Ski pylon.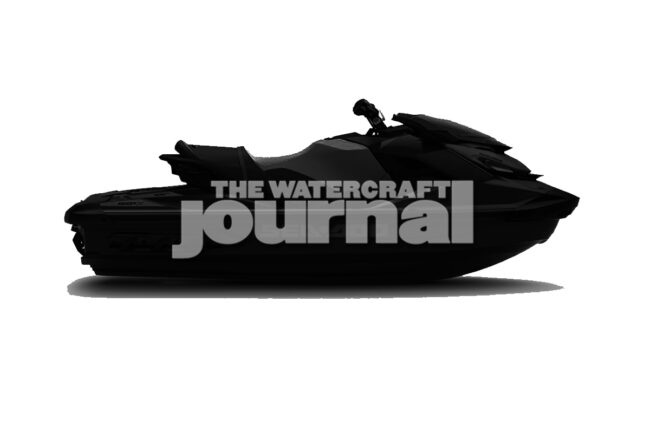 Similarly, the shared deck and dimensions ensure that the 2021 RXP-X 300 will not only employ the same 15.9-gallon fuel cell as before, but enjoy the GTI's increased 42.5-gallons of storage – meaning those riding a RXP-X will have over one-and-a-half times more storage than those riding the full-sized RXT-X 300 and its 26.1gal. storage! The RXP-X will also have the same large engine access portal beneath the LinQ accessory panel. And the molded CM-Tech deck features deep, wide footwells and a smartly-shaped rear swim platform, giving the sporty two-seater a roomier cockpit – which larger riders will appreciate.
The unspoken concern from many performance enthusiasts is what will the hull be made out of? First, it's important to note that the entirety of the GTI lineup, including the GTR 230, features the brand's second-generation Polytec material. Interestingly, the Polytech 2.0 hulls feature fiberglass stringers running the length of the hull's inner liner providing added durability and rigidity to handle the forces and torsion made by the supercharged 230-horsepower 1630 ACE engine. The new material is also repairable using a proprietary plastic welding kit; and in worse case scenarios, is quickly replaced.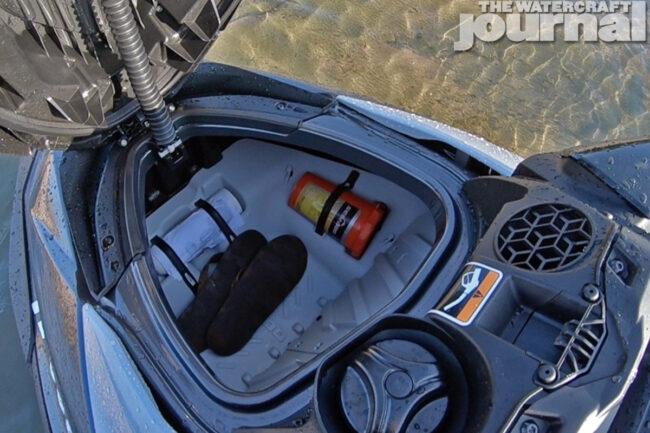 Above: For the first time ever, the RXP-X will have more than one-and-a-half times the storage as the full-sized RXT-X 300 and GTX Limited 300 (42.5-gallons vs. 26.1-gallons).
But that's not going to be the case for the RXP-X 300 (and GTR-X 230) in 2021. When queried at the 2020 reveal, then BRP Global Product Specialist Manager, James Heintz assured The Watercraft Journal than the "next RXP-X will be CM-Tech. Not Polytec." And like the current RXP-X, it will have its own unique hull design; not simply the GTI hull cast in CM-Tech. Although the new GTI/GTR hull design is a winner in our book, it's also too loose and playful for the aggressive maneuvering expected from the RXP-X musclecraft. "Loose and playful" is great for the Recreation segment, but not for those looking to collect world championships.
We've heard accounts claiming that the new RXP-X hull will abandon the T3 shape entirely, in favor of a more shallow draft, straked hull similar to the *gasp* Yamaha GP1800R, while others have claimed that the new shape rides more like a shortened ST3, favoring the nose in cornering more than before. Either way, we won't really know for sure until the new 2021 models are revealed this September. Finally, one last feature certain to excite would-be buyers: the confirmed addition of the BRP Premium Sound System option – a first for the RXP-X 300. With 100-watts of music thundering in your ears, it's gonna make the new musclecraft a must-have for 2021.