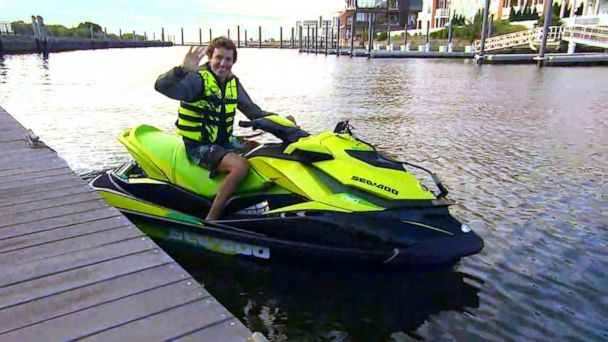 Psychologists have detailed how the daily commute can literally shave years off of your life. So it's understandable when Jersey City resident David Pike began to reevaluate his 90-minute commute to Brooklyn each and every day.
"My company, New York Trolley, is in Brooklyn, and every day it would take me 90 minutes; I'd have to take the bus to the subway to the path to another bus and all the while I'm just looking across the harbor like, 'I just need to go there, how can I do it?'" he told Good Morning America.
Now, rather than traveling through Manhattan, which took an hour and a half, Pike goes around it, cutting his commute down to a scant 15 minutes – thanks to a used Sea-Doo GTI.
"I went on eBay bought a jet ski – and now it takes me 15 minutes; I just cut straight across the harbor," he told reporters. Pike said he parks the Sea-Doo at the Brooklyn cruise terminal, alongside the kayak dock.
When asked about rough weather or the colder months, he shrugged, "We'll see. I have a wetsuit and a dry suit, so I'm planning to go through November."
Pike continued, saying "it's so much fun," but added that he's "not alone out there." "The harbor's really a hive of activity. There's cruise ships, paddle boards, tourist boats, seagulls, so I feel like I'm in good company," he said with a smile sitting on his Sea-Doo GTI.