Admittedly I don't get to attend very many events or join any group rides these days. The frenetic schedule that I keep has me so tightly booked that eking out enough time to enjoy a prolonged weekend's worth of riding is all but impossible. Thankfully, I had drawn a line in the sand that while I might miss the larger Mudbug event in June, there would be no way that I'd miss October's. 
When I first started traveling the 11-hours south to Morgan City, Louisiana for the annual Mudbug PWC Rally there was only the one calendar weekend. But as it grew and the types of attendees began to diversify, so did the schedule. Suddenly Spring and Fall Mudbugs began popping up – albeit not nearly as widely attended as the midsummer event. 
It should come as no surprise that summer in the bayou can be pretty sweltering, especially if winds are low and temperatures are high. So the cool breezes blowing up from the gulf and moderate-to-high-70's temperatures in October make for far more favorable conditions. Add to that the lower headcount also makes smaller groups and chances for the kinds of shenanigans that get the rest of us in trouble with the locals. 
For what it's worth, Morgan City can feel a bit like a seasonal gulf town with many shops operating shorter hours. Even on the water, life moved a little slower than its already characteristically leisurely pace. The difference in 10-degrees on the thermometer clearly effects the locals as much as it does the 'gators. Oh yeah, and there are far, far less bugs in October. So if you enjoy not having to regularly wash the insect splatter from your face throughout the day, maybe October's Fall 'Bug is right for you.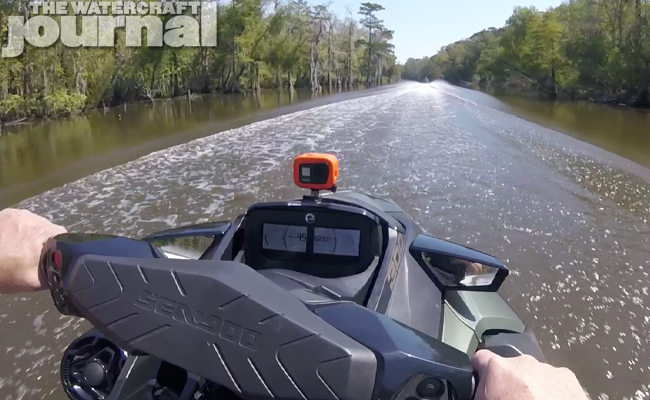 This past October's Mudbug fell right in the middle of my kids' Fall Break, so I upheld tradition by bringing one of my daughters with me. Thankfully, Mudbug has somewhat gravitated from its earlier days of heads up drag racing and radar runs towards longer all-day rides and winding routes through the cypress trees and Spanish moss, making it far more welcoming for younger riders – making the oddness of my habit of bringing one of my kids with me has lessened over the years.
Needing to kill a few birds with a single stone, I coordinated with Greg Gaddis to come down early so he and I could put in some solid testing of his 87mph Sea-Doo RXP-X as well as a shootout between BRP's flagship GTX Limited 300 and a Kawasaki's newly redesigned Ultra 310LX. Greg had little seat time with the gold luxury JetSki so my 9-year-old daughter Natalie and I spent much of the weekend on the Sage Green Sea-Doo. 
That shootout has long since been published so if you haven't sunk your teeth into that, we'll put the link up in the right hand corner here. Many people are just as split on certain aspects like Greg and I were, so make sure to leave your thoughts in the comment section below that video. To that point, our first day of testing started off taking Greg's highly modified Sea-Doo RXP-X 300 out for a short stint. We'll cut to that right now:
With our extra days of testing behind us, we could spend the rest of the weekend joining the dozens who drove in from across the US to attend the Bug. For those looking to join the fun, you must understand that the Mudbug is almost entirely unscripted. There's no official meetings, ride or schedules. Many will ride in smaller groups all weekend long and never intermingle with other groups riding the same trails.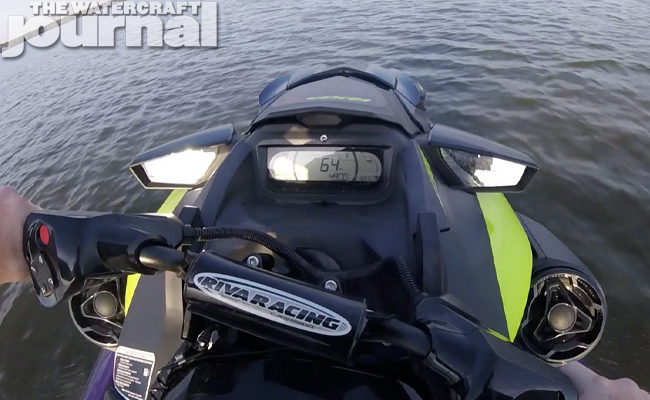 So if you want to know what's going on the best suggestion is to watch both the Greenhulk.net Facebook page as well as the "Mudbug PWC Rally" thread on the forum. But if you're one who likes to play things fast and loose, it's best to pull up to Doiron's Chevron station around 8:45-9am and wait and watch as the trucks and trailers towing brightly hued PWC start rolling in. While it's not the only place to start your day, it's where most folks fuel up and stock their coolers before launching. 
And yes, I am woefully mispronouncing "Doirons" – spelled do-irons Greg has repeatedly corrected me, slowly sounding out dry-ons, casually slurring over two syllables. When I point this out he always shrugs and says, "Yeah, but you ain't coonass either."
Friday morning at Doirons was no different as I packed up the GTX's LinQ cooler, grabbed a quick biscuit for breakfast, and picked up a parking pass for the day. Soon we were joined by two dozen riders looking to cement a plan for the day. Our group included two fistfuls of supercharged Yamahas, some RXP-Xs and our lone Kawasaki 310LX. Greg and his girlfriend had won our impromptu coin toss, sticking me back on the Sea-Doo much to my chagrin.
We put in on the west side of the levee, accompanied with a couple parents with their kids in tow too. Water levels were a little low exposing submerged tree stumps, tangled patches of lilies and a few more surprises. Cooler water temperatures also encouraged the local alligator population to warm themselves under the sun on the slowly drying banks. Over our 3 days of riding, Natalie counted nearly 30 sunbathers. Normally we stop to enjoy a swim during the day but seeing so many gators gave us reason to reconsider. 
There are few better venues to indicate the problematic traits of the Sea-Doo's ST3 hull than riding in groups through narrow channels like we do in Morgan City. Only when you're riding directly in syncopation with the ski in front of you, the vertical blade-like bow of the full sized 3-seater will track with some predictability; otherwise the ski will veer, wander and jolt in whatever direction the wake ahead of you points. 
More than once did the nose grab the leading edge of a wake and yank violently to the side, breaking the pump free and pitching the entire hull sideways. Even an experienced pilot can be caught off-guard by this, spelling disaster for the unsuspecting rider or passenger. I've documented how RIVA's Pro Series sponsons best work to alleviate this but cannot wholly resolve the characteristic. It's baked into the hull design and is something to be aware of.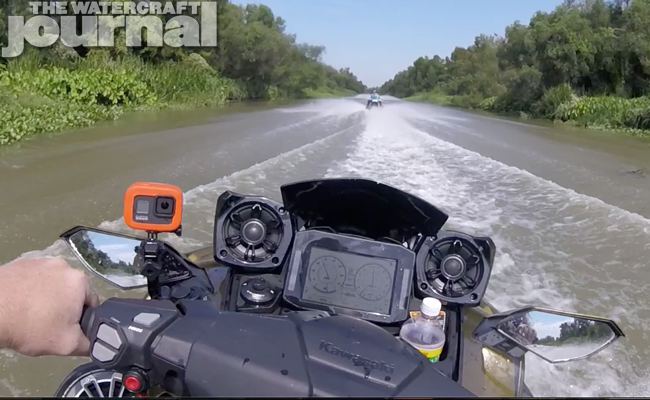 Friday took us through narrow sections, serpentining up nature-made race courses. Thankfully those few who knew how to ride joined Natalie and I in a little high speed horseplay, spraying the local flora with 10-foot-high roosts. More staid riders grew impatient with our kind of mischief and eventually peeled off into their own group, presumably to stop and enjoy a chilled bottle of chocolate Ensure and catch up on their knitting. Now a leaner and quicker group, we picked up the pace and watched as our fuel gauges sank lower towards "Empty."
After changing over to the east side of the levee and putting in at Doirons Landing, we raced up the trail towards Spunky Monkey, a local waterfront watering hole. With a little more filming needed to conclude our shootout, Greg and I sped off to a familiar shady sandbar. Getting the last few shots left, we watched as the remainder of our group sped by. We followed shortly after, racing against the sinking sun setting beyond the western tree line.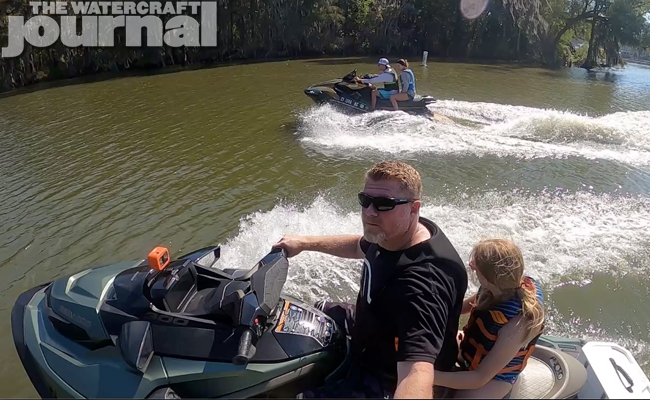 Saturday morning started a little slower than the day before but just the same: This time Greg was aboard his modded purple Sea-Doo while Natalie and I loaded up the Ultra 310LX. Our group grew quite a bit, with almost 40 heads and nearly 30 skis. Today we were joined by a '22 Ultra 310LX-S and two other supercharged Kawasakis sprinkled throughout the typical ratio of Yamahas and Sea-Doos. With the gold LX topped off, we pinned the throttle and raced off towards the pack leader. 
Billy Duplessis and David Pate gave chase in a particularly exciting twisting trail, taking corners at speed, throwing grass-mingled roosts and plumes of roiling thrust. The big Kawi had zero trouble chasing down David's GP and Billy's FZR and greedily sluiced the whitewash and wakes never once disengaging or breaking free, the big 160mm axial-flow stator biting down like a set of grippy tires on a prepped race track. And all of this with my 3rd grader hanging on, laughing all the way.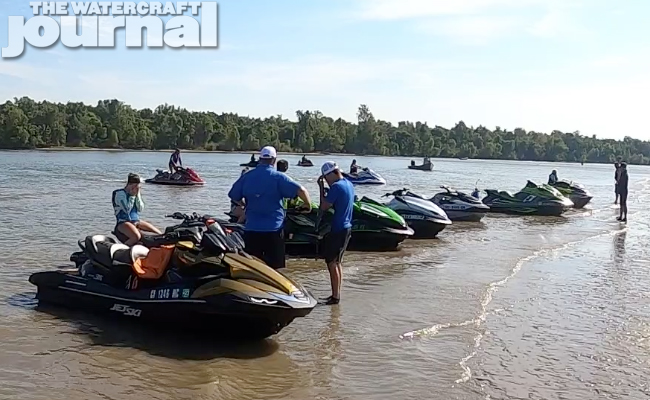 That she was more than willing to goad her father into pinning the throttle to its stop more than a few times was particularly impressive as the day carried on; this Disney princess-loving little girl happily encouraged me to vice the Kawasaki to full throttle for several minutes across a wind blown Lake Verret, out running a handful overbuilt Sea-Doos whose noisy through-hull exhausts vanished behind the whine of the Ultra's Eaton TVS supercharger; the consistency of the Kawi's ever-hooked hull pushing the big JetSki ahead of several racy Sea-Doos. 
In fact, that seemed to be an ongoing motif: the Ultra keeping a steady pace behind far-faster modded skis. While hot doggers pinned their throttles and ricocheted over the broken surface, their pumps disengaging and blow-off valves whistling, the Ultra charged ahead always staying hooked and maintaining a straight course – all with a little girl giggling and asking "Go faster, daddy!"
And that is clearly one of the most unsung benefits of the Kawasaki's rough water prowess: it doesn't wear you out like a GP or RXP-X does. The effort necessary to pilot a RXT-X through similar chop can be exhausting. Not so on the Ultra. Maybe the marketing department should consider the moniker: The Ultra JetSki kicks everybody's butt but yours. It has a nice ring to it, doesn't it?
That evening was spent at a local Mexican restaurant choking down warm salsa (for whatever reason, every Mexican restaurant in Morgan City heats up their salsa – it's weird and makes you feel like you're dipping your chips into marinara sauce) and swapping stories of who got lost, who broke down and who slammed their Sea-Doos into the launch ramp. Sadly, Natalie had to be on our way the next morning as she had school the following Monday, and mom wasn't going to tolerate me bringing her home late that night. Ratcheting down the GTX and 310LX, we bid farewell to our Mudbug friends and made the long trek back to Tennessee certain to return next year.
https://youtu.be/hotIJQYGZug