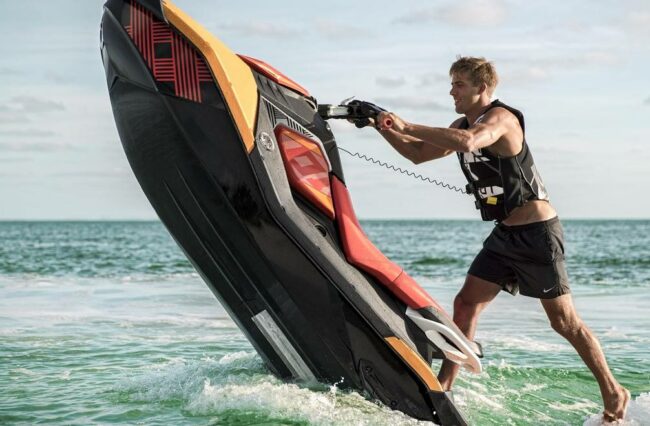 By now many of you have heard about the Sea-Doo Spark. Sea-Doo announced in 2013, it would begin offering an affordable way to get out on the water. After a few years and many pleased customers, Sea-Doo has been able to revise and come out with more powerful and enhanced versions of the Spark.
In 2016, Sea-Doo announced that they would be offering a model of the Spark called the Spark Trixx. The Spark Trixx is a "playful trickster".  Equipped with the ROTAX 900 HO ACE engine, iBR, and iTC, this is a top of the line Spark with a fun twist added to it. The twist being that it has an extended range of trim allowing you to preform "wheelies" on the water. By setting the trim all the way up, it forces the hulls nose into the air. Do not worry though, as there are foot pegs in the rear which allow you to stand up. No other personal watercraft offers this, making it one-of-a kind and tons of fun to ride.
Sea-Doo's main goal is to provide their customers with the most fun on the water. A group of riders in Maine are doing just that. They posted a video recently showing off their ability to do wheelies, 360's, donuts and figure 8's on a brand new Spark Trixx. From the looks of it, they were able to maneuver the craft with ease and have a lot of fun with it. The Spark Trixx allows you to ride like a regular Spark but give you the freedom to change the trim and start to carve up the water. Many riders have said that this style of riding is a ton of fun as it makes the rider pay more attention to riding.
The video is definitely worth a watch, especially if you live up north in the cold. It may even give you the energy to finish that winter project of yours and have it ready by summer. Or, maybe take a drive down to your local dealer and see what they have in stock. The 2018 Sea-Doo Spark Trixx models will be available but the 2019 are now open for pre-orders.