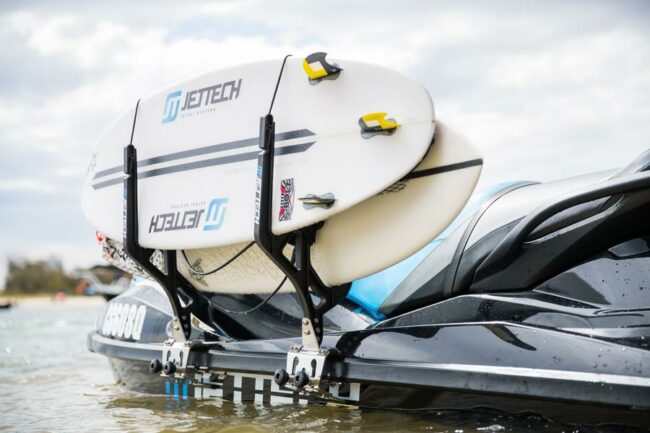 The Jet Tech team created an excellent board rack system for PWC. The rack simply snaps on to one side of the ski. Carry up to two surfboards or one wakeboard for a day of play. The racks are available for either surfboards or wakeboards. The Jet Tech racks have a UV stabilized adjustable bungee cord for securing your boards. No worries if the ride is bumpy, equipment is secure and out of danger, including your ski. Protective EVA foam strips cover any points of contact so your equipment won't get damaged during transport and neither will your ski.
Here's a cool short that shows the racks being put to use. Everything is included in the kits and they're ready to go! The wake board kit is designed to accommodate all types of boards, with a folding spacer to secure thin boards such as wakeboards, kiteboards, and wakeskates.
The surf rack system is equipped to carry surfboards and other types of boards and will safely and securely hold two boards. The top slot is 3.5 inches wide and the bottom slot is 4.5 inches wide. The adjustable clamp is made of polished 316 stainless steel. Heavy duty brass knobs are inserted for tightening.
Both styles of racks are universally designed to fit every model of Yamaha, Sea-Doo, Kawasaki, and Honda. No modifications are required to your hull, which means you can easily clamp on a set of racks, load up your boards, and get underway. The products were been built to withstand the harsh marine environment. They also come with a 12 month warranty.
Check out the Jet Tech site to read about big wave surfers putting these racks to solid use. Also read other testimonials and watch some cool clips. Jet Tech is the real deal. The racks have seen the likes of big gnarly Shipsterns! Jet Tech ships worldwide too so we can all have racks for our skis. The design was born out of necessity so you can have a hands free ride with a set of Jet Techs knowing that your board is cradled securely in a Jet Tech rack.