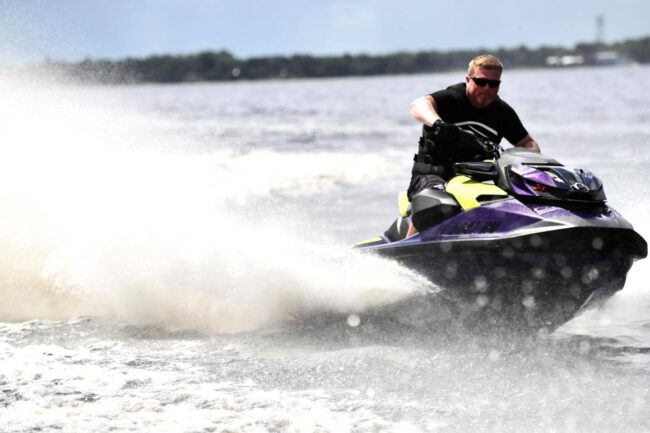 Oh the woes of technology. You see, this morning – in the midst of possibly one of the biggest new product launches – my trust travel laptop (an 8-year-old MacBook Pro) gave up the ghost. That means that not only could I not complete the massive task of editing, cropping and watermarking nearly 60 images, but I couldn't even finish typing up the text, which around the time the laptop's solid state drive died, was nearly a third of the way done. So, what you're getting instead is a bit of a placeholder.
Thankfully, while a local repair shop toiled to resurrect my wonky McIntosh, I spent the better part of the day riding the all-new 2021 Sea-Doo RXP-X 300. Building off of nearly a decade of on-the-water testing and development, the new RXP-X benefits from years of racer input, aftermarket testing and all you fine folks making Sea-Doo's muscle craft one of the most popular out there. Although I won't use this time to divulge all of the nitty gritty details or my final take on the PWC, the video below pretty much does it for me.
See, after the big reveal, Sea-Doo's Tim McKercher gave The Watercraft Journal exclusive hands-on access to all of today's test units – all to provide you an intimate look at these new machines, and to answer your questions live as we walked around them. And just as an added bonus, we also poured over the new 2021 Sea-Doo Fish Pro 170 with its industry-first, game-changing iDF fully-functional transmission! That's right, the Fish Pro 170 comes standard with the ability to reverse the driveshaft and prop to redirect thrust forward to clear a clogged intake grate.
The feature is also standard on the fully-loaded GTX Limited 300 and is available as an option on the GTX 170 and 230 (but not the new GTX 300). So until I can get my damn laptop back and thrash all weekend to finish the article that should've been done already, you're getting this teaser and a link to our YouTube channel's latest video, another episode of The Watercraft Journal IRL. Enjoy!