[Editor's note: Yes, this article was supposed to have gone live on Friday, September 11, 2020. Unfortunately, the hard drive in our MacBook Pro died, and with it any chance of us completing this reveal until today. While much of this information has been disseminated throughout the internet, we're going to compress and compile all of it into a single, easy-to-follow article. – Ed.]
Admittedly, this was probably the tightest-lipped Sea-Doo had been in years. Given the past several months, we at The Watercraft Journal had high hopes for 2021, but expected something, well…a little more measured. Instead, what we're getting is a pummeling of performance and next level innovation. The best racers, tuners and aftermarket parts suppliers have been champing at the bit to spill the beans before the appointed deadline. Heck, anyone who knew anything was bursting at the seams.
Now here we are, and the cat's out of the bag. The all-new RXP-X 300 is easily the most ambitious race-ready 4-stroke to come from Sea-Doo. From it's GP-class, high-bolstered saddle to its one-of-a-kind T3-R hull, the new RXP-X makes some seriously bold moves. Add to that, the introduction of the world's first forward-and-reverse gear-driven transmission for true reverse-thrust pump clearing (iDF) and the most advanced digital dashboard in the industry, and there's just too much to talk about – well, almost.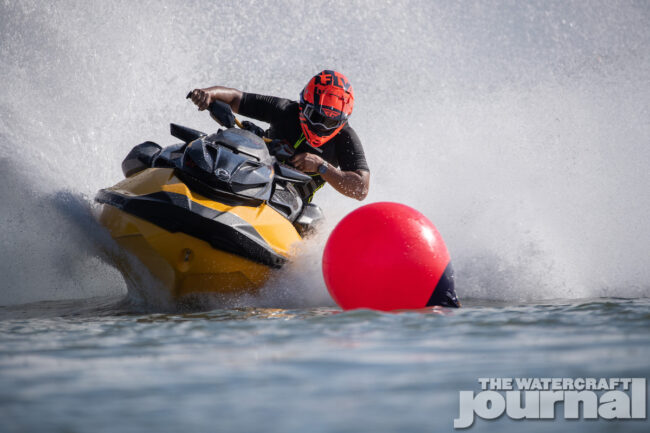 OK, OK. But before we delve into the super-exciting stuff that you would-be racers are salivating for, we're gonna talk about the rest of the lineup first. That's right, we can't forget everyone else in the room! Beginning with Sea-Doo's Rec-Lite segment, we're gonna work our way up the food chain, so let's just cool our jets and talk about Sparks. That's right! The Spark returns for 2021 all but unchanged.
Thus far, the Sea-Doo Spark ($5,499) reigns as easily one of the brand's most reliable sellers. And for good reason too! Priced to move, these lightweight entry-level PWC offer a mild gateway into the wider world of Sea-Doo ownership. Powered by the same 900 ACE 998cc producing either 60 or 90-horsepower, Sparks return in either 2- or 3-up seating arrangements, as well as in the upper-tier Trixx configuration ($7,699), providing an extended-range VTS trim setting.
The colors are far more mature than those early nascent days too, with the aforementioned Trixx available in either Lava Red/Deep Black or Manta Green/Quetzal; and the standard 2- and 3-up Sparks in either Dazzling Blue/Manta Green or Orange Crush/Deep Black. Sure, the Spark is still a super playful, fun experience; but it's obvious that Sea-Doo is looking to appeal to an audience with a slightly more subdued taste with these more reserved colorings.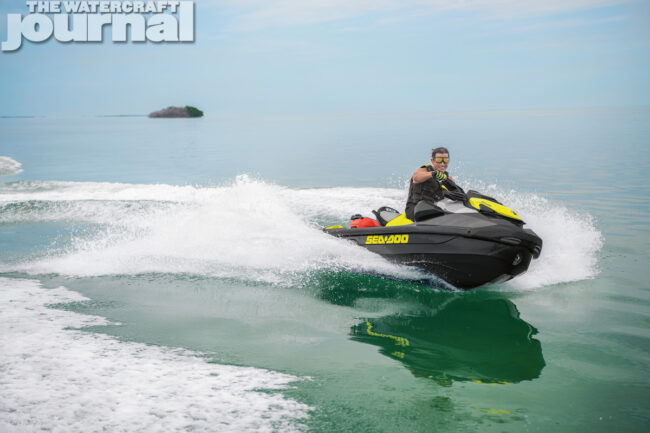 Of course, you can still custom wrap your Spark too, if you so desire. Equally, iBR, a single-sided retractable reboarding step, a front storage bin, or most notably, the floating BRP Audio-Portable System are all optional equipment as well. These changes are considerable when you look at the 2021 GTI family. Seeing that the platform was wholly redesigned from the ground up just last year (it feels forever-ago, doesn't it?), we weren't expecting much of anything.
The GTI's enjoy a whole new Polytec 2.0 hull that is double the thickness of traditional Polytec (used on the Sparks) bolstered with fiberglass stringers giving the new GTI hull is added strength and durability, all while be significantly more predictable in cross chop than even its larger ST3 sibling. Add to that a redesigned deck giving the GTI the same LinQ accessory system and a surprising one-and-a-half-times more storage than the full-sized machine as well, it's definitely a winner in our book.
The GTI family continues almost entirely unchanged, save for a little color rearranging. The base GTI 90 ($9,099) and GTI 130 return in White and Reef Blue, and powered by the 90-horsepower 900 ACE 4-stroke or the 1630 ACE 4-stroke, respectively. Stepping up the ladder are the GTI SE 130 ($10,899) and GTI SE 170, available in two color variants: either the same Eclipse Black and Neon Yellow exclusive to last year's GTR 230 or the returning Beach Blue Metallic and Lava Grey on the 130 and Ice Metal and Orange Crush on the 170.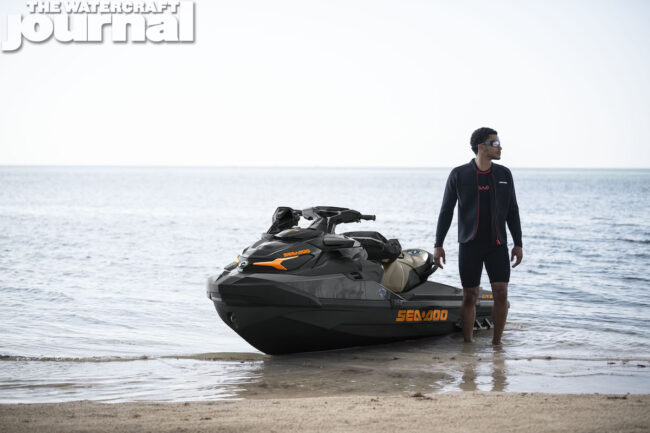 Speaking of last year's GTR 230, it too carries over into 2021 ($12,599) without any changes either. In fact, many of the carry-overs were done more to expedite manufacturing and delivery of new units as 2020 witnessed the unheard-of collision of explosive demand and limited production numbers due in large part to the COVID-19 shutdowns. Rather than delay delivery of recolored units to dealers already desperate for product, Sea-Doo wisely opted to continue several units as-is to maintain some flooring.
Segueing smartly from the GTI lineup are the two Wake offerings. Sharing the same hull, deck and powertrain as the GTI SE 170 is the Wake 170 ($12,299). It's stable-yet-playful Polytec 2.0 hull is planted enough when towing a raft (via the tow eye) or a wake skater with the standard-equipment retractable ski pylon. Also too, the 15.8-gallon fuel cell will likely last throughout the day particularly as you employ the Wake's various launch control settings, making first-time tow sports a cinch. Both return in Malibu Blue and Neon Yellow for 2021.
Stepping up in the wake sports game is the full-sized ST3-based Wake Pro 230 ($15,799). Offering a treasure trove of accessories as standard fare, the Wake Pro provides the aforementioned retractable LinQ ski pylon; a removable wakeboard rack and reboarding step; iControl Speed Limiter, Slow Mode, Sport Mode, and Ski Mode; and BRP's Premium Bluetooth audio system (standard on Wake Pro 230, optional on Wake 170).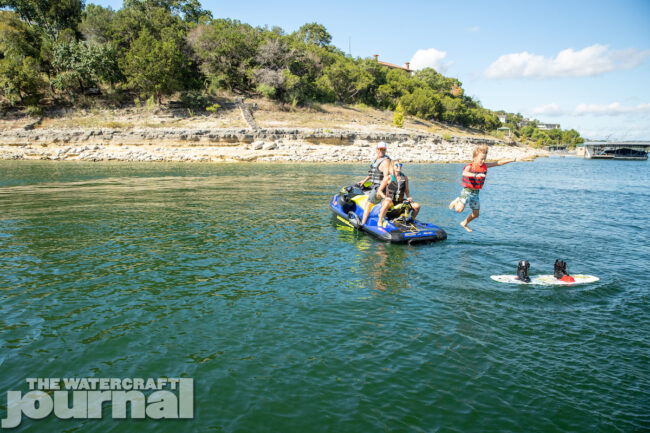 Powered by a grunty supercharged 230-horsepower 1630cc ACE 3-cylinder, the Wake Pro 230 also delivers plenty of sporty fun when you're not dragging somebody behind you. And just in case, you're looking at keeping the engine pinned, its 18.5-gallon fuel cell should last you most of the day too. Then again, if you're looking for something as stable as the Wake Pro but are new to PWC, the all-new, rental-only GTX Pro 130 is gonna be what will be many novice riders' first introduction to PWC.
Similar to the GTI Pro of a couple of years ago, the GTX Pro 130 – offered in White and Reef Blue – features some slightly more robust components that are designed to stand up to the usually high wear-and-tear that comes from newbies and less-attentive riders. Sturdier electronics, reinforced sockets and couplers; more durable vinyl seat covers, tougher hand grips; and a longer-lasting wear ring are all part of the Pro package. It also features the smaller LCD dashboard used on the GTI models.
What might surprise some is how much the redesigned 2021 Sea-Doo RXP-X 300 ($15,799) shares with its GTI/GTR sibling. Both share the same CM-Tech molded top deck, LinQ accessory and engine access panel, and hood understructure. Equally, both enjoy the brand's best overall storage, with 40.6-gallons of room broken up between a 37.8-gallon front bin and a voluminous 2.5-gallon glove box. But it's here that the RXP-X takes one of many exciting turns.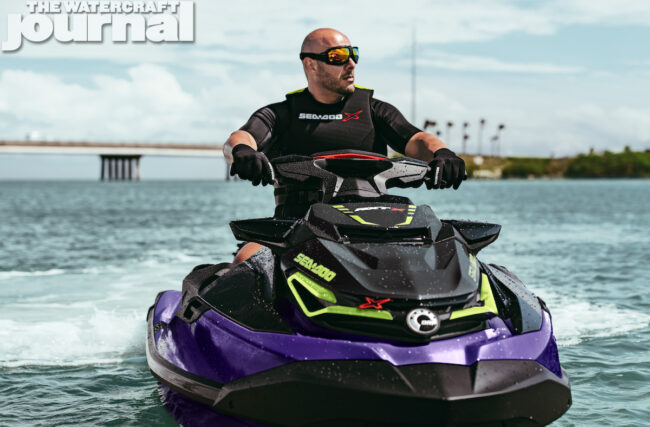 For 2021, the RXP-X returns 67-pounds lighter than its previous generation (782lbs. vs. 850lbs.), all while retaining the same overall length (130.6-inches), and .9-inch wider (49.2″ vs. 48.3″). While the supercharged-and-intercooled 1630 ACE 300 engine returns unchanged, the RXP-X spins a highly polished, repitched prop producing greater thrust and initial hook-up.
All of this equates to a far superior power-to-weight ratio, and measurable gains in acceleration: 0-to-50mph in 2.9-seconds, 0-to-60mph in 3.6-seconds (versus the previous 3.9-seconds). While units sold domestically will be restricted to a USCG-approved 68.5mph, our unrestricted test unit reached a Garmin GPS-confirmed peak 73.8mph @ 8,000rpm (the speedometer read 75).
Yet, much of the new RXP-X's appeal is found in its handling prowess. Riding on a tiered T3-R hull, the RXP-X borrows its pronounced bow from the full-sized ST3, it's straight line, rough water tracking to the GTI and a lot from racer input. At its outermost edge is a rounded chine, which might look familiar to those acquainted with the past Yamaha FZR.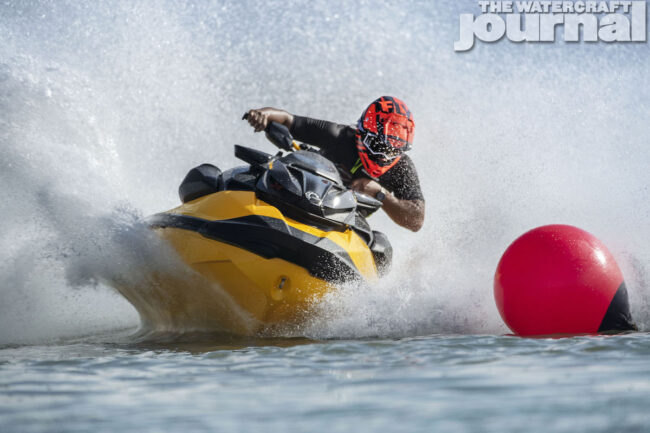 This rolled chine provides unbroken surface tension (ie. traction) when snapping a tight turn at wide open throttle. Yet, this is not how most enthusiasts ride, so Sea-Doo developed a more forgiving secondary chine outside of a lifting strake. This means that at slower speeds or in a gradual sweeping turn, the RXP-X rides on this second chine, which has been serrated at midships with what BRP calls "Shark Gills," aerating the surface tension and making for a slightly looser, more gradual corner.
All of this gives the RXP-X a more forgiving feel for casual riders as well as athletes attempting aggressive outside sweeps in rough water. And don't be fooled, this PWC is designed to corner – and do so on the nose. Why else would Sea-Doo relocate the engine and fuel tank two inches (50mm) forward, as well as design a new forward cockpit if not to put as much weight on the nose as possible? It begs, Trim this sucker down and snap those bars with the throttle trigger pinned!
And if you were questioning how bold Sea-Doo was as a brand, look no further than its standard 1-person seating (that's right, the passenger seat is sold separately!), and two color options of Midnight Purple and Manta Yellow, or Millennium Yellow. Listed with a MSRP of $15,799, that doesn't include the optional telescoping steering neck (same as used on the Trixx and previous RXP-X), second seat or BRP Premium Sound System – now finally available on the RXP-X.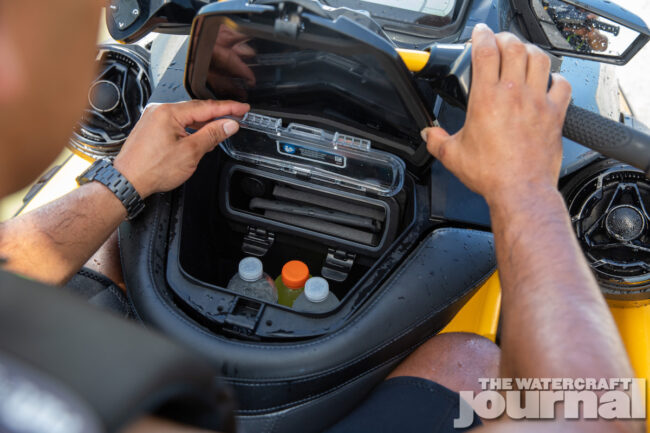 The equally-powered RXT-X 300 ($16,799) carries on mechanically unchanged for 2021, but with matching livery options, which is pretty cool. Another machine enters the fray wielding 300-horsepower, but it's not what you think. New for 2021 are a base-trim GTX 230 ($14,099) and GTX 300 ($15,799), both in Eclipse Black. (The GTX 170 – $13,099 – returns in Beach Blue Metallic and Lava Grey.) Unlike the RXT-X 300, the GTX 300 and GTX 230 come with a reboarding step, cushier seating and standard (non X-series) sponsons.
Alas, there is another 300-horsepower entry that is sure to wow. For 2021, Sea-Doo's GTX Limited 300 ($17,999) not only emerges as the brand's top-of-the-line entry, but brandishes two of the most consequential innovations in personal watercraft. The first being its Intelligent Debris Free pump system (iDF), which "quickly and effectively clears debris from the water pump intake with a touch of a button."
Neatly tucked away into the PTO cover is a sequence of intermediary and PTO gears, that when activated by the iDF actuator, engages with a split gear, reversing the rotation of the shortened driveshaft. When the iDF sensor activates this process, it also closes the shut-off valves in the pump to the siphon tubes, so water won't flood the engine compartment. This reverse thrust pushes debris from the intake grate and pump in 12-second spurts, so as to mitigate heatsoak.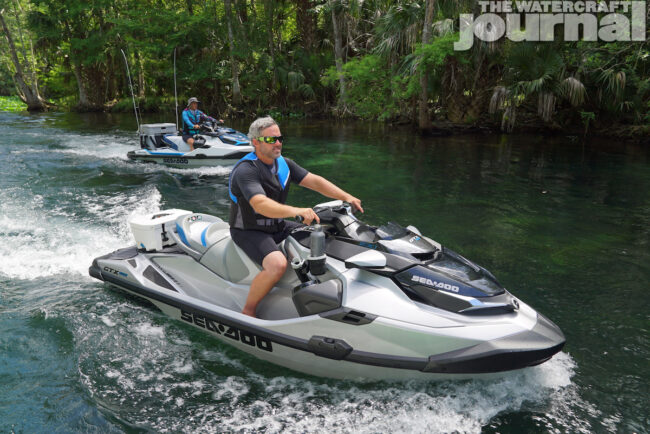 "Debris such as seaweed and other vegetation is a constant challenge for riders, regardless of whether they're taking a joy ride on a lake or running weed lines offshore like I do," said Bri Andrassy, Sea-Doo Fish Pro ambassador. "The BRP design and engineering teams listened, and this revolutionary new iDF technology is going to be a gamechanger to make it an easier, less-stressful ride."
In addition to being standard equipment on the GTX Limited 300, the iDF system is available on two of the three 2021 Sea-Doo GTX models – 170 and 230 – as well as standard on the Fish Pro – more on that in a second. Lastly, the GTX Limited 300 is the only Sea-Doo to include a new 7.8-inch wide panoramic full-color display that not only reads off all of the vitals, but also syncs to your smartphone, opening up to a whole new world of interactivity.
By downloading the BRP Connect app to your smartphone and connecting to the GTX Limited's dashboard, you can navigate through your music playlists, receive updates on the latest weather forecasts, and – through a partnership with Wavve Boating – open up your access to maps and navigation options. Although an exclusive item for just this one model, you can bet the 7.8″ dashboard will see its way into future models in the coming years.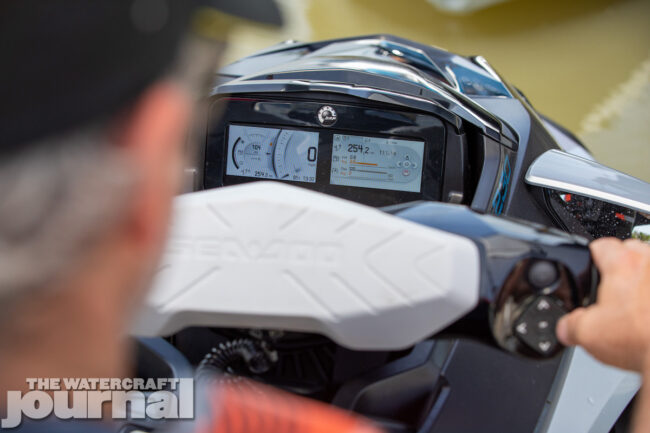 Lastly, Sea-Doo gave the Fish Pro ($15,599) three new touches; obviously, the inclusion of iDF as standard equipment, as it is certain to be a life-saver for many fishermen. Next, the Fish Pro gets a second color option: White and Gulfstream Blue (White and Night Green also return).
And lastly, BRP has outfitted the Fish Pro with new angled rod holder mounts at the fairings for easy trolling, as well as a new LinQ cup holder. And it doesn't end there, as the Fish Pro LinQ cooler gets an extra 5-inch tall extension to separate your bait from your snacks and drinks!
In all, 2021 promises to be an incredibly exciting year for Sea-Doo and the folks looking to expand their view of the world around them – whether you're looking to tow a raft or wakeboarder; explore new waterways and channels; race your friends across the lake at wide open throttle; or leisurely cruise the shoreline with your favorite tunes playing in the background. For more information on each of the models mentioned here, visit www.sea-doo.com.