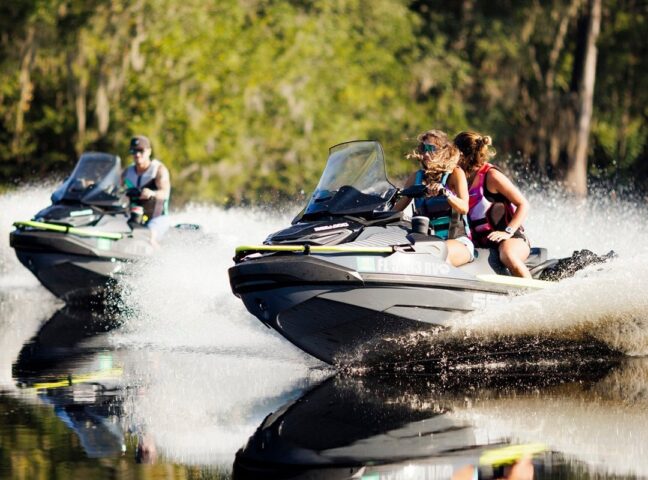 Sea-Doo Ambassador Andrea Torrealba is a three-time skimboarding world champion from Florida. She moved to Dana Point, CA in 2016 and has longed to return to her roots in Florida. Sea-Doo set up a multi-day trip for Torrealba and a couple of close friends.
They were given a couple of Sea-Doo Explorer Pro's to take on some waters less-traveled. The crew was stoked to hit some rivers and a few crystal springs in their journey of over 40 miles. The Explorers didn't let them down as they navigated through water forests made up of Cyprus trees, and into several springs.
The days consisted of tow-skimboarding on the river, exploring the depths of the springs, and exploring the back waters of Florida. A large alligator makes an appearance as it makes it makes its way down a bank and into the water. Torrealba had the adventure of a lifetime with her close friends and the Explorer Pros were perfect for this trip.
They had a tow set up and were outfitted with the standard Explorer Bag, a LinQ 4.2 Gallon Cooler, and a LinQ Toolbox. All their gear was stowed away except for the skimboard which was tucked out the way on the starboard side. Check out the video and take a ride down memory lane with Amber Torrealba and friends.